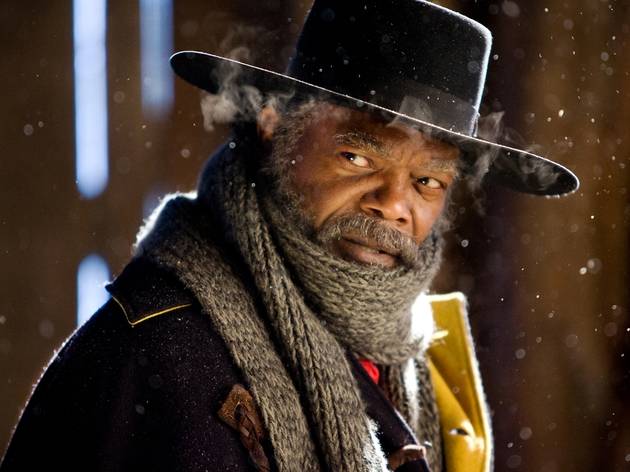 Time Out says
America's most gab-happy director rewrites the wild frontier in a one-room Western.
No matter how Quentin Tarantino arms his characters—with katana swords (Kill Bill), shotguns (Pulp Fiction) or baseball bats (Inglourious Basterds)—their chief weapons are words. That's just how this writer-director rolls, and even as The Hateful Eight starts off in the wintry Colorado trappings of a post–Civil War Western, we're soon, essentially, in a series of rooms: a chatty stagecoach, then Minnie's Haberdashery, a drafty outpost where spit flies into gloriously rude arguments.
Tarantino's most appealingly claustrophobic film since Reservoir Dogs has a parlor-whodunit theatrical intimacy to it. There's zero need for it to have been shot in sumptuous 70 millimeter—let's call that the gimmick it is and move on to the tart talkers he's assembled for our amusement. Bounty hunter John Ruth (Kurt Russell, summoning his A-grade John Wayne drawl from Big Trouble in Little China) escorts a wild-eyed prisoner, Daisy Domergue (Jennifer Jason Leigh, doing wonders with little), to the gallows and his huge payday. But a fearsome blizzard approaches, and after Ruth allows old war acquaintance Major Marquis Warren (Samuel L. Jackson) and ex-Confederate sheriff Chris Mannix (Walton Goggins) to ride along to the relative safety of a remote outpost, there's a strong hint that an escape plan is afoot.
Before unleashing its violent wallop of a second half, The Hateful Eight simmers along like the pots of coffee constantly being brewed onscreen. Composer Ennio Morricone's seesawing score—his first new Western work in decades—sometimes brings to mind Tarantino fave Sergio Leone, but the real ancestor here is John Carpenter's 1982 The Thing, another thriller percolating with close-quarters paranoia and Hawksian gab. It doesn't quite work altogether: High-minded conversational detours into racial injustice feel a little too on the nose (as do the periodic, unnecessary punches to Leigh's bloodied face). But it's as pure an expression of Tarantino's voice as he's ever mustered—easy to savor, even if the aftertaste leaves a trace of nasty bitterness.
Follow Joshua Rothkopf on Twitter: @joshrothkopf
Details
Release details
Rated:
R
Release date:
Friday December 25 2015
Duration:
180 mins
Cast and crew
Director:
Quentin Tarantino
Screenwriter:
Quentin Tarantino
Cast:
Channing Tatum
Samuel L. Jackson
Kurt Russell
Jennifer Jason Leigh