The Last Black Man in San Francisco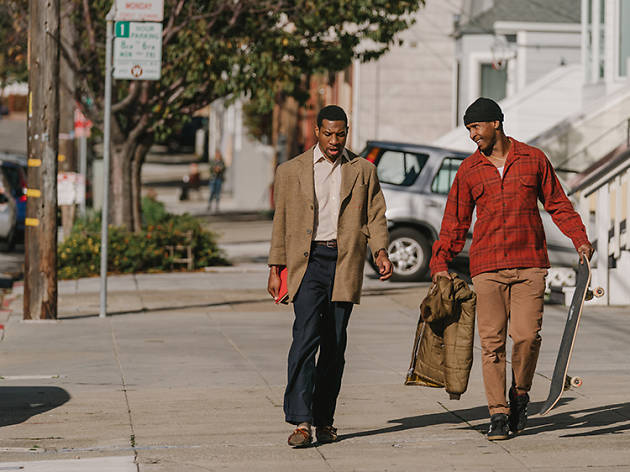 Time Out says
The besieged spirit of an entire city infuses a remarkably ambitious indie, one that touches on gentrification, race and the places we call home.
It starts with the city of San Francisco, famously a town of outsiders, freaks and countercultures. The Last Black Man in San Francisco, a sweetly mournful comedy that plays in a detuned register of its own, begins with an impromptu tour, motivated by the strange sight of two men on one skateboard, pumping their legs in unison like a set of oars. You'll want to hop onboard with them (a random stranger has the same idea, chasing them down for a bit). The funky energy of this introduction—the sight of a people-mover platform gliding to a churning cloud of Michael Nyman's horns and strings—is electric. Even though the cards will be stacked against our heroes, black and barely hanging on, you know the movie will treat them royally.
They are Jimmie (soulful Jimmie Fails, whose life story becomes the film's arc) and wannabe playwright Montgomery (Jonathan Majors, extraordinary), two adult friends who share an artistic bent. They draw, they paint, they wear the same clothes daily. They might as well be Akbar and Jeff. What Jimmie really wants is a gorgeous Victorian house—a place on Fillmore where the sun blasts through huge bay windows onto creaky wooden floors. He has one in mind; it's the same house he grew up in, before his dad was bought out years ago. Jimmie does unauthorized touch-ups on it daily, to the chagrin of its whiny white owners. But when the property must be vacated in an ugly inheritance split (the film has compassion for even these gentrifiers, crying on their front steps), what's to prevent Jimmie and Mont from moving in?
Director Joe Talbot, a longtime confidant of Fails who honors the racially charged material with humor and unerring sensitivity, wants to tell more than just a squatter's story, even though that's the spine here. Something larger is broken, dragging the proudly weird city down with it. Drunken tourists gawk at locals; the psychedelia of Jefferson Airplane's "Somebody to Love" is reduced to an earsplitting remix, and a sharklike realtor moves in for a grab on the mansion. "This house—it's what I do," says unemployed Jimmie in one of his many achingly vulnerable moments.
It's not all tears, though. The film's positivity comes from a personally rooted sense of activism. For the central duo, that means constantly making art: Mont breaks up a street fight to "direct" the action ("Remember Stanislavski," he tell them), and the film's final act is consumed with putting on a play in the house's living room, a perfect proscenium for a show. It's where the film skews most closely to The Royal Tenenbaums in both content and mood, but don't call it precious. There's a dark streak here—giving up is just one weak moment away. A shot of a lonely man rowing through choppy waters under the Golden Gate Bridge sends things into the realm of pure urban poetry.
Follow Joshua Rothkopf on Twitter: @joshrothkopf
Details
Release details
Rated:
R
Release date:
Friday June 7 2019
Duration:
120 mins
Cast and crew
Director:
Joe Talbot
Screenwriter:
Joe Talbot, Rob Richert, Jimmie Fails
Cast:
Jimmie Fails
Danny Glover
Jonathan Majors
Rob Morgan

Users say