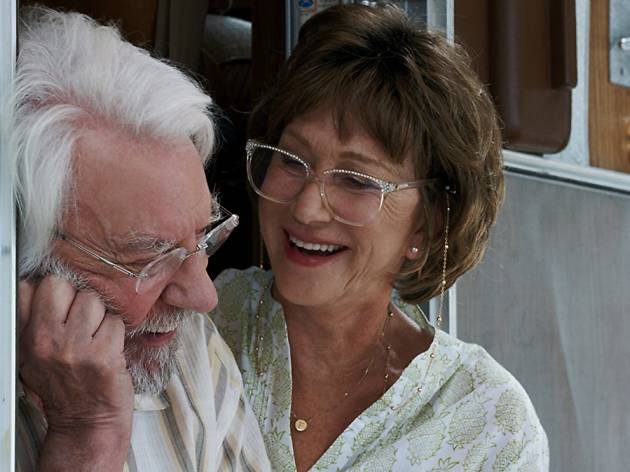 Time Out says
Even Donald Sutherland and Helen Mirren can't elevate this cloying, half-baked road-trip comedy.
Donald Sutherland has done some of his finest work playing rascally husbands (Six Degrees of Separation, Don't Look Now), while the regal Helen Mirren always supplies crispness to the role of a woman in charge. Putting them together in The Leisure Seeker as an elderly Massachusetts couple taking its last joyride in a 1975 Winnebago—he, dimmed by intermittent dementia, she, bracing for loneliness—would seem the safest guarantee for excellence: old pros doing what they do best. But this schmaltzy disappointment makes every pit stop it can to interrupt the character work with groanable distractions.
At first, we dodge a bullet as the film shakes two ultra-annoying adult children (Christian McKay and Janel Moloney, neither given real parts to play), both frowny-faced at the thought of their parents' impulsive escape. Away we go with John (Sutherland), a former English teacher intent on seeing Ernest Hemingway's home in Key West when he's not lost in a mental fog, and Ella (Mirren) knocking back whiskey to dull an illness of her own that's depressing in its obviousness. Who knows what misadventures they'll get up to? Well, you know, actually: a flat tire, a flirtation with a diner waitress, a syrupy trip down memory lane via a slide projector. Worst of all, an absent-minded John wanders into a Trump rally—it's the summer of 2016—as the film flails for topicality.
Italian director Paolo Virzì, making his English-language debut, rarely cuts against the grain of the broad material (adapted from a more contemplative novel by Michael Zadoorian). There are quieter moments during which the glances between Sutherland and Mirren—containing memories better left unvoiced—suggest something worthier than the dreck they're trapped in. But like a gut punch, The Leisure Seeker takes a downbeat turn late in the game, one that it hasn't earned. Both of these stars are fighters onscreen and off; they deserve acting opportunities much scrappier than this.
Follow Joshua Rothkopf on Twitter: @joshrothkopf
Details
Release details
Rated:
R
Release date:
Friday March 9 2018
Duration:
112 mins
Cast and crew
Director:
Paolo Virzi
Screenwriter:
Paolo Virzi, Stephen Amidon, Francesca Archibugi, Francesco Piccolo
Cast:
Donald Sutherland
Helen Mirren
Christian McKay