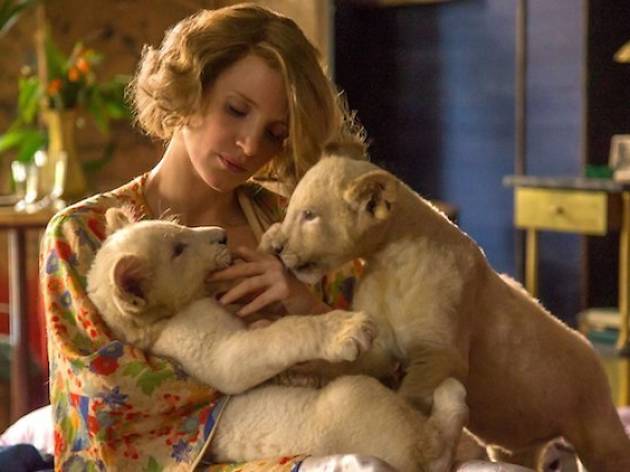 Time Out says
As a Pole who shelters Jews during WWII, Jessica Chastain gives this drama her all, but the film isn't as courageous as she is.
Jessica Chastain has long harbored an inner Meryl Streep: You can see that defiance, mixed in with a glossy, almost remote delicateness, in movies ranging from Take Shelter and Zero Dark Thirty to her coiled turn in A Most Violent Year (a drama that would have popped up on Streep's own filmography had it been made in 1981 rather than just being set during that year).
The Zookeeper's Wife is the moment when Chastain's Streep gets the better of her. She goes full Sophie's Choice as the Polish keeper of a Warsaw zoo during WWII. Her heavily accented life consists of tendink to the animals, talkink elephants through their painful pregnancies and hopink Hitler's war machine stays far away from her heppy femily.
As developed from Diane Ackerman's 2007 nonfiction best-seller, Niki Caro's film has been shaped—perhaps unavoidably—as a showcase for its star. As a result, Chastain's own natural humility gets lost in the process. She's better when playing against her character's often absent husband (Johan Heldenbergh) or, more electrically, the handsome and well-mannered Nazi officer (Rush's Daniel Brühl) who comes to commandeer her domain and take a fancy to its custodian.
As Holocaust-era movies go (Chastain's maternal saint begins to secretly hide Jews in her cellar), this one is neither too pretty nor too ugly—which might doom it to a particularly banal shade of detachment. Chastain is relaxed with some actual lion cubs, and there's a bunny that should win an Oscar. But when the film pivots to the scared human beings down below, you get a hint of the weirder, tougher drama it might have been.
Follow Joshua Rothkopf on Twitter: @joshrothkopf
Details
Release details
Rated:
PG-13
Release date:
Friday March 31 2017
Duration:
124 mins
Cast and crew
Director:
Niki Caro
Screenwriter:
Angela Workman
Cast:
Jessica Chastain
Daniel Brühl
Iddo Goldberg
Johan Heldenbergh

Users say