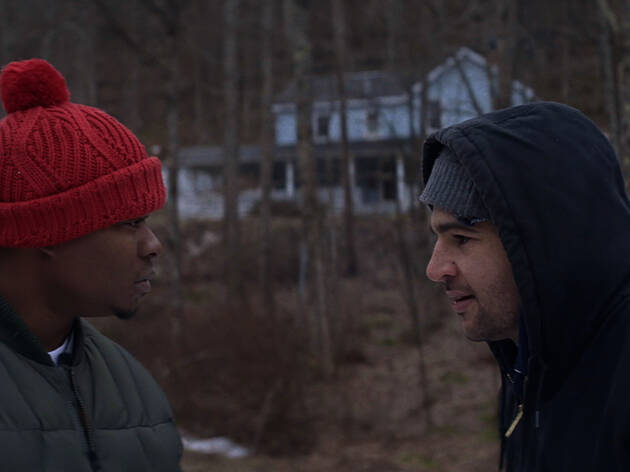 Time Out says
Jason Mitchell is the odd man out at a weekend bro-down that becomes a comic nightmare.
It's a fine line between civilized society and fleeing in the woods at night like an animal. That's what the main character of Tyrel—an expertly calibrated indie comedy—must be thinking in between gulps of air. First of all, his name is actually Tyler, not Tyrel. And, as played by Mudbound's Jason Mitchell, he's got the soft-spoken likability of your typical thirtyish big-city chef, which he is. Taking a break from some domestic drama with his girlfriend's mentally ill mother, he opts to leave New York City and drive upstate to the Catskills with his buddy John (Christopher Abbott) for a weekend of drunken debauchery with a group of strangers at a secluded house. Tyler isn't expecting every other guest to be white, though, and his subsequent racial alienation (it begins with them getting his name wrong) flares from mild awkwardness to pure, naked terror.
It won't take the wobbly, vaguely menacing presence of actor Caleb Landry Jones to put you in mind of Get Out, though that guy is here if you want him. Working guerrilla-style in one location with a group of friends, writer-director Sebastián Silva (The Maid) is onto something that may be even more sophisticated than Jordan Peele's horror blockbuster, and certainly more realistic. In Tyrel, the fear is self-generated: These bros aren't evil so much as soused and unhinged. But like the paranoid Tyler himself, we imagine that worst-case scenario in our heads. Silva has a blast emphasizing every nuance of microaggressive whiteness, from a constant flow of spiked Irish coffees to a hit parade of whiny R.E.M. songs. (Watching Mitchell try to share in the cavorting enthusiasm over "Stand" is excruciating comic gold.)
The subtle pleasure of Tyrel comes from raising an eyebrow at every inferred (implied?) slight. Even when the movie descends into drunken wrestling in the living room, you wince not at the potential for violence so much as the damage to Tyler's poise—he's sweaty and a touch too exuberant. Meanwhile, an almost dreamlike oasis exists outside the house, on a nearby piece of property where The Handmaid's Tale's Ann Dowd owns one magnificently strange scene. But mainly, we're with Tyler, at a moment when inhibitions appear to be loosening for the worse. (It's also the weekend of Donald Trump's inauguration, a sociopolitical ante that never pays off.) "See, you're not the only black guy," says a clownish Michael Cera, showing up at the party in a black wetsuit. The tension lifts a bit, but that manic laughter isn't comforting.
Follow Joshua Rothkopf on Twitter: @joshrothkopf
Details
Release details
Rated:
N/R
Release date:
Wednesday December 5 2018
Duration:
86 mins
Cast and crew
Director:
Sebastián Silva
Screenwriter:
Sebastián Silva
Cast:
Jason Mitchell
Christopher Abbott
Michael Cera
Caleb Landry Jones

Users say