Heads up! We're working hard to be accurate – but these are unusual times, so please always check before heading out.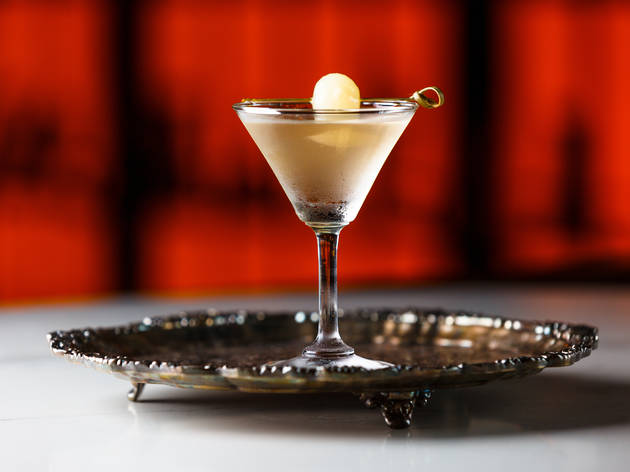 15 easy cocktail recipes to master at home
Be your own bartender with tried-and-true recipes from North America's best mixologists
You look like you could use a drink, and we've got just the thing. We tapped some of the best bartenders in North America and asked them to divulge their favorite easy cocktail recipes—the kind of drinks you can mix up at home with a handful of ingredients from your bar cart. They obliged with some seriously delicious sippers, including a customizable Negroni, a jam-infused sour and the cutest mini martini you ever did see. Your low-key weekend at home just got a bit more exciting thanks to these bartender-approved cocktails. Oh, and don't forget to tip your bartender if you find a new favorite—we offer creative ways to show your support during these difficult times.
Easy cocktail recipes from top bartenders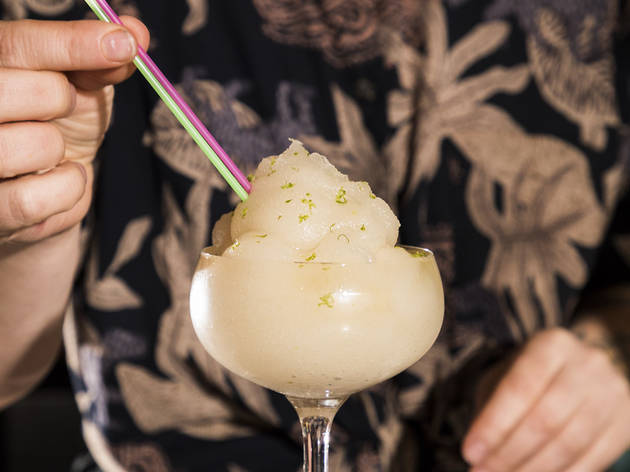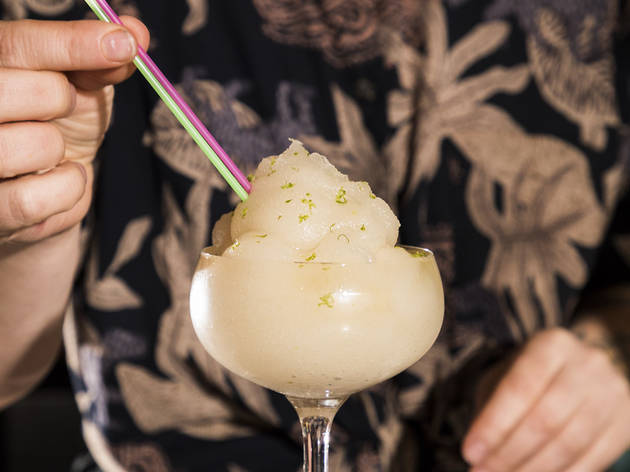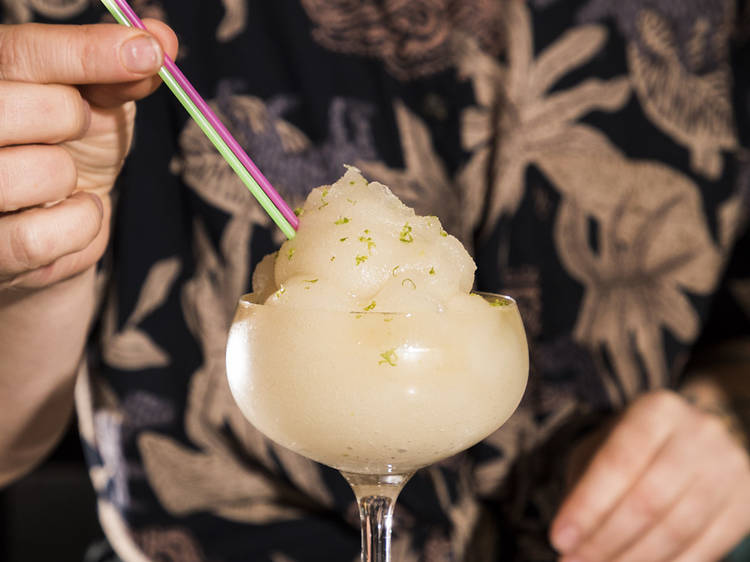 Photograph: Jaclyn Rivas
Daiquiri Frappe | Lost Lake, Chicago
"This drink took us a bit to perfect, as most blender drinks tend to be too watered down," says Lost Lake co-owner Paul McGee. "Using dry sugar and a bit of lime zest reduces the water content and adds brightness to this refreshing cocktail."
Ingredients:
2 oz rum
.5 oz fresh lime juice
1.5 tbsp sugar
1 pinch lime zest
1.5 cups of ice
Instructions: Add all ingredients to a blender and mix on medium for 15 seconds. Top with more lime zest.
Tip your bartender: Donate to Lost Lake's employee relief fund and you'll be enrolled in the bar's quarantine-friendly newsletter, which is packed with at-home recipes, tips and tricks.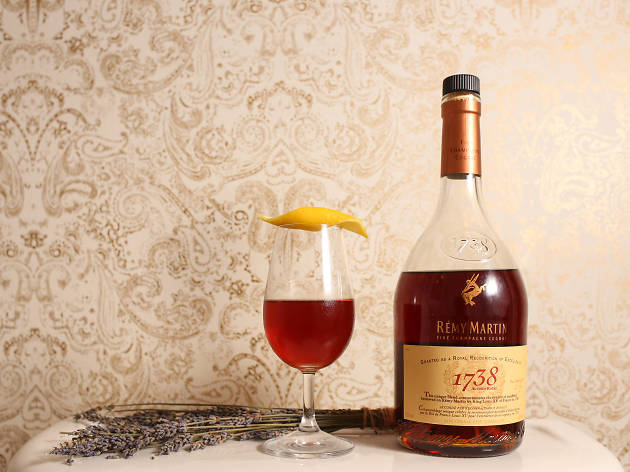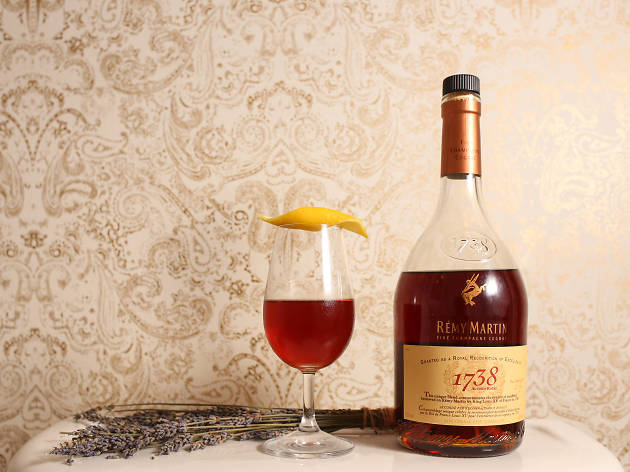 Photograph: Eugene Lee
Sazerac | Big Bar, Los Angeles
"This is one of the first cocktails I learned to make," says Big Bar digital director Eugene Lee. "Just like you can with an Old Fashioned, I believe you can make most spirits you have at home into a Sazerac. Now is the time to play!"
Ingredients:
2 oz cognac
3 dashes Peychaud's bitters
1 dash Angostura bitters
1 sugar cube
Instructions: Muddle together sugar and bitters before adding cognac and ice and giving it a stir. Rinse or spray your drinking glass with absinthe before straining the drink. Express and toss in a lemon peel if you have it.
Tip your bartender: Donate what you can to this bar team's digital relief fund.
Jelly-Jam Sour | The Sylvester, Miami
"This is a simple sour that you can make with any jelly or jam," says the Sylvester bar director Ben Potts. "This particular variant is made with apricot jam that pairs well with bourbon."
Ingredients:
1.5 oz bourbon
.75 oz lemon juice
.5 oz simple syrup
1 bar spoon apricot jam
Optional: egg white
Instructions: Shake together all ingredients, strain and garnish with a lemon peel.
Tip your bartender: Consider donating to the Sylvester's relief fund—or, if you live in Miami, get your gift card on.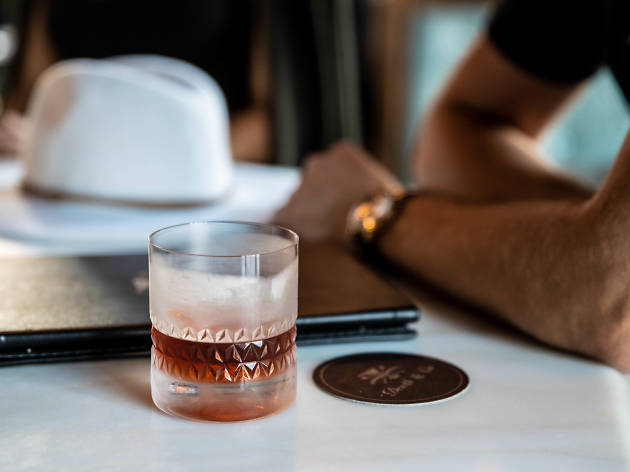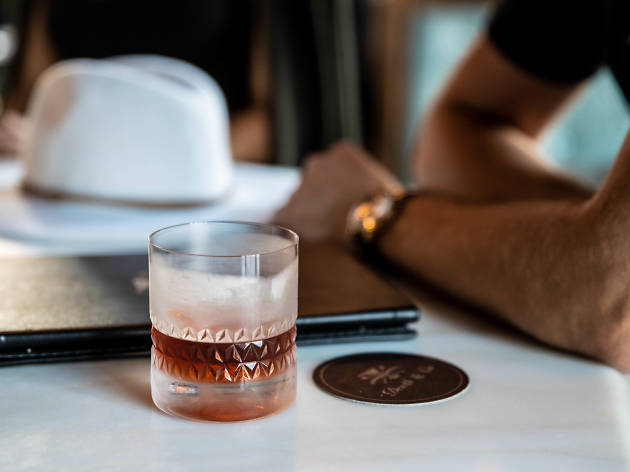 Photograph: Eric Medsker
Guns & Rosé | Death & Co., New York
"This drink was written by former Death & Co. bartender Scott Teague, who always had a knack for writing simple builds that punched above their weight," says Death & Co. national beverage director Tyson Buhler. "Describing a drink with OGD 114 as delicate and nuanced isn't something I'd normally do, but this cocktail really hits the mark."
Ingredients:
1.5 oz Old Grand Dad 114 bourbon
1 oz Lillet Rosé
1 tsp simple syrup
2 dash Peychaud's bitters
Instructions: Stir together ingredients over ice and strain. As an added bonus, you can rub the inside of the glass with a grapefruit twist.
Tip your bartender: Contribute to Death & Co.'s staff relief fund or shop their merch.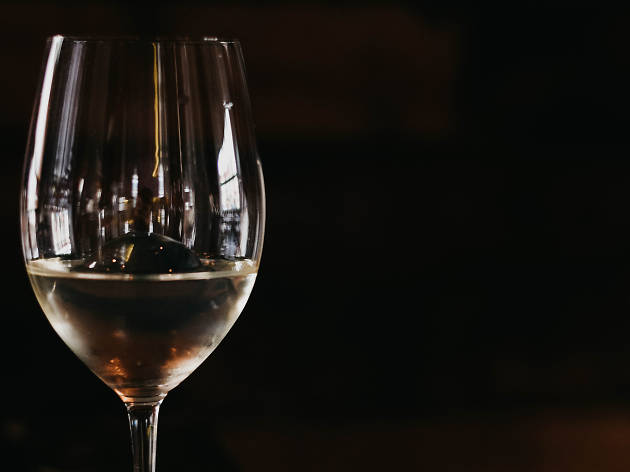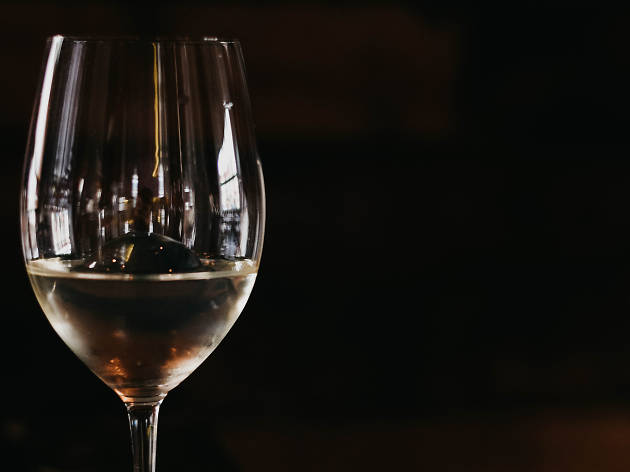 Photograph: Darrin Commerford
Aceituna Old Fashioned | Martina, Minneapolis
"What really sets this one apart is the overnight olive oil wash, which smoothes out some of the harsh edges and gives the final drink more weight," says beverage director Marco Zappia. "At its heart, it is an exploration and culmination of the agave plant and how vast its inherent qualities can range."
Ingredients:
.25 oz simple syrup
1 oz mezcal
1 oz blanco tequila
.75 oz olive oil

Instructions: Add all ingredients to a glass bottle and quickly shake before stashing in the freezer overnight. The olive oil will freeze, and you can strain the cocktail through a coffee filter. Stir liquid over ice and strain once more into a glass to enjoy.
Tip your bartender: Live in Minneapolis? Snag a gift card to Martina.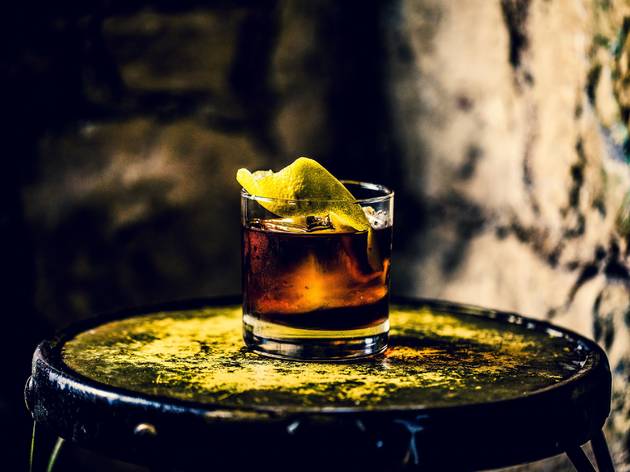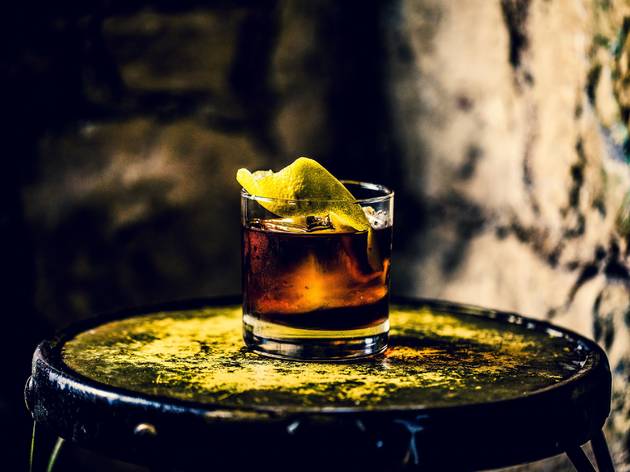 Photograph: Richard Casteel
The Southern Gentleman | Whisler's, Austin
"This cocktail has its roots in a traditional Black Manhattan with a boozy, bitter twist," says Whisler's event coordinator Sean Skvarka. "As the ice melts, it opens up the cocktail into a great sipping treat."
Ingredients:
1.5 oz bourbon
.75 Amaro Averna
.75 Suze
2 dashes orange bitters
Instructions: Stir together ingredients and strain over ice with a lemon swath.
Tip your bartender: When you buy Whisler's merch, 100 percent of the sales proceeds go to the bar's staff. They've also got a staff fundraiser to collect donations.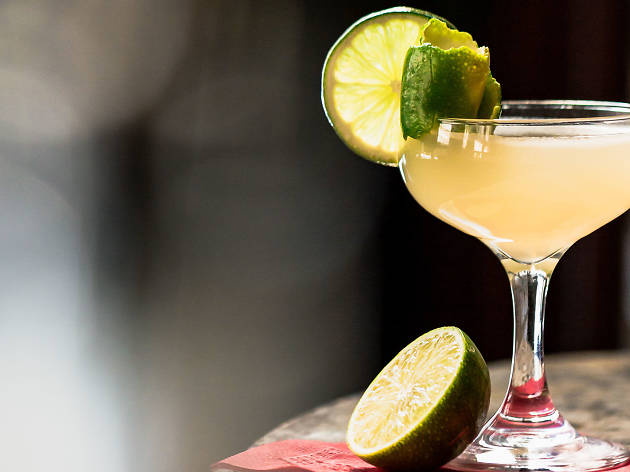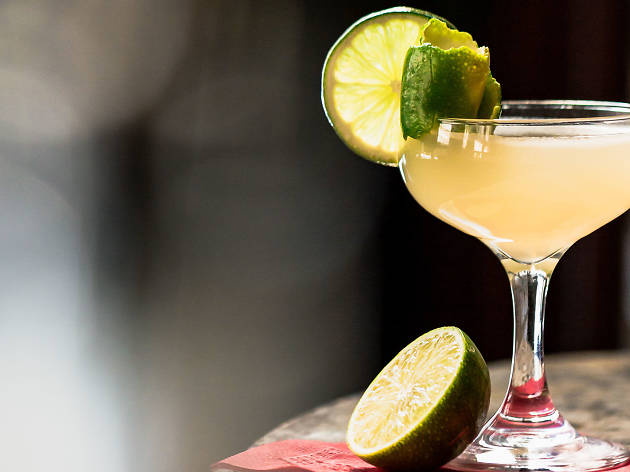 Photograph: Jordan Mattia
Classic Daiquiri | El Pequeño Bar, Montreal
"You don't need to be a bartender to make this cocktail. It's simple, classic and sexy," says Kevin Demers, owner of Montreal watering holes The Coldroom, El Pequeño Bar and Parliament Pub & Parlour. "This is one of my favorite drinks to drink when I just want to be taken back to Havana."
Ingredients:
2 oz rum
.75 oz fresh lime juice
1 sugar cube
Instructions:
Muddle sugar in a cocktail shaker before adding lime juice and mixing the two together. Toss in rum and ice, shake and strain into a glass.
Tip your bartender: A portion of proceeds from merch sold will support the bars' staff; shop The Coldroom, El Pequeño Bar and Parliament Pub & Parlour.
Negroni | The Violet Hour, Chicago
"You can make a Negroni without any special tools or glassware," says the Violet Hour beverage director Pat Ray. "This cocktail can send you down a rabbit hole of finding the perfect ratio, and the bottles are some of the most versatile to have for at-home cocktailing."
Ingredients:
Gin
Sweet vermouth
Campari
Instructions: Start with equal parts of each ingredient, then experiment to find your perfect Negroni ratio. Pour over ice, stir, strain and garnish with an expressed orange peel.
Tip your bartender: Follow the Violet Hour on Instagram for more cocktail inspiration, and consider donating to One Off Hospitality's employee relief fund.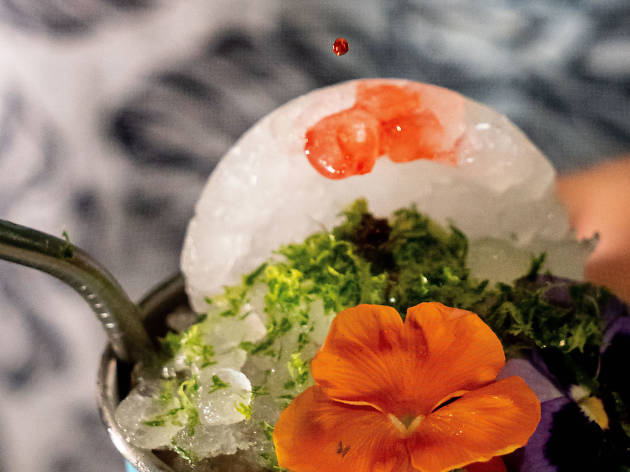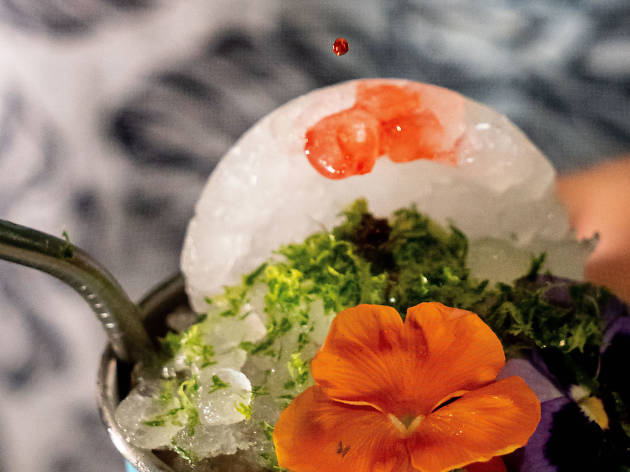 Photograph: Ran Duan
House Greyhound | Baldwin Bar, Boston
"This cocktail is based off of the Last Word formula: 1:1:1:1," says Ran Duan, the owner of Boston watering holes the Baldwin Bar and Blossom Bar. "Think of it as the Mr. Potato of recipes. You can sub out any base spirit and it will still taste delicious."
Ingredients:
1 oz gin (or vodka, rum, tequila, whatever!)
1 oz St. Germain
1 oz grapefruit combier (any citrus liquor will work)
1 oz lemon juice
Instructions: Combine ingredients, shake and strain over crushed ice. Add bitters if you're feeling fancy.
Tip your bartender: If you're lucky enough to live in Boston, Blossom Bar and the Baldwin Bar are offering takeout and delivery, including cocktail mixers.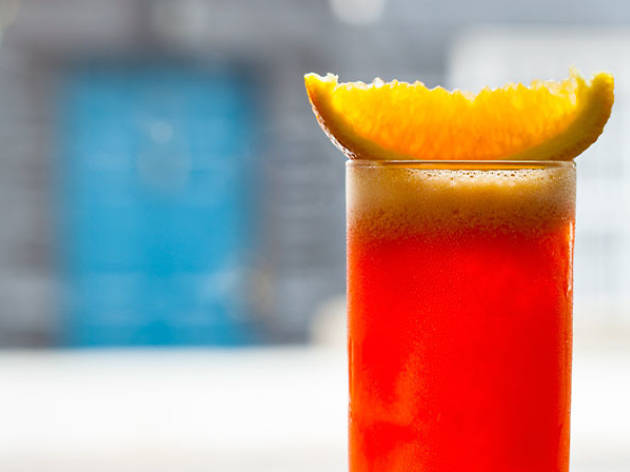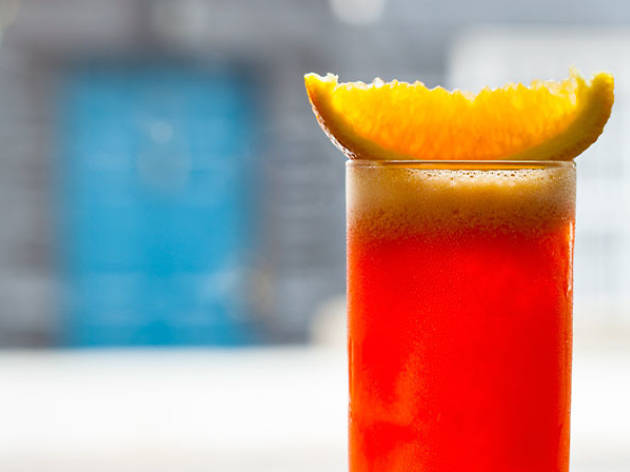 Photograph: Steven Freihon
Garibaldi | Dante, New York City
"The Garibaldi is a classic and simple mixed drink that we came to love after seeing the way it was served with juice squeezed fresh to order at a place in Sydney called North Bondi Italian Food," says Dante co-owner Linden Pride. "The key is squeezing the orange juice immediately before serving."
Ingredients:
1.5 oz Campari
Fresh orange juice
Instructions: Toss two ice cubes in a glass, add Campari and a splash of orange juice and stir well. Add one more ice cube and fill remainder of glass with orange juice.
Tip your bartender: New Yorkers, a curated selection of Dante's bottled cocktails are now available to go.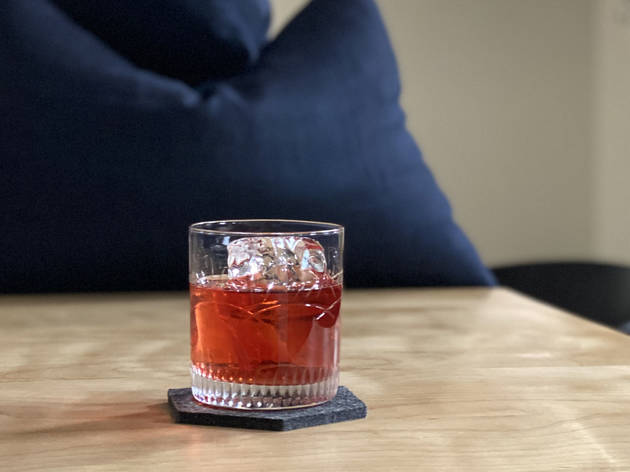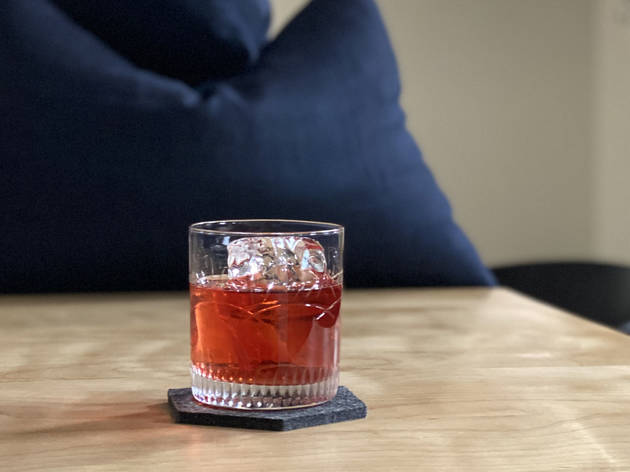 Photograph: Courtesy Kumiko/Julia Momose
Heart of Garnet | Kumiko, Chicago
"The initial template was a Negroni, which morphed into the notion of an Old Pal (dry vermouth, Campari, whiskey), which ended up becoming an aperitivo with hints of both," says Kumiko creative director Julia Momose. "The delicate bittersweet notes of [the ingredients] come together in a fun, bitter yet fruity, and herbaceous yet spiced aperitivo."
Ingredients:
1 oz bitter red
1 oz dry vermouth
1 oz dry gin
1/4 oz banana liqueur
Instructions: Combine ingredients in a mixing glass with ice and stir to chill. Strain over fresh ice in a rocks glass and garnish with an expression of lemon.
Tip your bartender: If you live in Chicago, you can find all of the cocktail ingredients listed above in Kumiko's web store. If not, consider tossing a few bucks toward the bar's staff fundraiser.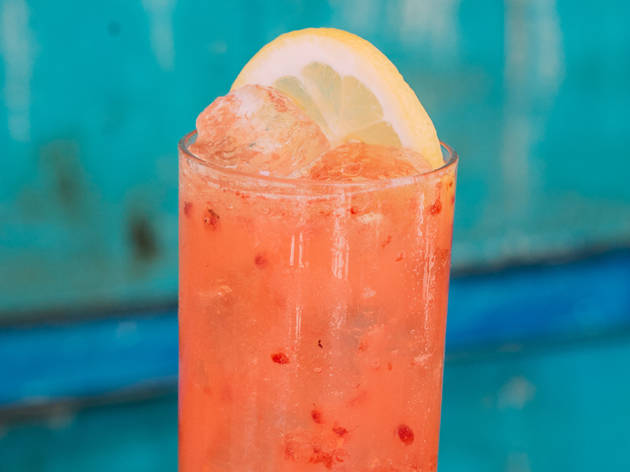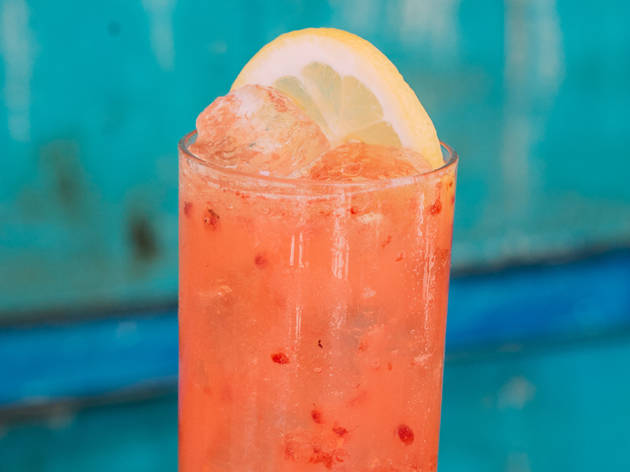 Photograph: Courtesy Palm House
Palmade | Palm House, San Francisco
"The Palmade is light, refreshing and easy to drink," says Palm House bar director Fatima Hite-Igras. "It's made with simple ingredients that most people have at home."
Ingredients:
2 oz vodka
1 oz lemon juice
1 oz simple syrup
4 raspberries
Instructions: Toss raspberries into a mason jar and smash with a spoon. Add lemon juice, simple syrup, vodka and a handful of ice. Cover jar and shake vigorously 10 times. Remove lid and start sipping.
Tip your bartender: San Fran residents can get batched cocktails delivered straight to their doors via Postmates. Everyone else can chip in on the hospitality group's relief fund.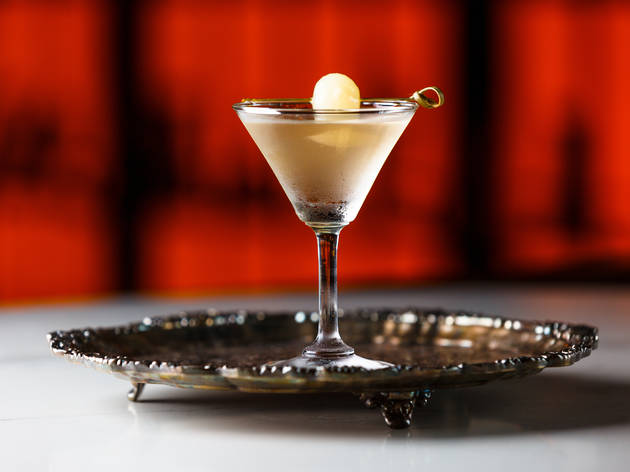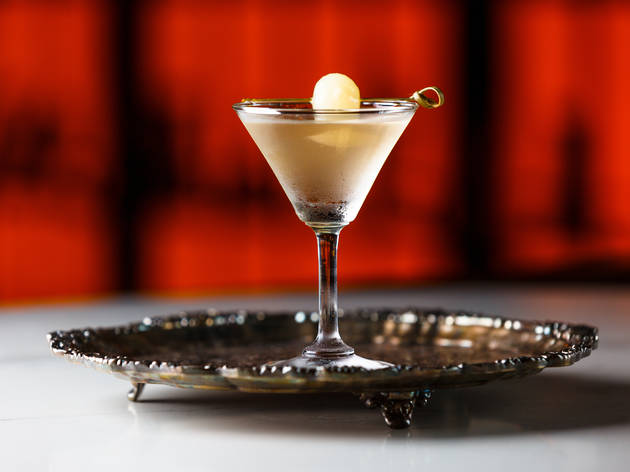 Photograph: Courtesy Valerie
Mini Gibson | Valerie, New York City
"The Mini Gibson is an ideal way to try out one of 2020's biggest cocktail trends at home: mini martinis," says Valerie beverage director Marshall Minaya. "It's the perfect size to sample this classic drink, which is deliciously savory in bite-sized form."
Ingredients:
1.25 oz gin (Minaya recommends Dorothy Parker)
.25 oz dry vermouth
Instructions: Add ingredients to a mixing class, fill with ice, stir and strain. Garnish with a pickled pearl onion.
Tip your bartender: Follow Valerie on Instagram for beautiful cocktail photos, and add this bar to your itinerary next time you're in Manhattan.
Miss You Sour | Cloakroom Bar, Montreal
"It's the perfect cocktail to make at home during quarantine," says Andrew Whibley. "It's easy, balanced, delicious and can be made with stuff you should have in your fridge."
Ingredients:
2 oz dry gin
.5 oz leftover white wine
.75 oz simple syrup
1 oz lemon juice
Instructions: Combine all ingredients in a cocktail shaker, shake and strain. Add a handful of herbs to the mix if you've got 'em.
Tip your bartender: Toss a few bucks to the staff through the bar's relief fund, or snag a gift card for your next visit.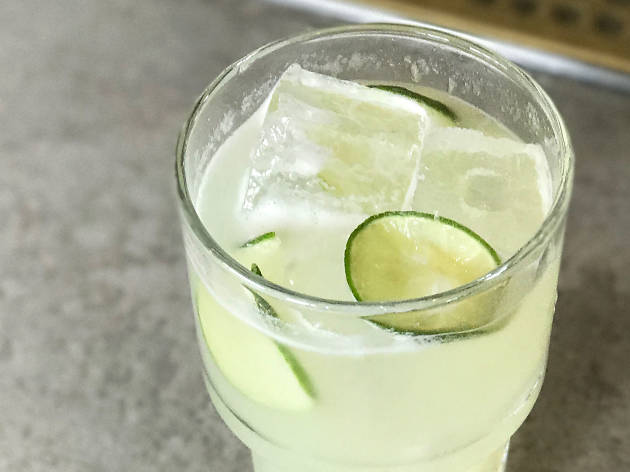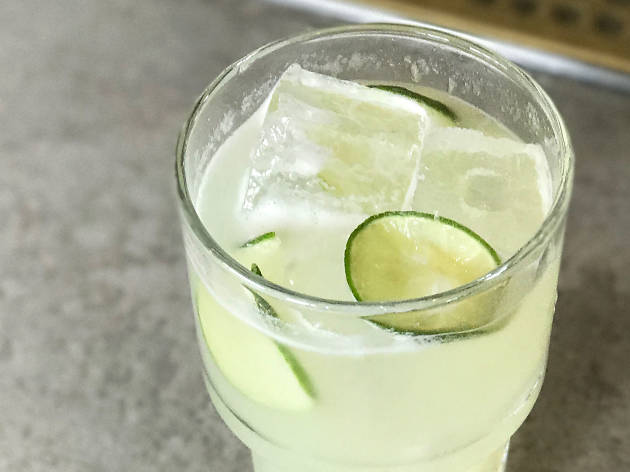 Photograph: Wade McElroy
Chicano | Estereo, Chicago
"A classic Perivian Chicano is one of my very favorite cocktails," says Estereo general manager Michael Rubel. "It foregrounds the pisco beautifully, it's refreshing, delicious and simplicity incarnate."
Ingredients:
1.5 oz pisco
6 oz ginger ale
1 lime wheel
1 dash Angostura bitters
Instructions: Fill a glass with ice and squeeze in a thinly cut lime wheel. Toss in pisco, top with ginger ale and add the tiniest dash of bitters. Mix with a spoon and enjoy.
Tip your bartender: Bar group Heisler Hospitality has its own employee relief fund, and Chicagoans can pay it forward with gift cards.