The best graffiti across all of America
The best graffiti walls, murals and street art, by local and international artists, are found in these cities in America
Searching for culture? We've got you well covered with the best art museums in America, must-see Broadway shows on tour throughout the country and more high-end artistic pursuits. But culture is not confined to the country's theaters and galleries—some of the best artistic offerings can be found outdoors, sprayed and painted across buildings and walls in urban spaces. Here, we've scoured the country to find the best graffiti walls in America, from searing political statements on the walls of Brooklyn, New York to brilliant and colorful murals in Wynwood, Miami. (And if you're looking for jaw-dropping outdoor vistas of a less urban kind, check our our guide to the best national parks in the U.S.)
The best graffiti walls in the U.S.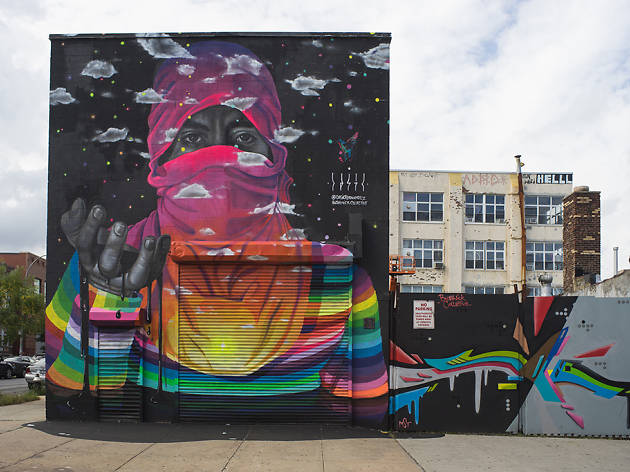 Photograph: Courtesy CC/Flickr/Shawn Hoke
While we all mourn the loss of Five Points, the street art tradition carries on strong across New York's five boroughs. Find every sort of art you are craving: For the environmentally and historically prone, check out Harlem's Audubon bird project; head to the Bronx to find colorful bubble letters and impressive tags that will make you long for the '80s; see culturally conscious street art in Astoria, Queens; search for intricate illustrations by art students in Brooklyn or opt to spend the day with murals in the far more suburban Staten Island.
Must see: Bushwick Collective. Discover innovative and detailed pieces by the likes of Dan Witz, Swoon and Nychos.
Photograph: Courtesy CC/Flickr/Shawn Hoke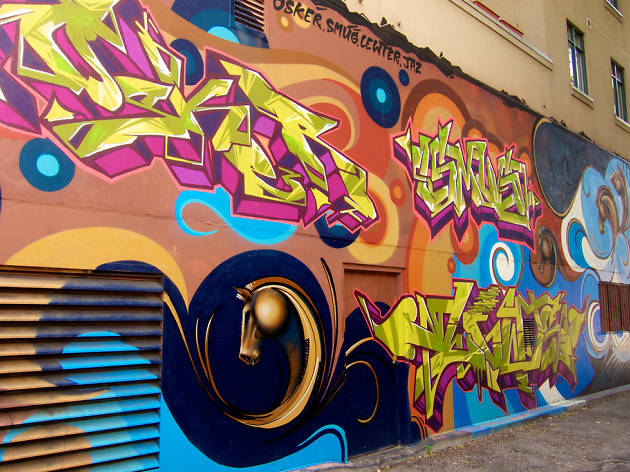 Photograph: Courtesy CC/Flickr/Colin Harris  ADE
Heralded as one of the best cities in the world to see street art, L.A. boasts plenty of gorgeous painted walls to serve as ideal backgrounds on Instagram posts. From Culver to Fairfax to West Hollywood to Venice Beach, find jaw-dropping examples of lifelike murals, colorful collages and mosaics fit for a movie screen all over town.
Must see: Downtown Arts District. Sign up for a walking tour led by local artists who are quick to point out the history, themes and fun facts about art in the area.
Photograph: Courtesy CC/Flickr/Colin Harris  ADE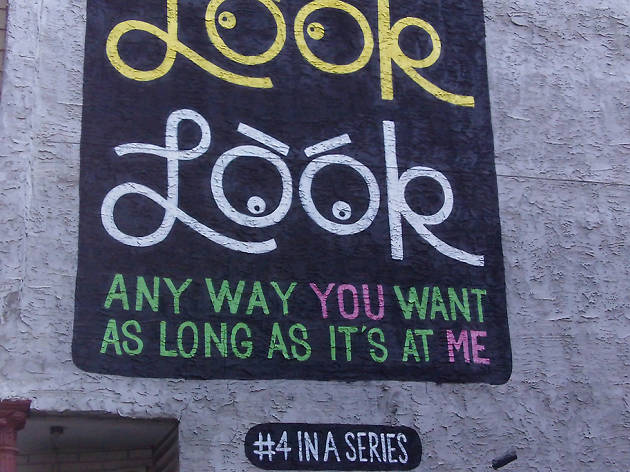 Photograph: Courtesy CC/Flickr/LindsayT
In the latter part of the 20th century, Philadelphia decided to fight the rising graffiti problems by doubling down on large-scale murals. The Mural Arts Program (MAP) hires graffiti artists—including some who have previously been arrested for their art—for one of the biggest street art programs in the U.S. The program—which boasts a hundred newly completed murals each year—has supported massive multi-story projects, many of which often have a political bent and reflect the various cultures dominating the city.
Must see: West Philadelphia. Sign up for a guided tour of the "Love Letter" collection, which tells the story of a boy pursuing a girl over 50 rooftop murals.
Photograph: Courtesy CC/Flickr/LindsayT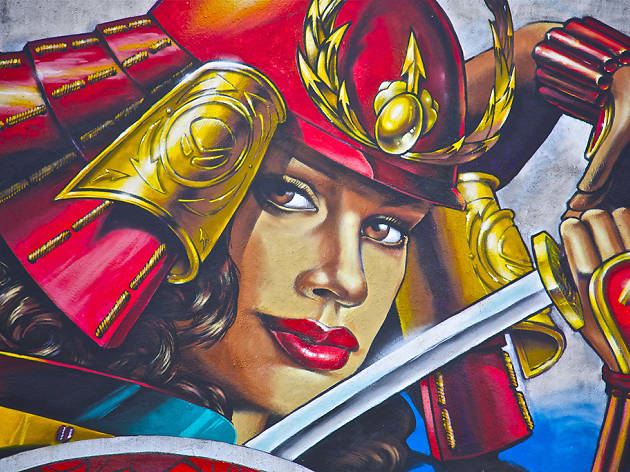 Photograph: Courtesy CC/Flickr/El Gringo
Befitting the South Florida oasis, the murals here are known for their bright colors that dazzle in the warm glow of the sun. But don't let those breezy tropical yellows, oranges, reds and blues trick you into thinking the art is just for aesthetics. Sure, some pieces simply put forth a stunning visual, but others offer a real political message that becomes more apparent following each visit.
Must see: Wynwood Art District. With over 70 galleries, museums and collections, this is the city's must-visit area for art lovers.
Photograph: Courtesy CC/Flickr/El Gringo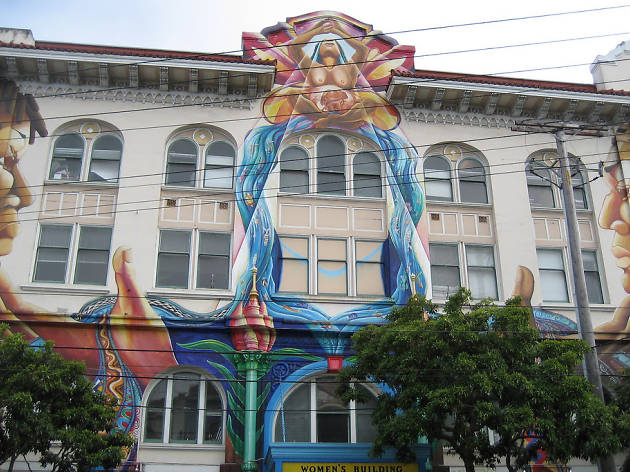 Photograph: Courtesy CC/Flickr/Phillip Tellis
Given San Francisco's reputation as a risk taker, it should come as no surprise that, back in the 1930s, the city was the first outside of Mexico to invite legendary artist Diego Rivera to use its walls as his canvas. Since then, San Francisco has continued to welcome big multicultural public art projects that reflect the diversity of the city.
Must see: Mission. Check out the Women's Building: inside, a non-profit ran by women to help fellow women; outside, a massive multi-story mural that celebrates the power and strength of women throughout history.
Photograph: Courtesy CC/Flickr/Phillip Tellis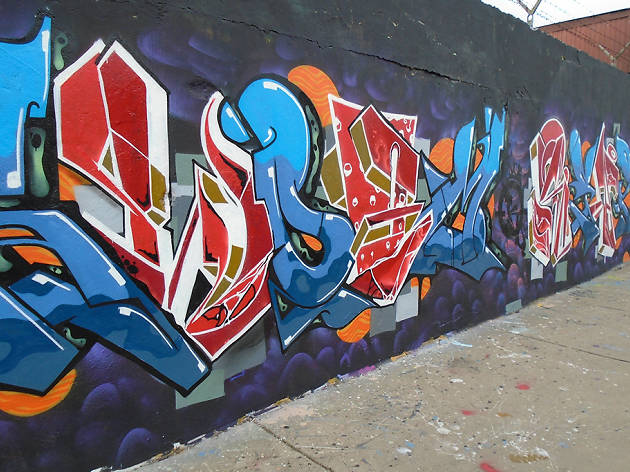 Photograph: Courtesy CC/Flickr/Martin Niese
Although best known for its sanctioned public art—think The Bean and Calder's Flamingo—Chicago is also home to more DIY artistic projects, like artist Hector Duarte's home, covered in giant murals that crawl around the sides of the house. And those potholes cause by the seemingly unending winter snow? Many have been covered by quirky mosaics.
Must see: Ukrainian Village. A favorite among young city residents, the Ukrainian Village has recently been home to some experimental and cool art.
Photograph: Courtesy CC/Flickr/Martin Niese
When most people think of the nation's capital, their minds drift to politicians, dining rooms filled with lobbyists and massive museums surrounded by pristine monuments. But D.C. is much more than that. Walk around the city and take in the rich cultures that seamlessly blend into one another. We recommend you check out the art work by Aniekan Udofia, whose murals depicting African American luminaries like Marvin Gaye, Frederick Douglass and Duke Ellington, are a sight to behold.
Must see: Rhode Island Avenue metro station. Check out "From Edgewood to the Edge of the World," a massive mural made by five artists and forty apprentices.
Photograph: Courtesy CC/Flickr/Elvert Barnes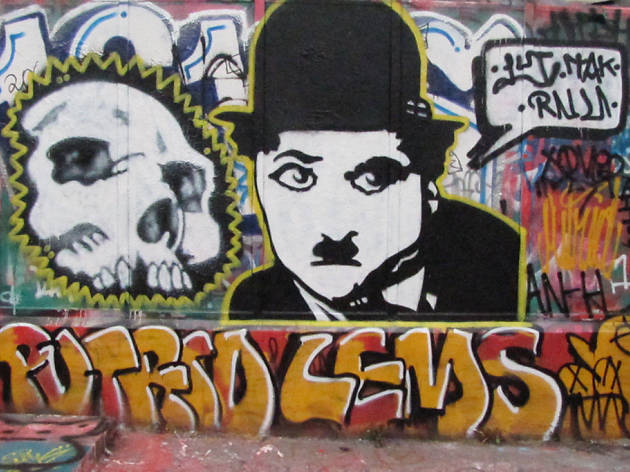 Photograph: Courtesy CC/Flickr/javacollen
While the murals found around Seattle are certainly noteworthy, most of the city's best street art consists of stencils, stickers and wheat pastings. Reflecting an at-times temporary rebellious streak that leaves a clear mark on the city, these forms of art usually represent a commentary on big tech businesses taking over the town and pushing out more creative endeavors.
Must see: Pioneer Square. The city's oldest neighborhood is also home to many art galleries.
Photograph: Courtesy CC/Flickr/javacollen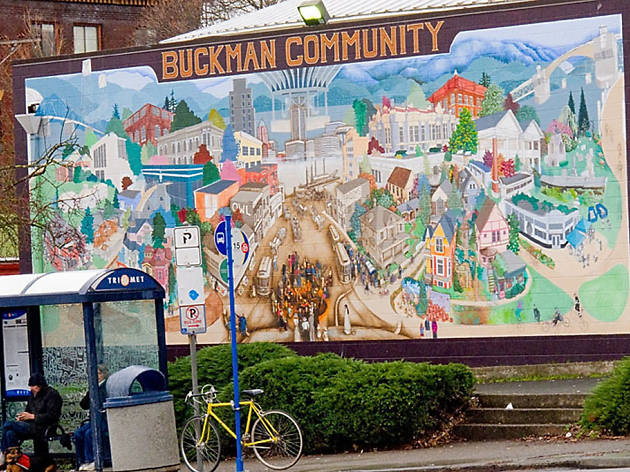 Photograph: Courtesy Portland Street Art Alliance
Since the Lovejoy Columns were illegally painted on overpass columns to brighten an otherwise industrial area, Portland has been a breeding ground for street art. However, during the 1990s, the city's government attempted to clean up its image by destroying the Columns alongside other examples of the form, much to the chagrin of residents. The collective outcry eventually led to a city-wide public art program that is still in effect today and officially sanctions certain street art community projects.
Must see: Buckman. Head to the Southeast Portland neighborhood to check out the Buckman Community Mural, an impressive large-scale street scene near a slew of other street art projects (check out the Portland Street Art Alliance's map).
Photograph: Courtesy CC/Flickr/wiredforlego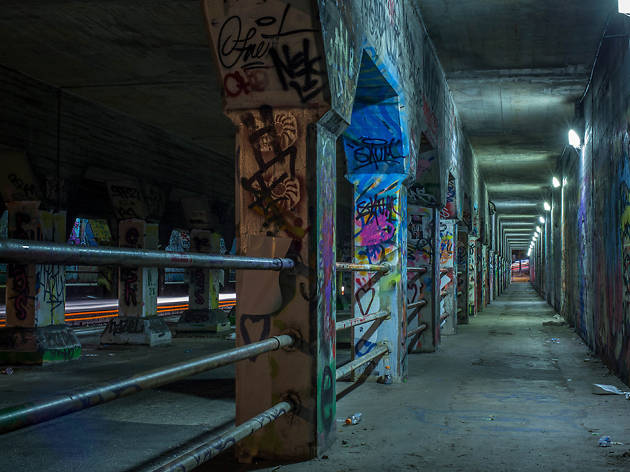 Photograph: Courtesy CC/Flickr/Travis Leech
With various street art projects cropping up all over the city, Atlanta is the place to be for up-and-coming artists. Despite the task force that was created in 2011 to curtail the street art work, many of the city's voices unite to express themselves and beautify the city in the process.
Must see: Krog Street Tunnel. The tunnel connects the Cabbagetown neighborhood to Inman Park and is completely covered with tags and pictures.
Photograph: Courtesy CC/Flickr/Travis Leech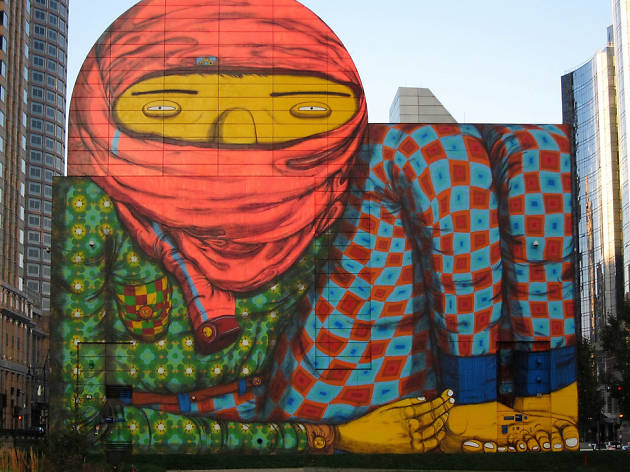 Photograph: Courtesy CC/Flickr/Bosc d'Anjou
Following the 2009 arrest of famous street artist Shepard Fairey for illegal tagging—while a local museum hosted an exhibit of his work—the city's strict approach to the form seems to be giving way to more relaxed dealings. Fun and unusual projects are popping up all over town, including the work of an artist who is filling in cracks in deteriorating brick walls with colorful Lego blocks.
Must see: Northeastern University. Home to some of Boston's brightest minds, the school is also defined by some amazing graffiti work found on walls all over campus.
Photograph: Courtesy CC/Flickr/Bosc d'Anjou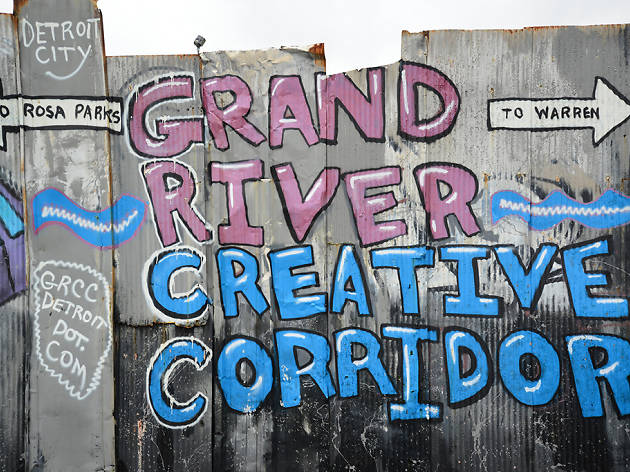 Photograph: Courtesy CC/Flickr/Christopher Fitz
As more artists, entrepreneurs and young innovators move into the city, Detroit is slowly cleaning up its dilapidated infrastructure. Find unique examples of street art springing up all over town—while some aim to heighten the city's rich history, others offer a bit of whimsy to the industrial town… But all are very much appreciated.
Must see: Grand River Creative Corridor. Handed over to street artists in 2012, the area that was once completely vandalized and destroyed is now home to plenty of galleries.
Inspired by Philadelphia, Baltimore has been focusing on a public mural project since the 1980s. The Open Walls project in 2012, and again in 2014, brought beauty to the North Avenue Cultural District, which at the time really needed some revitalization. Nearby Maryland Institute College of Art also worked with the city on a Social Justice Arts Project in 2010, which brought student-led, socially-aware work to North Avenue.
Must see: Graffiti Alley. Behind the Load of Fun Art Space, this L-shaped alley has always been a favorite for city taggers and a financial headache for the city to clean. The solution? The legalization of tagging in the area.
Photograph: Courtesy CC/Flickr/Elvert Barnes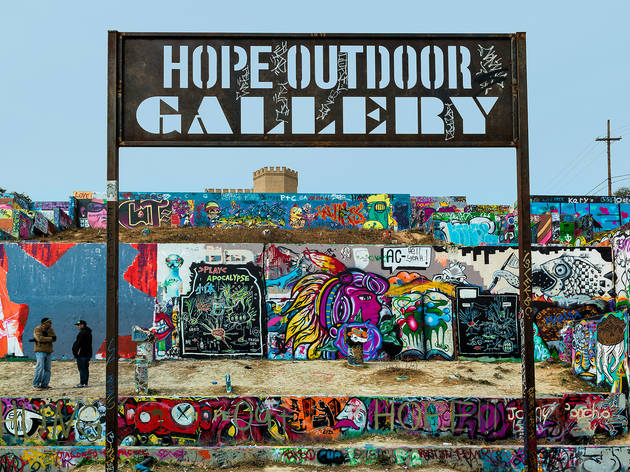 Photograph: Shutterstock/Nagel Photography
The blossoming street art in Austin reflects the city's quirky sensibility and vibrant cultural scene. Check out the city's highways for some of the most eclectic art around.
Must see: Graffiti Park. The tall hill boasts rows of walls that are taken over by both amateur and more established artistic efforts. You too can legally join in on the fun.
Photograph: Shutterstock/Nagel Photography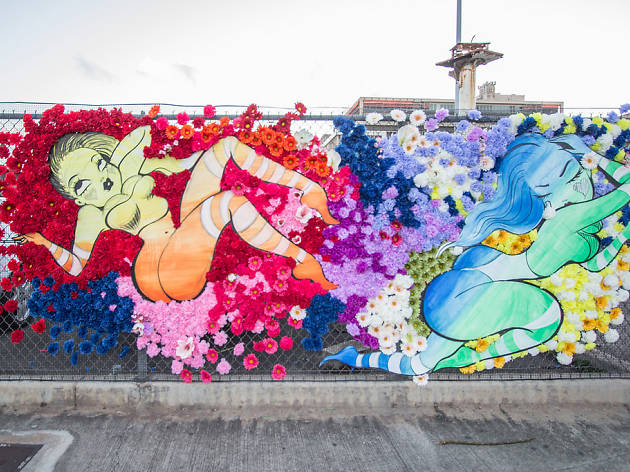 Photograph: Courtesy CC/Flickr/Valentino Valdez
Away from the tourist meccas—big souvenir shops, hula dancers, beaches and the like—there's a vibrant street art community in the more urban sections of Honolulu. Travel off the beaten path for murals depicting Hawaiian life and culture, which is unlike any other in the country.
Must see: Kakaako. In the city's warehouse district, industrial buildings and auto body shops become the backdrop for murals as beautiful as the city's big waves. But beware: many of the buildings will soon be demolished to make room for new complexes.
Photograph: Courtesy CC/Flickr/Valentino Valdez