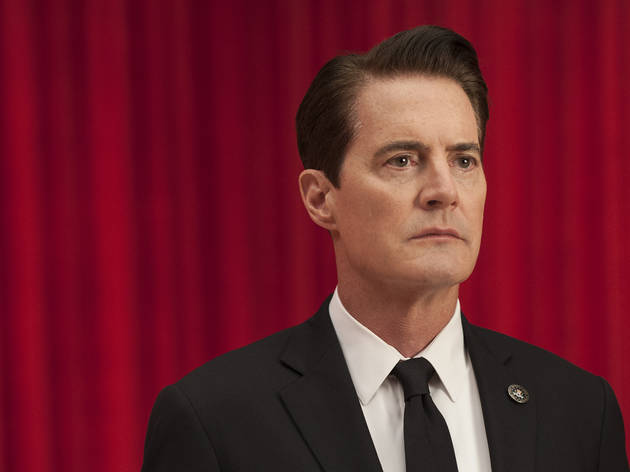 Celebrate the 30th anniversary of 'Twin Peaks' with a Kyle MacLachlan viewing party
Posted: Thursday April 2 2020, 2:57pm
If weeks inside your home have you feeling like you're going insane in the Black Lodge, now you can quarantine with Special Agent Dale Cooper.
David Lynch's episodic, mysterious masterpiece Twin Peaks turns 30 next week, and to celebrate the show's anniversary, actor Kyle MacLachlan—who brought coffee lover and FBI agent Dale Cooper to life—wants to watch an episode with you.
In a video complete with his own spectacle of quarantine hair (celebrities, they're just like us!), MacLachlan proposes a virtual viewing party where we can all tune in and watch the pilot together. The episode was chosen by popular vote, based on responses to his Twitter post, and was selected from the option of original seasons one and two. (Sorry, fans of 2017's The Return.)
"I've noticed a lot of you have been watching and rewatching—and some discovering for the first time—Twin Peaks," he says in the video. "And I thought, 'Why don't we set up a time where we can watch your favorite episode together?'"
On Wednesday, April 8, give yourself a present and follow Special Agent Cooper's immersion into the town of Twin Peaks as he investigates the murdered, wrapped-in-plastic beauty Laura Palmer. We're betting the always-charming MacLachlan can share some behind-the-scenes knowledge about the show and maybe even drop some Log Lady-levels of wisdom.
Start streaming the pilot at 11:30am PST, when MachLachlan will also be starting it; he'll begin live-tweeting the episode, and then at 1:20pm PST he'll go live on Instagram with a special guest (ahem, none other than the diner's own Shelly, Mädchen Amick). In the meantime, we'll get the pie and coffee ready.
This story has been updated with the date, time and episode of the viewing party.
Share the story