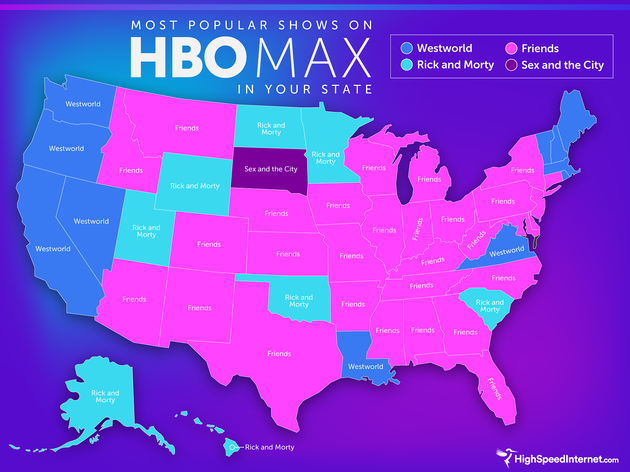 This map highlights each state's favorite HBO Max show
'Friends' reigns supreme.
Posted: Friday July 31 2020, 9:31am
Confession: we're still not entirely sure what the difference between HBO Max, HBO Go and HBO Now is. That being said, we've been loving what we've been streaming on the network's latest platform, HBO Max.
From iconic favorites—Friends! The Fresh Prince of Bel-Air! The Big Bang Theory!—to new originals like Love Life, starring Anna Kendrick, the network certainly delivers, and then some.
Website HighSpeedInternet.com recently took to analyzing HBO Max-related trends across the country to develop a map that illustrates each state's favorite network show and the results are, well, predictable? Four different shows made it on the map: Sex and the City, Friends, Westworld and Rick and Morty.
Overall, Friends reigns supreme as the most popular show all around—unsurprising to us and, likely, the network itself given the battle it went through to earn the rights to stream the comedy once Netflix lost them.
Fun fact: Sex and the City is actually the most popular program in a single state, South Dakota.
As for methodology, the site "compiled a list of popular HBO Max shows and used Google Trends to find and rank the most searched show in every state."
Thoughts on the map?
Most popular on Time Out
- According to a new study, Delta is now the cleanest airline out there
- Hurry up: JetBlue is offering buy-one-get-one-free round-trip tickets right now
- Get paid $20,000 (plus free beer and gear) to hike the Appalachian Trail next year
- The most gorgeous glass house Airbnbs in the U.S. for uninterrupted views
- Online trivia games to play remotely
Share the story