What movies do folks like to watch on Valentine's Day? Coupon Code website CouponLawn.com sought an answer by delving into Google Trends and Google Ads data from 2018 to 2020, specifically compiling a list of the most popular rom-com movies per state during the day of love throughout the years.
RECOMMENDED: All the new books dropping in February to add to your to-read list
For the purposes of clarity, we'll be focusing on their 2020 findings right here—but feel free to browse through all the data on the company's website.
On a national scale, The Princess Bride reigns supreme. The 1987 film based on the eponymous novel was the go-to choice across 10 states (California, Colorado, Illinois, Indiana, Kansas, Michigan, New Mexico, Oklahoma, Oregon and Washington). In 2020, Clueless lands in second place, mentioned by seven different states (Arizona, Idaho, Kentucky, Montana, North Dakota, South Carolina and Utah). Good choices indeed!
Here's the map showcasing each area's preference and, below, a state-by-state breakdown—which really functions as our new must-watch rom-coms guide moving forward.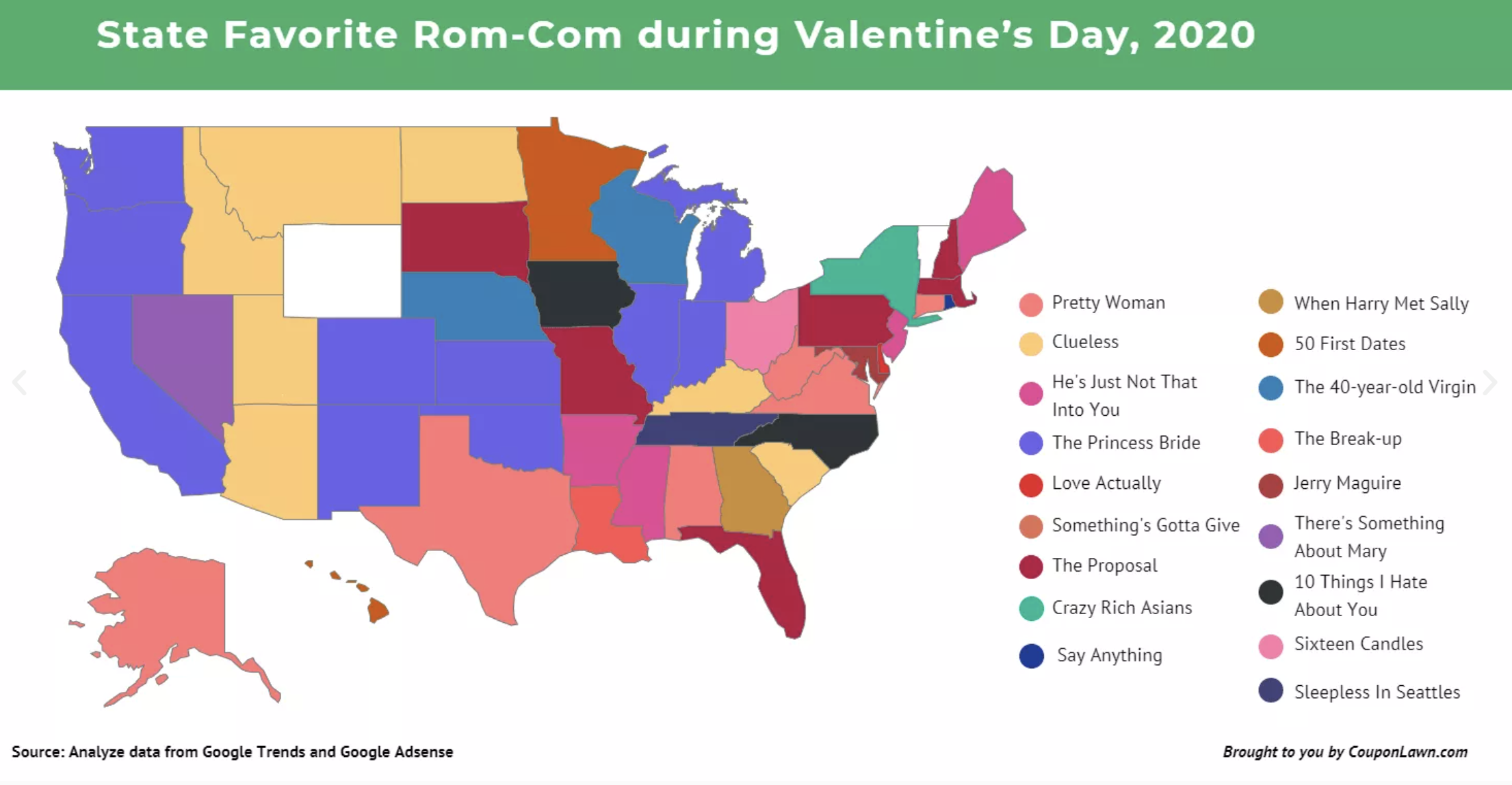 Alabama: Pretty Woman
Alaska: Pretty Woman
Arizona: Clueless
Arkansas: He's Just Not That into You
California: The Princess Bride
Colorado: The Princess Bride
Connecticut: Pretty Woman
Delaware: Love Actually
District of Columbia: Something's Gotta Give
Florida: The Proposal
Georgia: When Harry Met Sally
Hawaii: 50 First Dates
Idaho: Clueless
Illinois: The Princess Bride
Indiana: The Princess Bride
Iowa: 10 Things I Hate About You
Kansas: The Princess Bride
Kentucky: Clueless
Louisiana: The Break-Up
Maine: He's Just Not That into You
Maryland: Jerry Maguire
Massachusetts: The Proposal
Michigan: The Princess Bride
Minnesota: 50 First Dates
Mississippi: He's Just Not That into You
Missouri: The Proposal
Montana: Clueless
Nebraska: The 40-Year-Old Virgin
Nevada: There's Something About Mary
New Hampshire: The Proposal
New Jersey: He's Just Not That into You
New Mexico: The Princess Bride
New York: Crazy Rich Asians
North Carolina: 10 Things I Hate About You
North Dakota: Clueless
Ohio: Sixteen Candles
Oklahoma: The Princess Bride
Oregon: The Princess Bride
Pennsylvania: The Proposal
Rhode Island: Say Anything
South Carolina: Clueless
South Dakota: The Proposal
Tennessee: Sleepless in Seattle
Texas: Pretty Woman
Utah: Clueless
Vermont: -
Virginia: Pretty Woman
Washington: The Princess Bride
West Virginia: Pretty Woman
Wisconsin: The 40-Year-Old Virgin
Wyoming: -
Most popular on Time Out
- Spend the night inside this new 7-Eleven, eat endless snacks and play video games
- Earn $3,000 by simply sleeping on a bunch of mattresses
- These are the 15 most expensive zip codes in all of the United States
- International travelers coming to the U.S. will now have to quarantine for 10 days
- Apparently, most Americans are planning on traveling to Puerto Rico once the pandemic is over