Just last week, we told you all about the most popular Thanksgiving side dishes in each state. Today, we go a step further—courtesy of Google—and highlight the most "uniquely" searched for accompaniments that each state has searched for in conjunction to the holiday season this year. To put it simply: these are the side dishes that each area has Googled more often than folks residing elsewhere within the country.
RECOMMENDED: Mardi Gras 2021 parades are officially cancelled
The map, which neatly highlights the data, is split into five categories: casseroles, veggies, sweet potatoes, stuffing/dressing and other.
A lot of the results are pretty standard—think mashed potatoes and green beans, for example—but others are downright odd. Folks in Iowa, for example, are looking up fruit salad recipes. In Rhode Island, deviled eggs seem to be pretty popular while DC residents have been searching for duck confit. Other odd entries include broccoli casserole (Kentucky), rice (Virginia) and cranberry relish (Ohio).
Below, check out the map or scroll down to find a state-by-state breakdown of the results: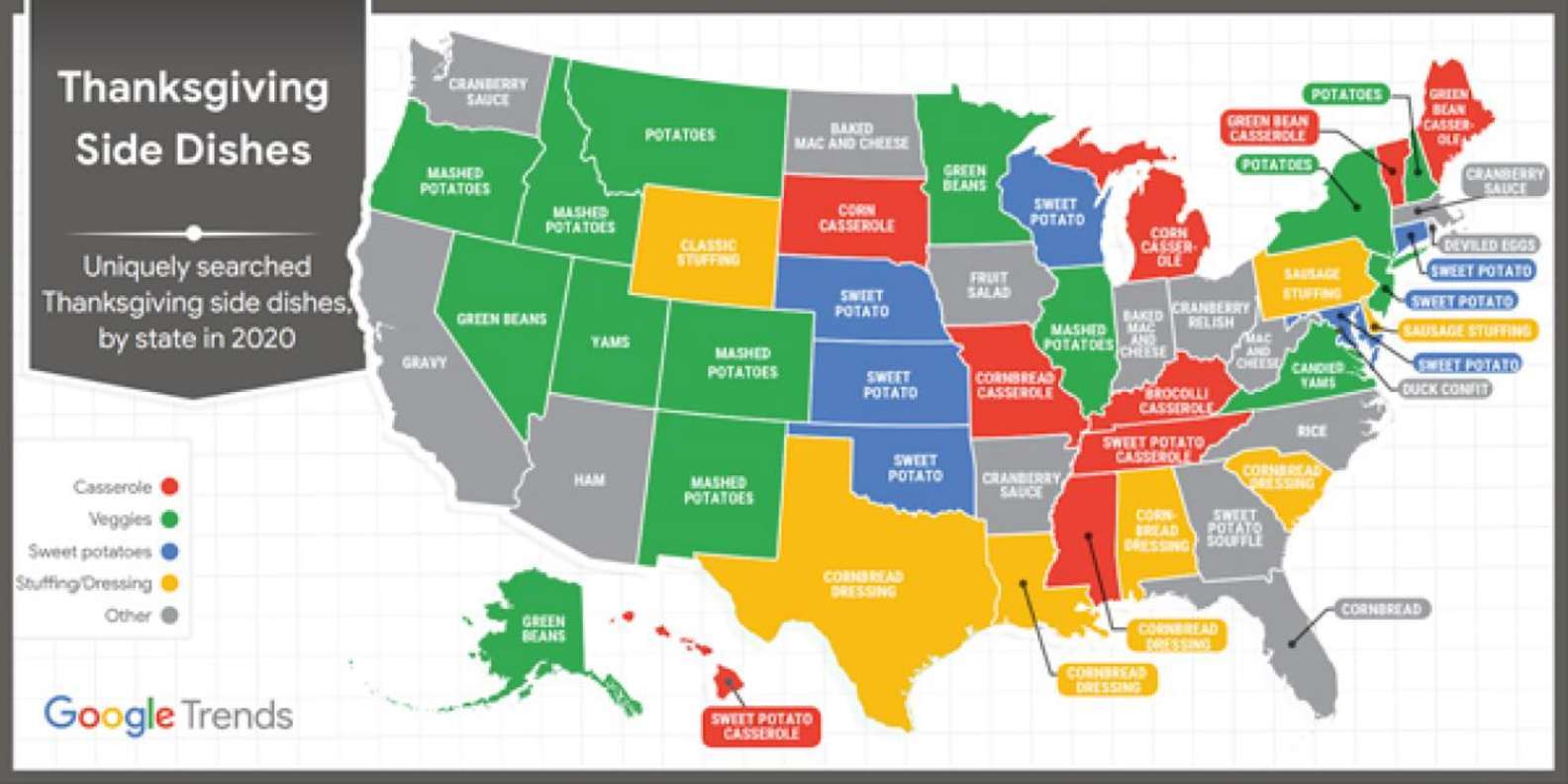 Alabama: Cornbread dressing
Alaska: Green beans
Arizona: Ham
Arkansas: Cranberry sauce
California: Gravy
Colorado: Mashed potatoes
Connecticut: Sweet potato
Delaware: Sausage stuffing
Washington, DC: Duck confit
Florida: Cornbread
Georgia: Sweet potato souffle
Hawaii: Sweet potato casserole
Idaho: Mashed potatoes
Illinois: Mashed potatoes
Indiana: Baked mac 'n cheese
Iowa: Fruit salad
Kansas: Sweet potato
Kentucky: Broccoli casserole
Louisiana: Cornbread dressing
Maine: Green bean casserole
Maryland: Sweet potato
Massachusetts: Cranberry sauce
Michigan: Corn casserole
Minnesota: Green beans
Mississippi: Cornbread dressing
Missouri: Cornbread casserole
Montana: Potatoes
Nebraska: Sweet potato
Nevada: Green beans
New Hampshire: Potatoes
New Jersey: Sweet potato
New Mexico: Mashed potatoes
New York: Potatoes
North Carolina: Rice
North Dakota: Baked mac 'n cheese
Ohio: Cranberry relish
Oklahoma: Sweet potato
Oregon: Mashed potatoes
Pennsylvania: Sausage stuffing
Rhode Island: Deviled eggs
South Carolina: Cornbread dressing
South Dakota: Corn casserole
Tennessee: Sweet potato casserole
Texas: Cornbread dressing
Utah: Yams
Vermont: Green bean casserole
Virginia: Candied yams
Washington: Cranberry sauce
West Virginia: Mac 'n cheese
Wisconsin: Sweet potato
Wyoming: Classic stuffing
Most popular on Time Out
- Barack Obama just shared the 20-song playlist that inspired his new memoir
- You need to see these gorgeous photos of National Parks covered in snow right now
- These U.S. states require you to quarantine or present a negative test when visiting
- 5 tips for traveling safely this Thanksgiving season
- Unsurprisingly, Maui is the top honeymoon destination in North America at the moment