Austin's red hot atm, and we're not just talking 'bout three-digit summers. Virgin Atlantic's first new route in the US since 2017 launched this month in the Texas city.
Founder Richard Branson touched down at AUS this week pumped to celebrate and embrace the warm welcome. "They say everything is bigger in Texas and I've found that to be true!"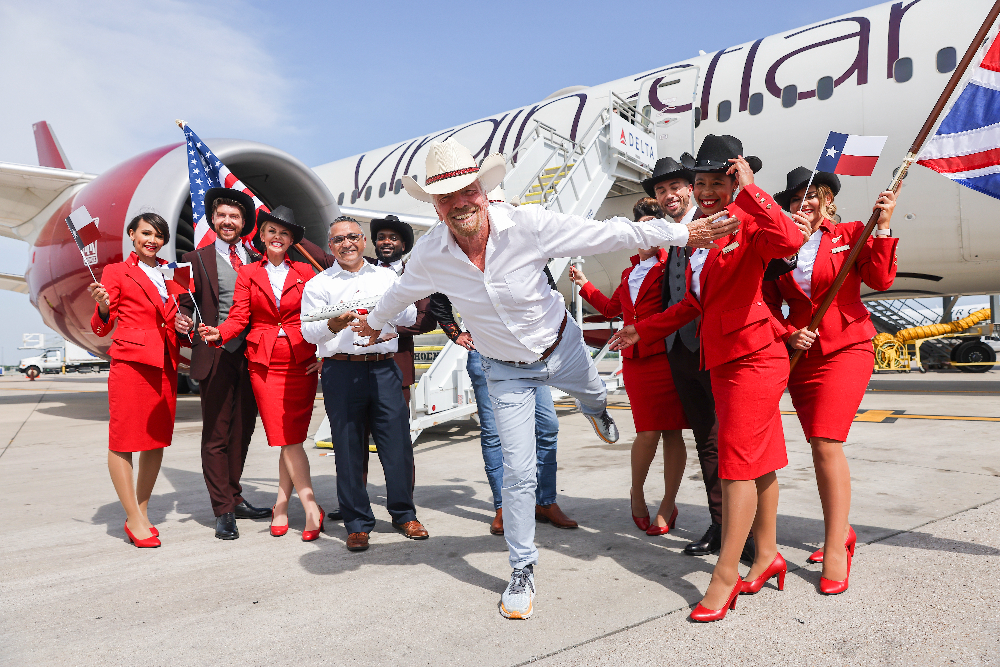 Virgin joins a slew of airlines and new businesses keen to stake a share of Boomtown's bounty—and we don't blame 'em: consistently ranked as one of the nation's fastest-growing cities, 7.7 million passengers came through AUS in 2019, a number spiking in 2022.
"Seeing our aircraft touch down in Austin fills me with great pride and is a momentous occasion as it represents Virgin Atlantic's new phase of growth," says Chief Commercial Officer Juha Jarvinen. "Since US borders opened to UK travelers in November 2021, it feels extra special to be launching this route."
So what does this mean to the former weird kid of the Lone Star State? Here's everything you need to know about the big launch and how it impacts greater Austin.
For now, direct flights are just to London.
Virgin Atlantic will start with a four times per week (daily from spring 2023) service nonstop from LHR to AUS. This opens travel up a multitude of routes connected to London, aka the busiest transport hub in Europe. Jacqueline Yaft of AUS says, "This new partnership helps meet our goals of continued recovery from the impacts of the pandemic and furthers our commitment to being the Gateway of Central Texas." In addition to flying humans, Virgin Atlantic will have 20 tonnes of cargo capacity per flight. This fast cargo service gives new opportunities for companies exporting and importing goodies between markets in the UK and US (remember, Amazon HQ in North Austin?).
Tourism's flying through the roof.
Already noticing the squeeze at Barton Springs or bat bridge at dusk? Time to switch to a smaller blanket. "Austin's tourism recovery continues in 2022, with occupancy rates rising year-over-year," says Kelly Belt of downtown's snazzy Kimpton Hotel Van Zandt. "Our hospitality industry will be bolstered by more than a dozen new hotels that will open by the end of 2023, on top of the 16 that opened in 2020 and 2021. The UK is one of Austin's most important markets—Texas a big destination for British visitors."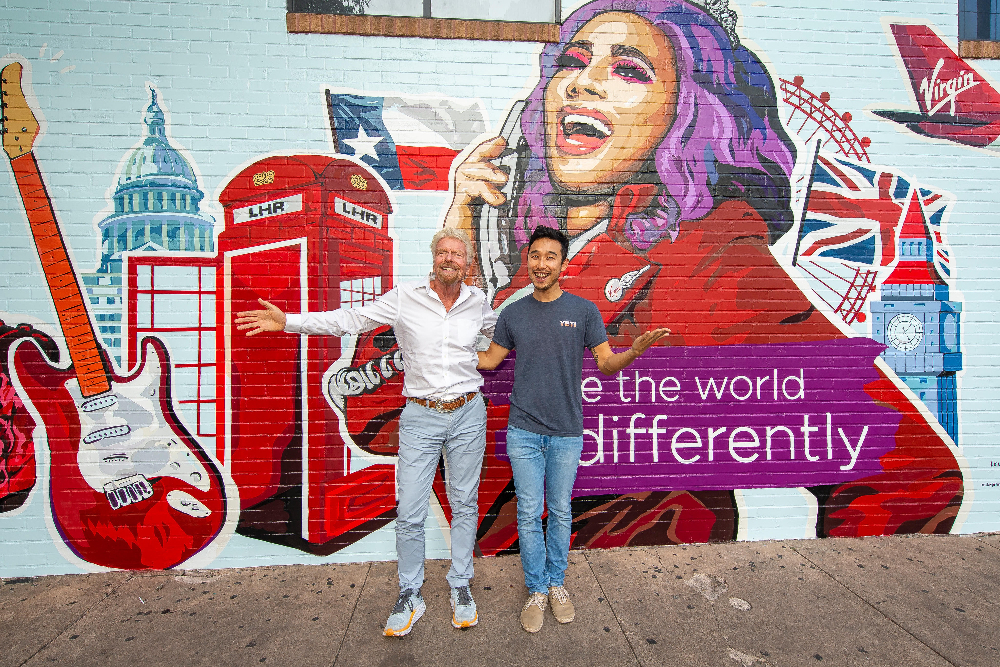 And there's a new pop-up attraction in town.
Sixth Street's got a splash of new color to commemorate the occasion. Branson walked Time Out over to a new mash-up of London meets Austin street art by top local artist, Mike Johnston. The piece can be viewed for a limited time at the corner of San Jacinto and 6th.
Tech geeks are in for a treat.
ATX's earned the nickname Silicon Hills for good reason. Longtime hub to Dell, Cisco and SXSW, Austin in 2022 will see more Google offices, plus Coindesk's inaugural Consensus festival – which equates to more business travel. Virgin's Upper-Class homes lures tech wizards with a sleek 'n' sexy business travel model. Think swanky Clubhouse lounges with Peloton fitness centers, designer lay-flat beds under moody purple lighting, and even in-flight cocktail bars and WiFi (hello, mile-high Zoom happy hour). Consider corporate plastic delightfully burned.
The city is diversifying rapidly.
Spoilt for choice on Tinder? That's because Austin's seeing new residents from all corners of the world. "With so much burgeoning tech and entrepreneurial industry here, our city's become a magnet for ex-pats relocating long term," explains ATX realtor Maria Francesca Repucci. "I'm seeing more and more clientele from across the pond, including London." Joey Gonzalez, of 2nd Street's freshly opened Barry's, echoes Repucci. "Virgin Atlantic's new route ensures a meaningful influx of existing and potential new clients for local businesses. We hope Virgin's customers "think red" all the way to our Red Room studio! Yeehaw!"
We're gonna be seeing a lot more of Branson in Bat City.
If the launch party at Speakeasy Austin's anything to go by, Austin's all for Branson and co. painting the town red. "We already have a Virgin Hotel in Dallas. And will be expanding them across the world, including New York and London," Richard concludes, "I've been to Austin many times for speeches and talks with young entrepreneurs, but haven't spent a lot of time here otherwise. Now with a plane coming in regularly, I'll be back a lot more—see you soon!"