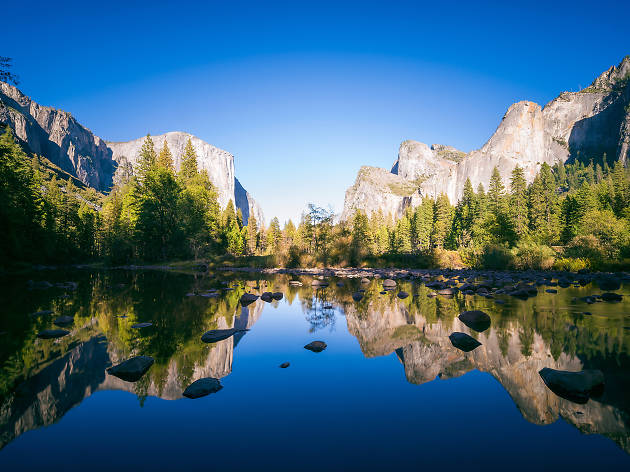 Yosemite is open—and yes, you need a reservation to visit
Mandatory day-passes will keep crowds at 50 percent capacity.
Updated: Monday June 15 2020, 1:07pm
UPDATE: Yosemite is now open, but day passes are required for entry. 1,700 passes are issued each day with an additional 1,900 passes for reservations at campsites or hotels in the park. Only two campsites are open. Previously, the the Yosemite Wilderness opened to those with existing wilderness or Half Dome permits.
As national parks like Joshua Tree and Yellowstone, start to reopen across the United States, each site is figuring out how to keep employees and visitors safe. For Yosemite National Park in California, it looks like that will mean reservation-only day passes, crowds at 50 percent capacity, and keeping most hotels closed for now.
Although the reopening plan still needs approval from the Department of the Interior, additional changes at Yosemite would likely include no shuttle buses running in the park, one-way trails and encouraging visitors to wear face masks and practice social distancing. The biggest change being that visitors coming in for the day would be required to first purchase a day pass online at recreation.gov. (Tickets are not yet for sale.)
In the first phase of reopening, up to 1,700 entry tickets will be sold per day at the usual entry rate of $35 per vehicle. Visitors with an overnight reservation at a hotel or campground will not need to also purchase day passes. The park estimates that with the implementation of day passes, the subsequent crowds will equal about half of the crowd Yosemite would usually see during the summer.
For overnight accommodations, The Ahwahnee Hotel and Yosemite Valley Lodge would fully reopen, as would at least two campgrounds in Yosemite Valley. Curry Village would reopen at half capacity, and Housekeeping Camp would remain closed. Shuttles would also not operate in the park in 2020.
This is not the first time that Yosemite has implemented a reservation system to control crowds; In 2018, the park required reservations to view its famous "firefall" phenomenon. The renewed day-pass plan comes after recent national parks such as Yellowstone and the Smoky Mountains were overrun with visitors on the first weekend of reopening.
As always, it's best to practice social distancing (check out these hilarious posters from the NPS for a reminder of what that looks like) and look out for wildlife, which are more active due to the lack of human activity recently when visiting any national park this summer. Before you plan a visit, make sure to consult our full list of national parks currently open and when they plan to open lodging this summer.
Most popular on Time Out
- Brace yourselves for the return of the drive-in movie theater
- US-based airlines will resume operating international flights as early as next month
- A new bill would require all airlines to give you a refund even if you're the one canceling your flight
- Online party games to play remotely with friends
- You can play Cards Against Humanity online for free
Share the story