Heads up! We're working hard to be accurate – but these are unusual times, so please always check before heading out.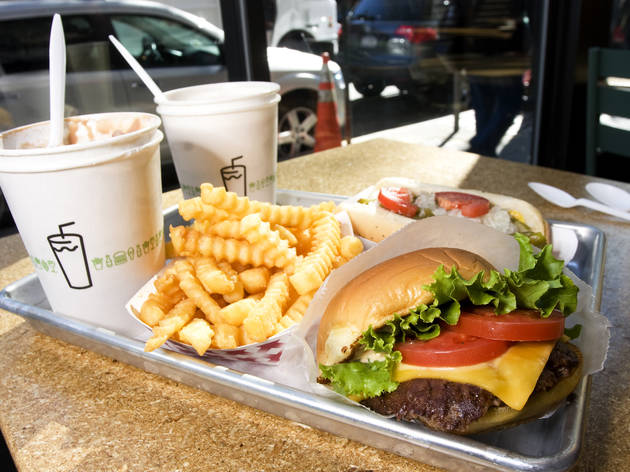 America's 20 best chain restaurants
We ate the breadsticks, chugged cocktails and sat in the rocking chairs to bring you America's best chain restaurants
We often celebrate the fancier end of the dining spectrum at Time Out, crowning the linen-favoring best French restaurants in America and celebrating the country's coziest and most elegant and best wine bars in America. Here, we shuffle down the spectrum a touch to hail the efforts those big-on-flavor, short-on-frills eateries that are always there, waiting (often by a roadside late at night) to serve up heaping plates of deliciousness and familiarity: America's best chain restaurants. They're the guys serving some of the best burgers in America, giving us breakfast at all hours, and pouring us cocktails the size of our heads. Their signature dishes—hello, Olive Garden breadsticks, my old friends—are household names, and their servers always come with a side of excellent chat. Here, we rate and rank the best chain restaurants in America.
Best chain restaurants in America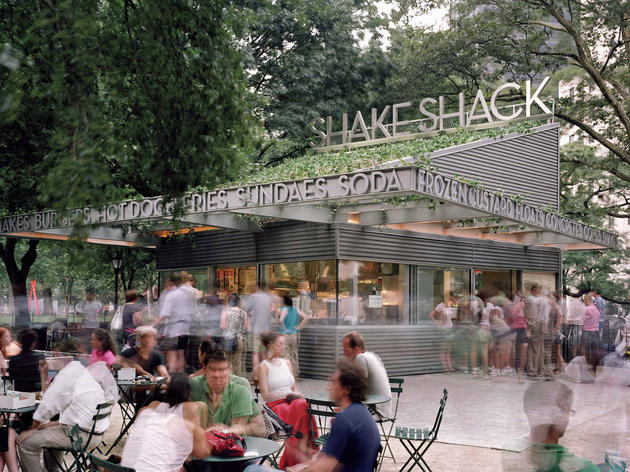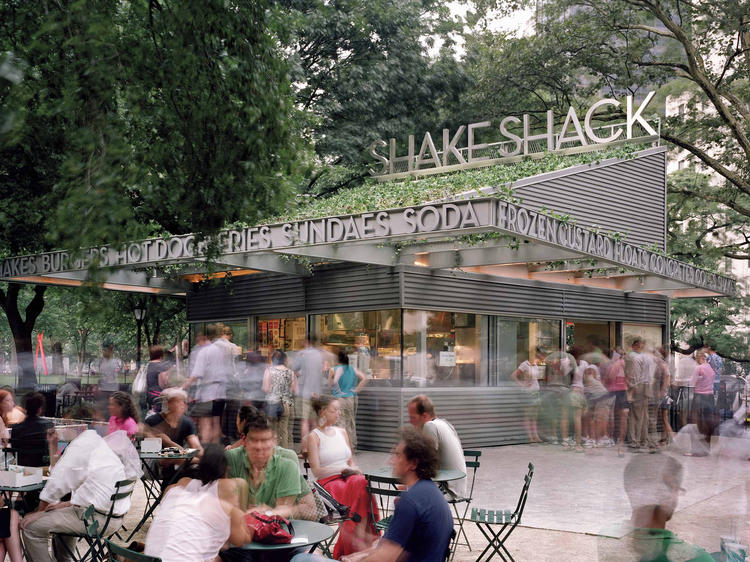 Photograph: © Peter Mauss/Esto
It may be easy to make a burger, but it's not always easy to make a great burger. Shake Shack, however, has tender, juicy patties on lock—at 60-plus locations worldwide (with hundreds more to come). With professional, lightning-fast service and an always-tasty menu that also includes killer loaded dogs and house-made frozen custard, the answer to the question "Wanna go to Shake Shack?" is always a resounding yes.
Signature dish: Shackburger, with single or double patties, cheese, lettuce, tomato and Shacksauce.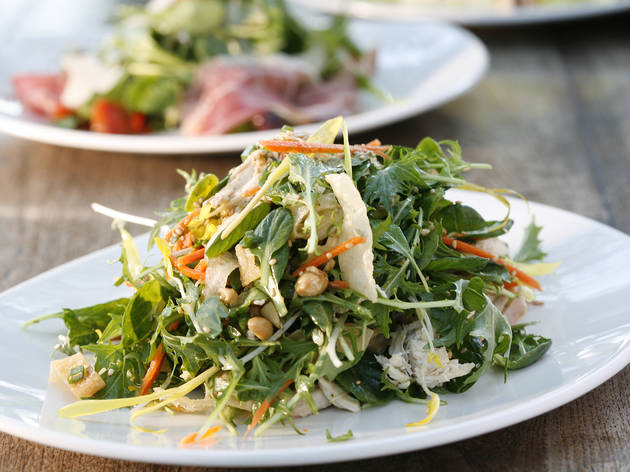 Photograph: Courtesy Tender Greens
If you live on the Best Coast, the wildly inventive Tender Greens is yet another reason to feel pretty darn content about your life. With 20-plus locations in L.A., San Diego and Orange County as well as the Bay Area, the fast-casual spot serves up hearty, veggie-heavy soups, salads and sandwiches whose creation is overseen by trained executive chefs. Think small-batch salami served over kale with crispy garbanzos and roasted garlic vinaigrette, or rare, herb-brushed tuna steaks with mashed yukon golds. So California.
Signature dish: Chipotle barbecue chicken salad with avocado, queso fresco, crispy tortillas and cilantro-lime dressing.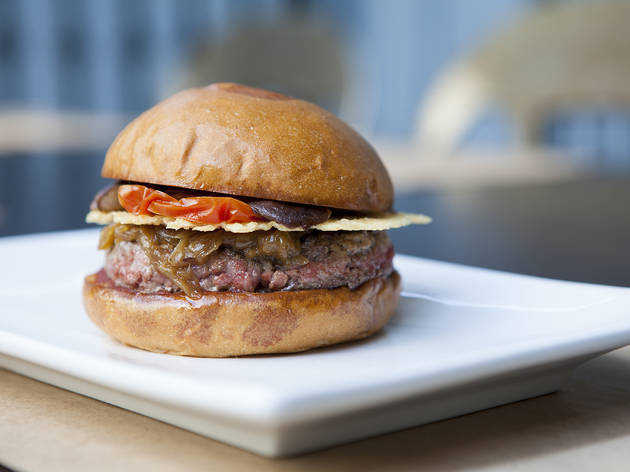 Photograph: Jakob N. Layman
Serving up juicy burgers inspired by fine-dining flavors, this Cali-born chain focuses on the chef-lauded "fifth taste," that assertive, mouth-filling flavor found in tomatoes, aged cheeses and soy sauce. With comfortable table seating, waiter service and a full bar, Umami sets itself apart from other burger chains, promising a full-on restaurant experience—not just a great sandwich. There aren't as many locations as with other burger chains, but sometimes tasty things come in small packages.
Signature dish: Umami Burger with parmesan "frico," roasted tomato, caramelized onions and Umami ketchup.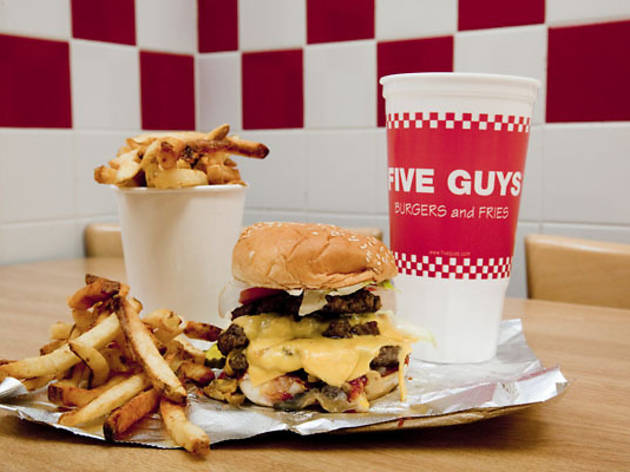 Andrew Fladeboe
Speaking of burgers, this 1,000-plus strong chain puts out a delicious one: thin but moist and served up on a quintessential sesame-seed bun and loaded with your choice of as many of the Guys' 15 toppings and condiments as you want—all for free. With exemplary house-cut fries and a welcoming but super-casual atmosphere, it's an obvious choice for a quick but exponentially satisfying meal.
Signature dish: Bacon cheeseburger and fries.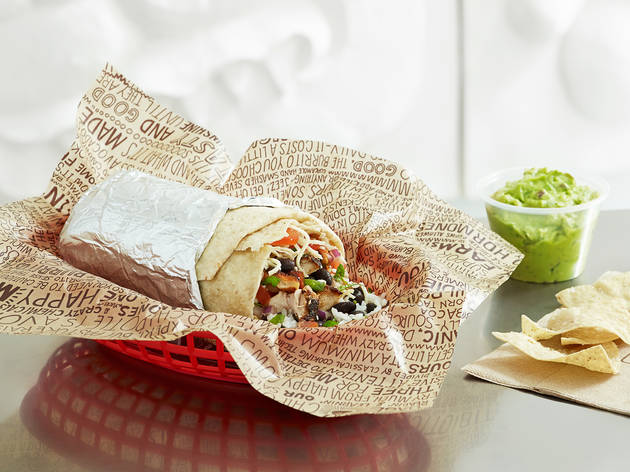 Photograph: Courtesy Chipotle/William Brinson
Serving super-craveable, Mexican-inspired burritos and bowls that are packed with flavor but sold at a low price, Chipotle is an obvious choice for one of the best chain restaurants in the country. Even better? This is food with a conscience: serving only non-GMO ingredients and pasture-raised meat, Chipotle has set a high bar for its competitors. Sure, the whole empire had to shut down in early 2016 after several E.Coli scares—but, let's face it, it's "we're sorry" free burrito offer in February lured us right back in.
Signature dish: Carnitas burrito with rice, beans and fajita veggies.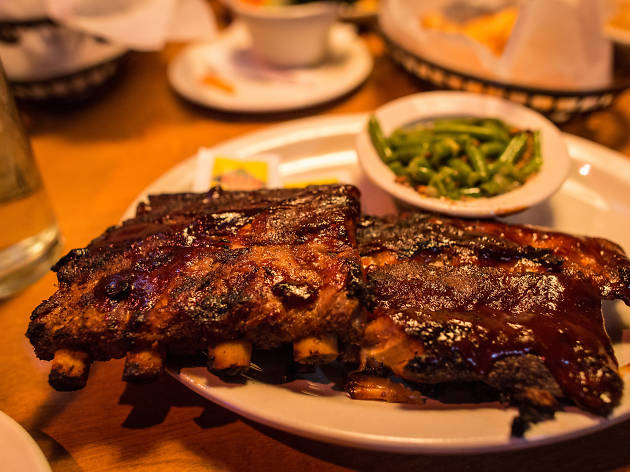 Photograph: Courtesy CC/Flickr/Guian Bolisay
With 400-plus restaurants in 49 states, this meat-centric family restaurant is obviously doing something right. Plating up big, budget-friendly plates of steaks and ribs flanked by starchy sides like loaded baked potatoes and cheese- and bacon-studded mashers, the Roadhouse also emphasizes fun with its jukeboxes, occasional line-dance performances and solicitous waitstaff—not to mention a plethora of boozy draught cocktails such as frozen margaritas and potent punches.
Signature dish: "Fall-Off-the-Bone" ribs with signature barbecue sauce.
Photograph: Courtesy CC/Flickr/Guian Bolisay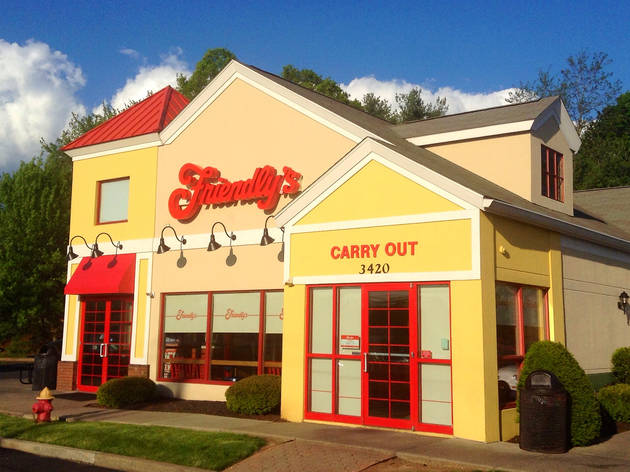 Photograph: Courtesy CC/Flickr/Mike Mozart
We'd like to think that the unofficial motto of Friendly's—ever a highway-side beacon of hope during those long, cross-country drives—is: "Friendly's: because with ice cream, what could possibly be bad?" With comfy booths, perky waitstaff and a comfort food-spanning menu of burgers, melts and fryer favorites, it's hard to feel anything but pure contentment when eating at a Friendly's. To add to the enjoyment, there's that extensive list of frozen delights: shakes, sundaes, floats. Just try leaving without something from the freezer—we dare you.
Signature dish: Original "Big Beef" burger with American and mayo.
Photograph: Courtesy CC/Flickr/Mike Mozart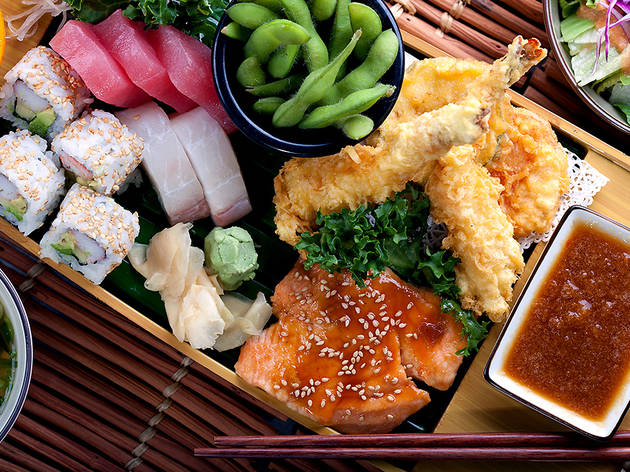 Photograph: Courtesy Benihana/Ana Adams
Showy teppanyaki-style cooking—wherein a chef cooks Japanese-style dishes on a large hibachi flattop grill and presents them, with flair, to a crowd of diner-spectators—was introduced to the U.S. by this historic chain in 1962. While teppanyaki has faded as a dining trend—for a couple of decades there, it was the number one choice for special occasions like birthday parties—it remains a fun and tasty choice for an unusual evening out. We'll take a round of flaming onion volcanoes—stat, please.
Signature dish: Hibachi chicken breast with mushrooms, butter and sesame seeds.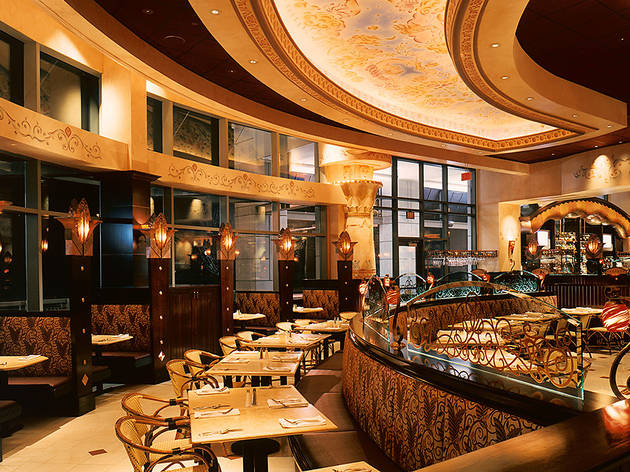 Photograph: Courtesy Cheesecake Factory
9. The Cheesecake Factory
Foodies love to hate on this 188-location-strong chain of comfort-food restaurants, but the fact is: diners love it. The Cheesecake Factory regularly ranks at the top of nationwide customer satisfaction surveys for its attentive service, tasty food, and, of course value—the plates of burgers, ribs and grilled seafood here are huge. And with 36 varieties of genre-bending cheesecake available daily—peanut butter cup fudge ripple cheesecake, anyone?—it's a craving-resolving destination for the sweet tooths among us.
Signature dish: Original cheesecake with graham cracker crust and sour cream topping (simple, but so good).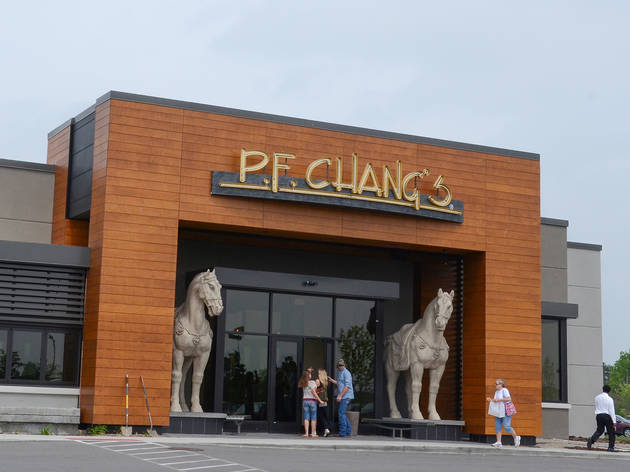 Photograph: Shutterstock/Susan Montgomery
With its abundant portions of approachable, Americanized Chinese food—think sweet, soy-glazed Mongolian beef and Singapore-style rice noodles tossed with shrimp and cabbage—it's easy to see why this chain, established in Arizona in 1993, has multiplied so quickly, with 260 locations around the world. For those in living in smaller towns, where more strictly authentic Asian fare is nonexistent, P.F. Chang's offers a welcome sampling of worldly flavors. For those in bigger towns with straight-from-China dishes at every turn, Chang's is still a solid guilty pleasure.
Signature dish: Chang's spicy chicken, with chili sauce, scallions and garlic.
Show more