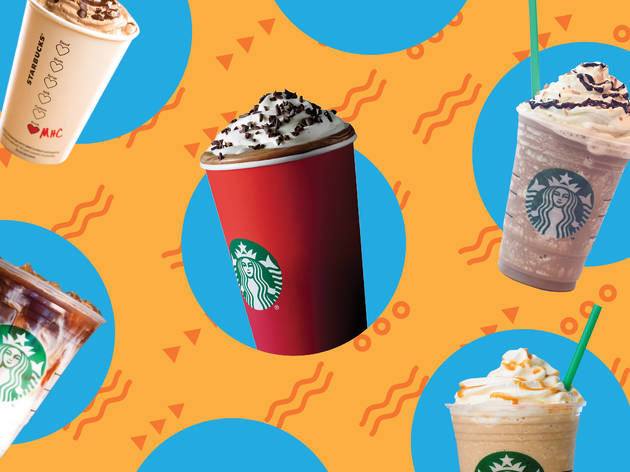 11 Starbucks secret menu items and how to order them
Sick of your skinny vanilla latte and cold brew coffee? These Starbucks secret menu items will delight and then some.
Starbucks secret menu items have become a myth of sorts. It's no longer just about the flavor of the (usually, very sweet) treats but also about how to properly access them. We're here to put an end to that mystery.
To order these secret menu items, all you need to do is actually memorize their respective ingredients. At their most elemental, the concoctions are standard drinks defined by a few changes, a fact that explains why not all baristas necessarily know how to prepare them.
So, if you're looking to order a secret menu item, you'll want to request a basic drink and then add some specifications—which is why we're not just highlighting the names of the various drinks but actually listing all their ingredients.
You're officially in-the-know, so run to the nearest Starbucks and put your knowledge to the test.
Starbucks secret menu items
1. Raspberry mocha eggnog
Ingredients: Iced white mocha, milk, raspberry syrup
Although the classic eggnog latte makes an appearance on Starbucks' menu each holiday season, this raspberry mocha version might delight those with an even stronger sweet tooth. Beware, though: by nature, raspberries tend to be pretty tart, so do expect a kick of flavor to inundate your palate upon each sip.
Ingredients: steamed apple juice, Oprah chai syrup
Full disclosure: Starbucks actually doesn't carry apple cider, but this version of the treat—available year-round—tastes remarkably like the original. Bonus points: according to Internet chatter, the apple cider boasts less calories than the ever popular and pretty similar caramel apple spice.
3. Coconut milk pumpkin macchiato
Ingredients: Coconutmilk mocha macchiato, pumpkin spice syrup, pumpkin spice topping
If you're not a fan of coconut, you'll want to stay away from this espresso, pumpkin and coconut concoction. Although you can enjoy it cold or hot, there is something about a warm coconut drink that makes our days that much more pleasent—so we suggest running with the latter.
4. Cold hot chocolate frappuccino
Ingriedients: Double chocolaty chip creme frappuccino, vanilla syrup, whipped chream, mocha drizzle
Ever had a cold hot chocolate? You might want to try this one, which happens to be very heavy on the chocolate. Opt to add some peppermint syrup to the thing to revel in an extra layer of flavor.
Ingredients: Matcha green tea latte, chai syrup
Matcha was big a few years ago but this secret menu item still packs a punch, whether hot or cold. Don't let the term "green" confuse you, though: matcha boasts much more caffeine than regular green tea.
6. Banana cream frappuccino
Ingredients: Vanilla bean creme frappuccino, vanilla syrup, hazelnut syrup, one whole banana, whipped cream
Ah, frappuccinos: Starbucks' bread and butter. This version truly tastes like pie and, since it's made with an entire banana, we suggest ordering the biggest version of it that's available.
Ingredients: Whole milk, caramel syrup, toffee nut syrup, cinnamon dolce syrup, whipped cream, salted caramel bits, a shot of espresso
Although you can order this without the espresso, what would be the point of that? We promise that even those of you not obsessed with Harry Potter will love this drink, which is a riff on the just-as-popular butterbeer frappuccino.
Ingredients: Strawberry açai refresher, coconut milk, strawberries, blackberries
How often do you see real fruits in the ingredient list of a Starbucks drink? Not often, which is why this secret item is an absolute must-order.
9. Cinnamon bun hot chocolate
Ingredienets: Mocha syrup, white mocha syrup, cinnamon dolce syrup, vanilla syrup, whipped cream, cinnemon dolce topping
It doesn't get more dessert-like than this, so we do suggest indulging in this fiesta of sugar when skipping lunch or, perhaps, as a celebration... alongside a Starbucks cookie?
10. Peanut butter cup frappuccino
Ingredients: Mocha frappuccino, toffee nut syrup, whipped cream, mocha drizzle
Has there ever been a more satisfying culinary combination than peanut butter and chocolate? We think not. Yes, true, the ingredient list doesn't actually include peanut butter (Starbucks doesn't carry it for, we believe, allergy-related reasons) but the toffee nut syrup does the job.
Ingredients: Vanilla bean frappuccino, mocha syrup, hazelnut syrup
Another frap, albeit of a more simpler kind than the others we've highlighted. If you want a taste of chocolate but can't bring yourself to indulge in a drink that's made entirely of the stuff, you'll like this Nesquick version, which is anything but overpowering in flavor.
McDonald's breakfast menu, ranked
There are few things in this world that are universally loved, but we're convinced that McDonald's breakfast menu is one of them. Possessing the power to cure hangovers and turn frowns upside-down, the fast-food chain's bevy of breakfast items ranges from hotcakes and hash browns to the maple-syrup–injected McGriddles. But not all of the selections on McDonald's breakfast menu are created equal.
Best selling Time Out Offers