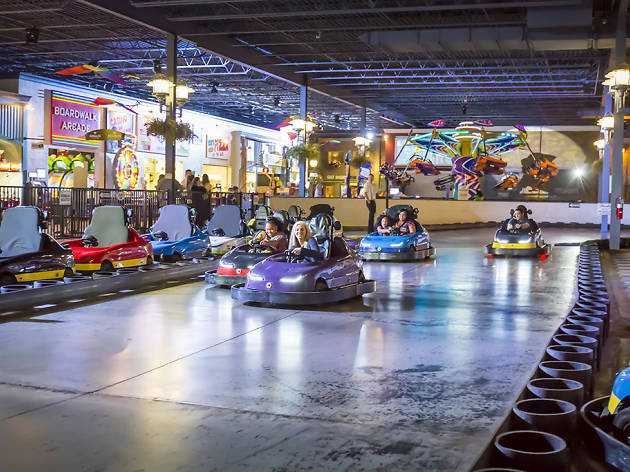 The best indoor amusement parks in America
Have fun with the family at the best indoor amusement parks in America, featuring roller coaster rides and arcade games
Spent all summer exploring the best national parks in the US or riding through the most scenic bike trails across America and you're now seeking some cold weather thrills? Sure, you can check out the best ski resorts in America but we suggest taking a break from classic winter activities and partaking in some family-friendly ones instead. Head to the best indoor amusement parks in America and enjoy your dose of family fun while riding thrilling roller coaster rides or playing some exciting arcade games.
Best indoor amusement parks in America
Photograph: Courtesy Yelp/Kelly G.
1. Nickelodeon Universe in Bloomington, MN
Everything's bigger in Bloomington, including America's largest indoor theme park, the 7-acre Nickelodeon Universe in the Mall of America. Here, your family can enjoy 27 rides that range from the great-for-tots Wonder Pet's Flyboat to the thrilling big kids-only Avatar Airbender. Make sure there's room on your camera for pictures—your kids are going to want to remember meeting their favorite cartoon characters, including SpongeBob, the Teenage Mutant Ninja Turtles and the Bubble Guppies. Mall of America, 5000 Center Court, Bloomington, MN. Pay-per-ride tickets $3.45-$67.77; all-day wristbands $34.99 for one day, $48.99 for two day
Photograph: Courtesy Yelp/Kelly G.
Turn your trip to Sin City into a family affair when visiting Circus Circus's 5-acre indoor desert theme park, Adventuredome. While little ones go around the carousel or the gentle Miner Mike train ride, visitors with a need for speed will go wild for the extreme vertical drops of El Loco and the world's only indoor double-loop, double-corkscrew roller coaster Canyon Blaster. Then get into some friendly competition over rounds of lazer tag, mini golf and mini bowling. 2880 S Las Vegas Blvd, Las Vegas, NV. Ride-all-day wristbands $17.95 for guests shorter than 48", $31.95 for guest taller than 48'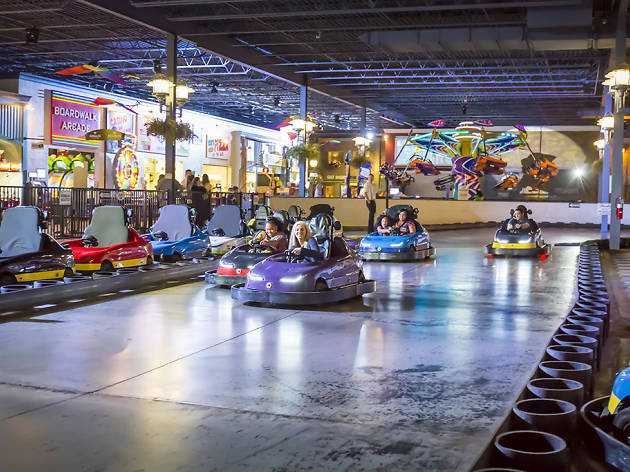 Photograph: Courtesy iPlay America
3. iPlay America in Freehold, NJ
Though iPlay America is a full half-hour drive from the Jersey Shore, visitors can enjoy that breezy fun feel of the beach year-round at this boardwalk themed park. The indoor 115,000 square feet include family-friendly rides like a carousel, happy swing and dizzy dragons. Get behind the wheel of go-karts and bumper cars and really lose sense of where you are in the 4D Theater. Classic boardwalk games like whack-a-mole and balloon darts will make you feel nostalgic for summer days while arcade staples like skee-ball and air hockey will keep you feeling competitive. Stick around for dinner on Saturdays and you'll also enjoy free live music. 110 Schanck Rd, Freehold, NJ; Pay-per-ride ticket deals $10-$75; all day wristband packages $22.99-$29.99
Though colder months can be rather long in Cleveland, every spring this pop-up amusement park brings a summer carnival to 20 acres of indoor space. During the weeks starting in late March, enjoy Ferris wheels, merry-go-rounds and the thrilling state fair favorites that jerk, spin and toss guests with iron stomachs. While taking some time to digest the corn dogs and carnival favorites you'll surely be devouring, enjoy some music by live bands at the premise. 6200 Riverside Dr. General admission starts at $19.99, discounts for larger groups available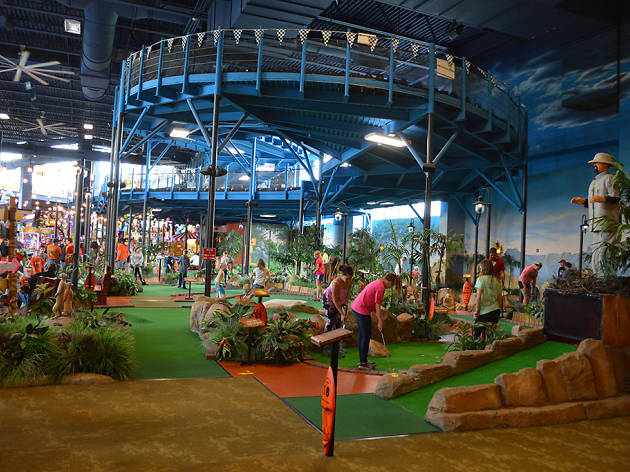 Photograph: Courtesy CC/Flickr/Lotzman Katzman
5. Kalahari Indoor Theme Park in Wisconsin Dells, WI
Nestled in the waterpark capital on the world, Wisconsin Dells, is this added bonus to the already fantastic Kalahari Waterpark and Resort. The resort chain's African motif is on display with the carousel, while the 6-story Ferris wheel is all about the thrills. Enjoy hours of fun on the ropes course, climbing wall, go-karts, bowling and laser tag. There's also a sports bar on the premise, in case the parents want to grab a beer while the kids rack up points at the arcade. If you think you'll want to come back a couple of times during your vacation, consider staying at the resort itself and enjoy discounts on entrance fees. 1305 Kalahari Dr, Wisconsin Dells, WI, Wristbands for Kalahari Resort guests, good for the length of their stay, $12.99 for guests under 42", $29.99 for guests over 42"; One-day wristbands for outside guests $14.99 for guests under 42", $34.99 for guests over 42"
Photograph: Courtesy CC/Flickr/Lotzman Katzman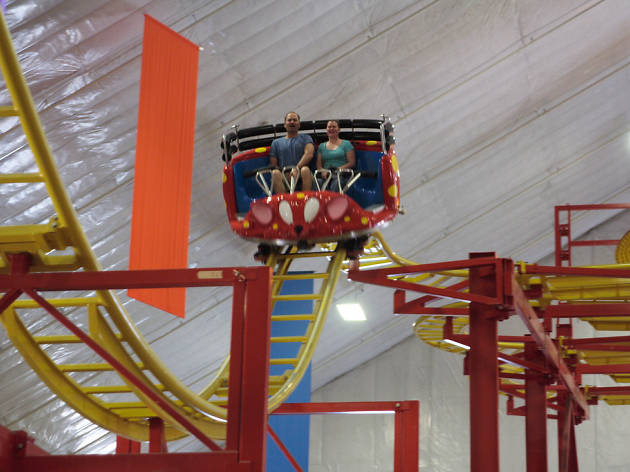 Photograph: Courtesy CC/Flickr/mulf
6. Mt. Olympus in Wisconsin Dells, WI
Another stop in Wisconsin Dells is Mt. Olympus, a paradise for little ones. With gentle rides perfect for tots—including mini hot air balloons, bi-planes, tea cups and a trolley—your kiddo will be delighted. The alien ball pit is a must-visit and your older elementary school aged children will amuse themselves on the climbing wall, bumper cars and the arcade, which includes mini bowling. Open only during the colder months, admission free with stay in the resort. 1701 Wisconsin Dells Parkway, Wisconsin Dells, WI. During special deals stays can start at just $16.66 per night.

Photograph: Courtesy CC/Flickr/mulf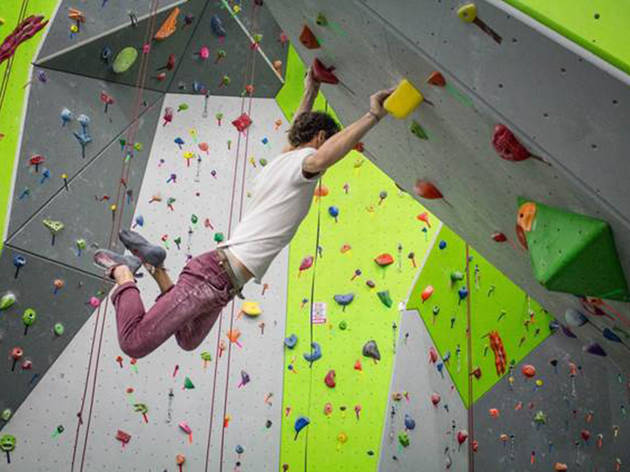 Photograph: Courtesy Spooky Nook
7. Spooky Nook Sports Center in Lancaster, PA
Though most visitors to Spooky Nook, the country's largest indoor sports center, are certainly interested in taking advantage of the huge array of fields and courts, there's plenty of sporty fun to be had. The big pay-as-you-go arcade alone is enough to keep guests occupied for hours, with over 60 games including classic carnival selections and prizes to be won. The Clip n' Climb climbing walls ($13 for one hour, $8 for half hour) will have kids want to return again and again. 75 Champ Blvd. Manheim PA 17545