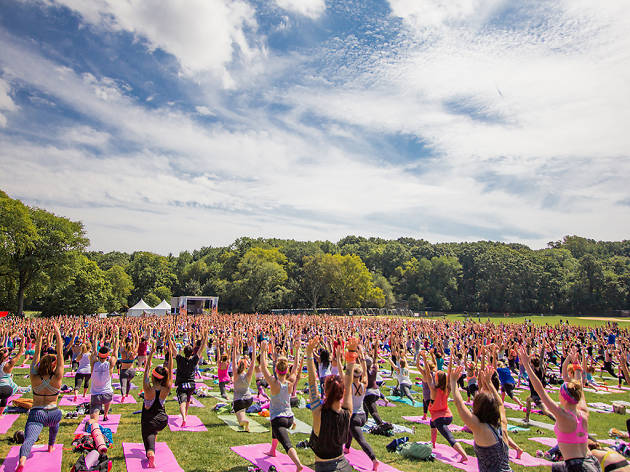 Nine ways to play at Wanderlust 108
Get the most fun—and om—out of Wanderlust's big day day of meditation, fun-running (or dancing), yoga and tunes
Wanderlust 108 is a field day for your mind, body and soul—a mindful triathlon with a 5K run (or walk...or dance!), a DJ-powered yoga class and a guided meditation. There will be high fives! There will be sweat! And there will be a very deep chill. As fun as the day is though, there are ways to power-up your joy at Wanderlust 108. Get goofy and free-flowing and try one of our nine ways to play (even harder) at Wanderlust 108.
Start playing...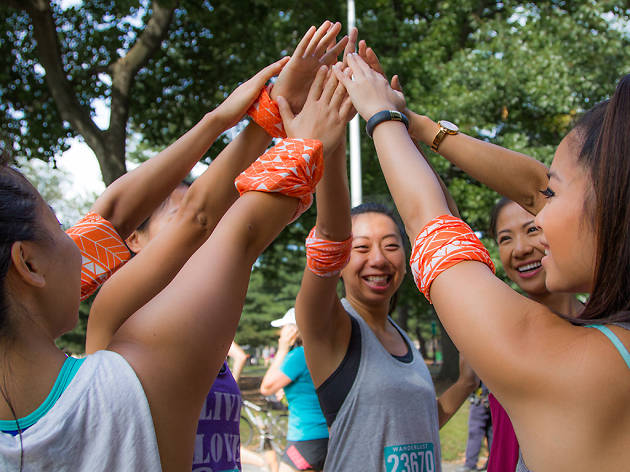 Photograph: Jake Laub
1. Create an out-of-the-box group name.
Are you as clever as the team that dubbed themselves Watch Me Whip, What Me Namast-ney-ney? Then get your pun on and prove it. The "Chakra Khans" is ours, though—so you'll have to think of your own.
Photograph: Wanderlust Festival/Jake Laub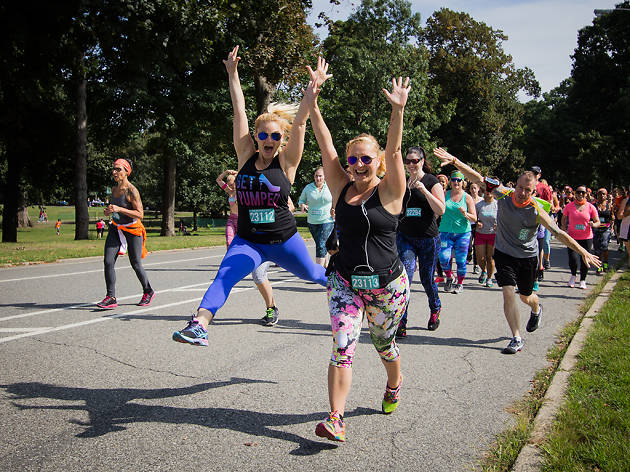 Credit: Jake Laub
2. Just dance…the whole way.
There are no rules about how you complete the 5k portion of Wanderlust 108, and it's untimed. So as others walk/run/jog their way to the finish line, feel free to Worm/Robot/Sprinkler there right alongside them.
Photograph: Wanderlust Festival/Jake Laub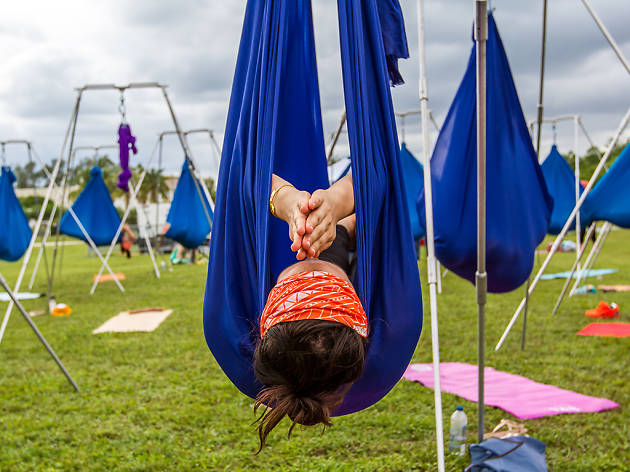 Photograph: Jason Reinhardt
3. Go up as you warm down.
You've yoga-ed in a sweltering studio. And you've yoga-ed by a roaring ocean. But have you yoga-ed while suspended in the air in a hammock? After the 5k, try aerial yoga—but be sure to go online and book your session when you purchase your ticket to secure your spot.
Photograph: Wanderlust Festival/Jason Reinhardt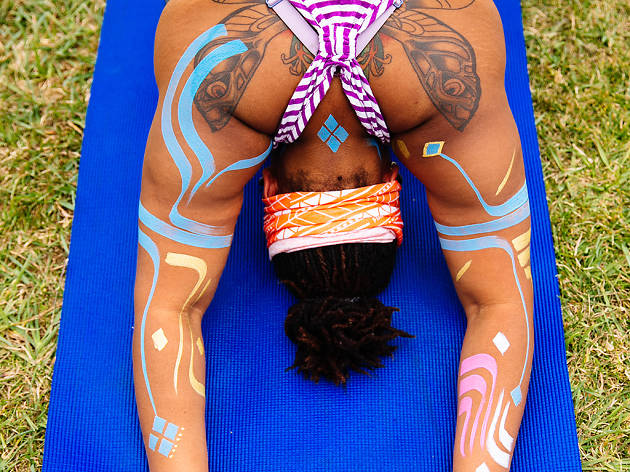 Photograph: Christen Vidanovic
4. Get marked up, tribal-style.
Show your tribe pride by coordinating on some cool tribal markings. You can DIY ahead of the event, of course, but also look for the Tribal Body Marking workshops where you get to connect with fellow 108ers through body adornment.
Photograph: Wanderlust Festival/Christen Vidanovic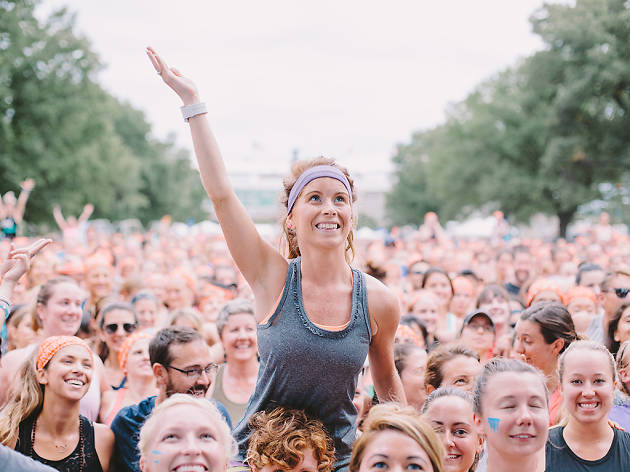 Photograph: Jeffrey Ocampo
5. Spice up your water cooler chat.
You never know who you might meet at Wanderlust 108—with new corporate groups joining the fun, you're likely to make new friends and potential future yoga buddies you can meet up with right through to next year's event.
Photograph: Wanderlust Festival/Jeffrey Ocampo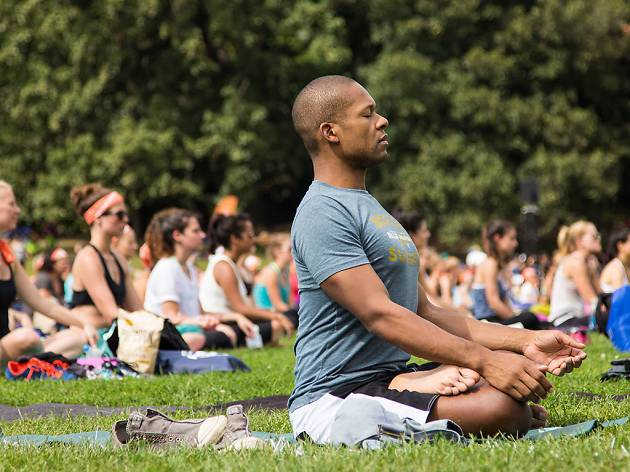 Photograph: Jake Laub
Remember your inner kid? She may be buried a little deep down nowadays—under layers of late nights at the office and bad Tinder dates—but she's still there. Wake her up as you plant yourself on a lawn with hundreds of your fellow mindfulness-seekers in Wanderlust 108's guided meditation session.
Photograph: Wanderlust Festival/Jake Laub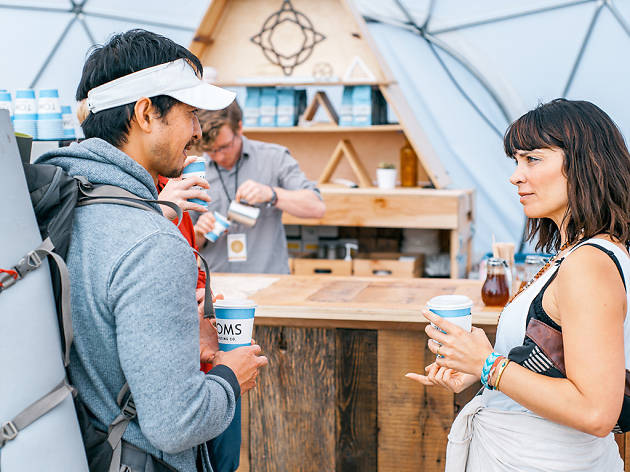 Photograph: Sasha Juliard
7. Practice your perfect toast.
A new addition to Wanderlust 108 in 2016 combines two of life's joys—outdoor drinking and deliciously fizzy-sweet kombucha. Hit up the kombucha biergarten, or "boochgarten," and raise a glass of "booch" to your health. Or, if you need to put a bit of buzz in your step, down an espresso at the Wanderlust Café.

Photograph: Wanderlust Festival/Sasha Juliard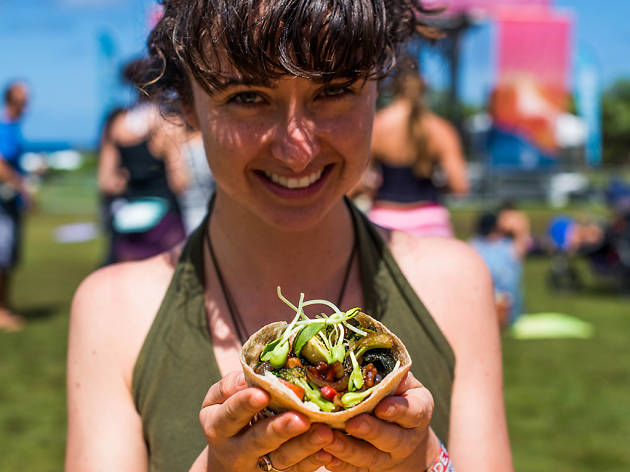 Photograph: Ali Kaukas
8. Have a picnic—yogi style.
Park your tribe on a patch of earth for a chilled-out picnic-style lunch. Fancy it up with lunch sets inspired by the menu at Wanderlust Hollywood's Café—there are delicious options for carnivores and vegetarians alike, and they even include chocolate!
Photograph: Wanderlust Festival/Ali Kaukas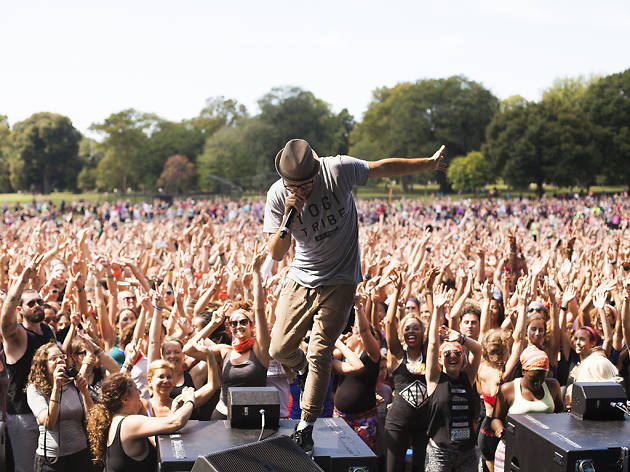 Photograph: Jacqueline Harriet
9. Don't take yourself too seriously (we're serious).
You don't have to run. You don't have to win. You don't even have to have a great team name. All you have to do is keep that smile on your face and the good times going. At the end of the day, Wanderlust 108 is about discovering new things, trying new experiences and getting your "om" in your own special way.
Photograph: Wanderlust Festival/Jacqueline Harriet