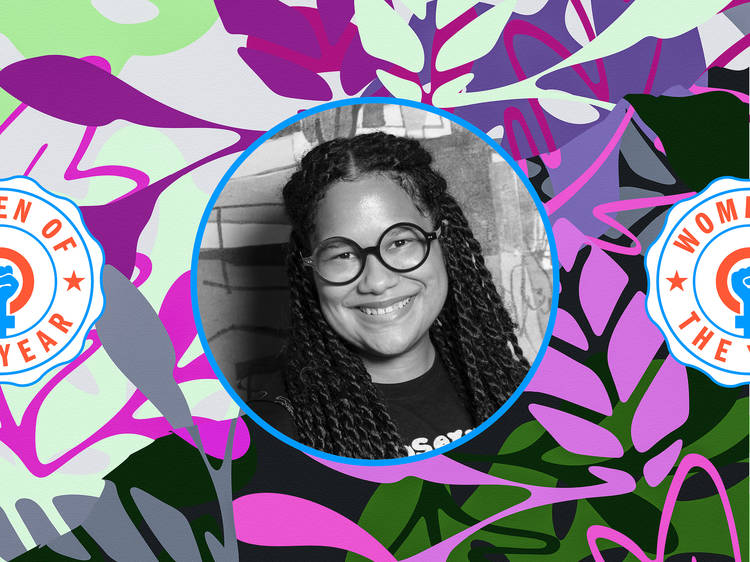 Photograph: Courtesy Paola Velez, Design: Time Out
Paola Velez | Washington DC
Paola Velez may have had famous mentors—she was the youngest pastry sous chef ever appointed under famed French chocolatier Jacques Torres—and served in positions of power—she's currently the Executive Pastry Chef of Maydan, Compass Rose and La Bodega—but her path to becoming a pastry chef was a rocky one. "I started out in culinary because I had never seen a pastry chef of color," she says. "When I applied for pastry jobs, I had to pass that first hurdle of having a very Latin-sounding name. And when I showed up for interviews as an Afro-Latina, I was often told that the position had been filled. But I kept applying because I knew someone even better than me will come along. And she will rock the cullinary industry because she will see me and have the confidence to apply."
Velez ended up at Kith and Kin in D.C. where she crafted traditional American sweets infused with flavors from the African Diaspora (think plantain sticky buns or guava-and-cheese and dulce de leche babkas) —and the accolades starting rolling in, including a James Bear nominee for Rising Star Chef of the Year. Then the pandemic hit and Velez was furloughed as restaurants shuttered across the country. "I was really angry that my career had come to a halt, but I realized I was in a position of privelege. What about the undocumented kitchen workforce who are underappreciated, underpaid and forgotten?"
In May 2020, Velez started a donut pop-up where a portion of the proceeds went to Ayuda, a D.C. non-profit that supports undocumented immigrants. In June, she wanted to expand her work. Alongside fellow chefs Willa Pelini and Rob Rubba, they started Bakers Against Racism. They hoped 80 bakers across the country would join in a virtual bake sale to raise money for Black lives. Almost one year later, the movement has raised more than two million dollars from bake sales in more than 200 U.S. cities and 13 countries. Says Velez, "We did what we knew how to do best, which is bake and celebrate life. And I'll do it when the cameras are on and when no one is paying attention anymore."
Any advice for other young BIPOC women who are looking to break into white- and male-dominated fields?
Do your research. Know your ratios and techniques like the back of your hand. Build your portfolio on social media and don't be shy in sharing what you know how to do. It takes time—what's for you won't ever pass you.
Every home kitchen should have a ...
Vitamix. You can ground coffee, puree soups, make salt. You can even make ice cream in it!
Underrated dessert that deserves its time in the spotlight:
Stop seeing panna cotta as a "lazy" dessert. They're simple but beautiful in texture and presentation and they can support so many flavors year round. Make more panna cottas!
Easiest dessert for novice bakers to perfect:
A one-bowl chocolate cake.
Post-pandemic plans:
Somewhere hot and tropical.
Shout out an up-and-coming woman in your field we should all be looking out for:
There are so many amazing women that are part of Black Food Folks.
Show your support: Follow Velez's on Instagram or start your own micro-bake sale as part of Bakers Against Racism.