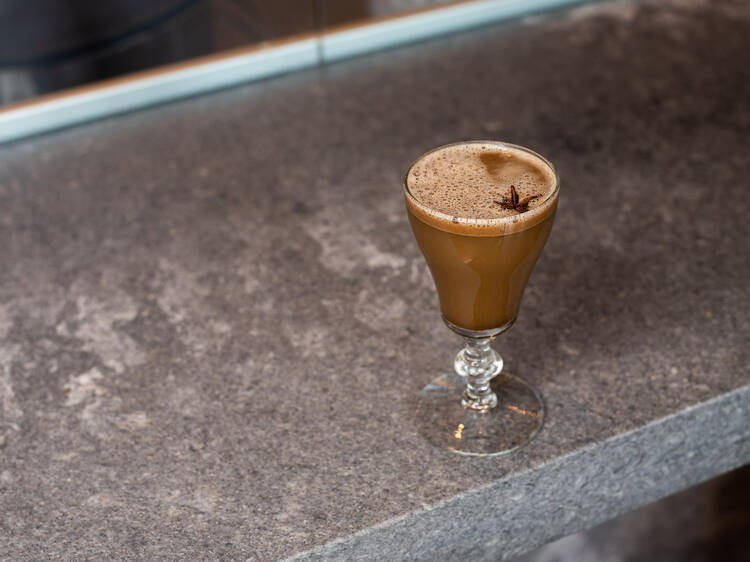 Photograph: Courtesy Nicole Melich
COURTESY: TIME OUT MARKET BOSTON
This warm and festive offering comes courtesy of Matt Harding, the Beverage Director of Time Out Boston. The playful twist on a classic Hot Buttered Rum features spiced butter that pulls together delicious fall ingredients. The sweet and homely drink is perfect to give your guests upon arrival to cozy them up and welcome them into your home. The drink's also easy to make in large batches for small groups and can even serve as a replacement for dessert at the end of the evening.
INGREDIENTS
1.5 oz Bacardi 8 Year
3 oz Hot Water

Spiced Butter:
2 Tablespoons Unsalted Butter
1.25 Tablespoons Honey
2.5 Tablespoons Brown Sugar
.15 Teaspoon Ground Cinnamon
.1 Teaspoon Ground Nutmeg
.08 Teaspoons Ground Cloves
1 pinch of Salt
.1 Teaspoon Ginger Powder
RECIPE
Combine Bacardi and Spiced Butter in a warmed metal beaker.
Add 3 ounces of very hot water.
Blend the drink using a handheald frother and pour into a warmed irish coffee glass.
Garnish with star anis.
View this post on Instagram