48 hours in Lisbon: The perfect itinerary for a two-day stopover in Portugal's thriving capital
With our guide to the best way to spend 48 hours in Lisbon, you'll get to taste it all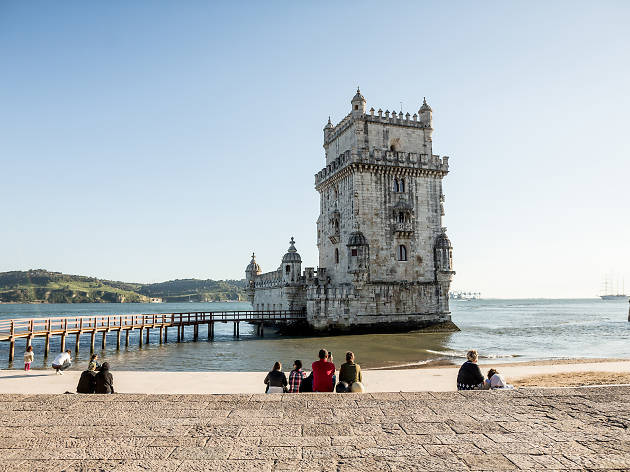 Fly TAP Portugal, and you can get a two-day stopover in hilly, sunny, beautiful Lisbon on your next trip to Europe—at no additional airfare. With two full—and packed—days in Lisbon, you'll get to go up and down the city hills (always with the river on the horizon—and phone in hand to catch some great photographs), taste the best of Lisbon's cuisine—be it a simple fish dish or a Michelin Star prix fixe—and dive into one of the most fascinating national histories in Europe. After 48 hours in one of the continent's buzziest cities, you'll soon be planning a return trip.
Learn more and book at portugalstopover.flytap.com.
48 hours in Lisbon
Take the tram up to the breathtaking São Jorge Castle, then walk back on foot until you reach the river.
Tram number 28 is the most famous tram in Lisbon and riding it will give you a full tour of the city. Get out at the Santa Luzia viewpoint. From there, follow the road signs towards the São Jorge Castle (about a 550 meter walk), a structure that goes all the way back to the 12th Century, but which was completely rebuilt in the 20th century, giving us a peek at more ancient times. Once you've finished the tour and taken in the view, head down towards the river. No need for a map, just point yourself in the direction of the water in the horizon and walk.
São Jorge Castle: Rua de Santa Cruz do Castelo. Nov–Feb 9am–6pm, Mar–Oct 9am–9pm. 8,50€; Tram 28: 2,90€.
Learn why Portugal has the best fish in the world at riverside restaurant, the Último Porto.
The Portuguese often say, in a very proud manner, that they have the best fish in world—in a country with one entire side facing the ocean, you can understand how that's true. Último Porto, a semi-hidden restaurant next to the Tejo river (nothing that a GPS won't help you find), is one of the best places to enjoy fresh fish in the city. All fish is freshly caught and cooked in the grill, in plain sight of those sitting on the terrace, and the offering is always varied.
Estação Marítima da Rocha do Conde de Óbidos (Alcântara). 21 3979498. Mon–Sat noon–4:30pm.
Visit the National Ancient Art Museum to see unique pieces from the Middle Ages to the 19th Century.
The best museum in Lisbon is also the place to go to see a slew of national treasures. Paintings, sculpture, drawings, furniture and European, Asian and African decorative art—the museum collection holds more than 40,000 works from the 12th to the 19th century. What not to miss? The "Custódia de Belém," made by famous 16th-century Portuguese writer Gil Vicente; the "Painéis de São Vicente," a seven-panel piece believed to be the work of Nuno Gonçalves; and "Tentações de Santo Antão," the mythical work by Dutchman Hieronymus Bosch.
Rua das Janelas Verdes, 17 (Santos). 21 391 2800. Tue–Sun 10am–6pm. 6€.
Walk the riverside between Cais do Sodré and Ribeira das Naus to catch the sunset by the river.
The walk is short and includes a stroll by the Ribeira das Naus kiosk and its terrace, which has lounges to rest in the sun whilst having a drink, and ends at Cais das Colunas, at Terreiro do Paço, where a small beach forms with the low tide (just enough to soak your feet, really).
Fill up on more of Lisbon's best food at Time Out Market's food hall.
In 2014, Time Out stormed the biggest fresh produce market in the city, the Ribeira Market, with sledges and hammers in hand, and remodeled the entire place, setting up a food hall featuring the best restaurants in town, chosen by Time Out Lisbon magazine's food critics. The result? Stands with Michelin-starred chefs, amazingly fresh fish and seafood, Portuguese snacks and cuisines from around the world. There's also a kitchen academy, a store with Portuguese products, an events room, a bar and a club. Yes, all that fits inside the Time Out Market.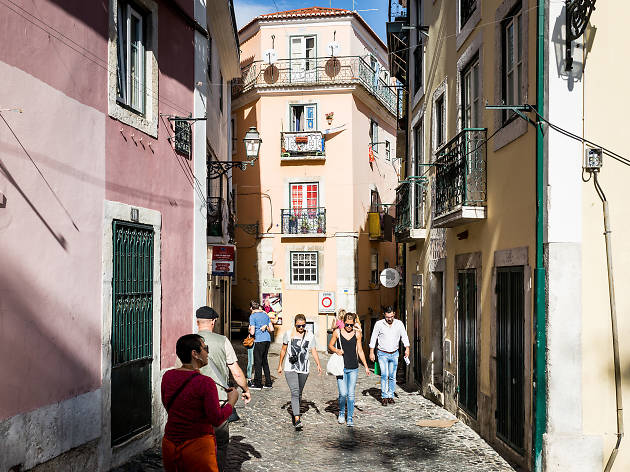 Head to Alfama to listen to Fado and you'll understand why they call it "Lisbon's song".
If you've never heard Fado, we suggest you google Carminho, Ana Moura or Camané. After falling in love with the melody—UNESCO fell so in love with it that it declared it a World Heritage in 2011—head to Alfama, the neighborhood where Fado is heard the most, both in typical fado houses and in cool, relaxed bars, where the music gets the name Fado Vadio. Start at A Parreirinha de Alfama and A Baiuca e Bela.
Parreirinha de Alfama: Beco do Espírito Santo, 1. 21 886 8209. Daily 8pm–1am. A Baiuca: Rua de São Miguel, 20. 21 886 7284. Mon, Thu–Sun 8pm–midnight. Bela: Rua dos Remédios, 109. 92 607 7511. Tue–Sun 8:30pm–3am.
Devour the custard tarts at Manteigaria.
If Lisbon had an official dessert, it would be, without a doubt, the custard tart. You can eat a good one in almost every bakery in town, but you can only have the best at Manteigaria, with stores in both Chiado and Cais do Sodré (at Time Out Market, no less!). The secret, they say, is in the artisanal making and the quality of the ingredients (the team here uses whole eggs, butter and sugar). To catch these tarts while they're warm, just wait for the bell to ring—it means a fresh batch has just come out of the oven.
Rua do Loreto, 2 (Chiado). 21 347 1492. Daily 8am–midnight; Time Out Market, Avenida 24 de Julho. 21 347 0028. Daily 8am–midnight.
Try the tasting menu by the only chef in Lisbon with two Michelin stars, José Avillez.
José Avillez owns a whole bunch of restaurants in Lisbon, all in the same neighborhood, Chiado, where he satisfies different types of hunger (and plays to different sized wallets). At the top of his empire sits Belcanto, the only restaurant in Lisbon with two Michelin stars, where he and his team create über-creative eats, always with Portuguese roots. Come with time to spare, an open mind and an empty stomach.
Largo de São Carlos, 10. 21 342 0607. Tue–Sat 12:30–3pm and 7–11pm (last entry at 9pm).
Head to Belém and walk through the amazing Belém Tower, the Padrão dos Descobrimentos and Jerónimos Monastery.
Take your time when you visit Belém—you'll need it to soak in the beauty and history on offer. Start by hitting the beautiful Jerónimos Monastery, a 16th-century monument and World Heritage Site since 1982. After that, cross the Belém gardens towards the Padrão dos Descobrimentos, inaugurated in 1940 for the Portuguese World Exhibition, to honor the historic figures involved in the Portuguese Discoveries. Also facing the river, you'll find the Belém Tower, which started out as a defense structure on the Tejo riverside. The exterior is a mix of styles and architectural influences, and more visual wonders await inside.
Mosteiro dos Jerónimos: Praça do Império. 21 362 0034. Winter (Oct–Apr): Tue–Sun 10am–5:30pm. Summer (May–Sept): 10am–6:30pm. 10€. Padrão dos Descobrimentos: Avenida de Brasília. 21 303 1950. Winter (Oct–Feb) Tue–Sun 10am–6pm. Summer (Mar–Sept): 10am–7pm. 4€. Torre de Belém: Avenida de Brasília. 21 362 0034. Summer (May–Sept): 10am–6:30pm. Winter (Oct–Apr): 10am–5:30pm. 6€.
Check out at least one of these spectacular viewpoints: São Pedro de Alcântara, Graça or Santa Luzia.
The benefit of being the City of Seven Hills is that Lisbon has a slew of high points with stunning views to ogle. They're known as miradouros (viewpoints) and, amongst the dozens in Lisbon, there are three you have to visit—trust us. The São Pedro de Alcântara viewpoint is at the border between Bairro Alto and Príncipe Real and it can, in a single shot, frame the São Jorge Castle, Sé, Graça and Avenida da Liberdade, two gardens, terraces and kiosks. The Graça viewpoint is a perfect perch from which to watch the sunset—usually full by late afternoon—and features a newly renovated terrace and kiosk. With a different view, facing the river and Alfama, the Santa Luzia viewpoint is highly recommended at sunrise.
Miradouro de São Pedro de Alcântara: Rua de São Pedro de Alcântara; Miradouro da Graça: Largo da Graça; Miradouro de Santa Luzia: Largo de Santa Luzia
Bring home a little bit of Lisbon with unique shopping and gifts at A Vida Portuguesa.
A Vida Portuguesa is the best store in Lisbon for Portuguese souvenirs. The authentic kind. This 10-year-old brainchild of a former journalist stocks beloved ceramic brands, soaps, perfumes, canned goods, old-school toys, chocolates and olive oil—all 100 percent Portuguese. It's no tourist trap, either: Many local Portuguese are loyal customers, and not just for nostalgia.
Finish it all off with a pub crawl at Rua Nova do Carvalho and Praça de São Paulo.
A few years ago, the center of Lisbon nightlife shifted to Cais do Sodré, to a pink-painted street that welcomed a ton of new bars and restaurants. The street is called Rua Nova do Carvalho and it's where your night should begin. Enter bars like Pensão Amor, MusicBox, Sol e Pesca, Menino e Moça, Duplex or Jamaica—this last one a 45-year-old classic—or walk towards Praça de São Paulo, where drinks are best sipped outside, from places like Mez Cais or the art gallery Giv Lowe. What to drink? There's a lot to try, but a fresh imperial (beer) is the least you can do to behave like a proper lisbonner.