The 13 best things to do in Valencia
From one of Spain's biggest zoos to a Gothic cathedral and lots of paella, here are the best things to do in Valencia
Spain's third city, this genial and authentic town boasts plety of big attractions, from Calatrava's gleaming City of Arts and Sciences to a seductive Old Town still ringer by ancient walls, and loads of fun things to do. Valencia might not be as shiny and "look-at-me" as Barcelona, or as fast and furious as the capital of Madrid, but it more than holds its own against its rivals.
There are the beaches (among the best in the Mediterranean), the fantastically fiery festival of Les Falles and, as you'd expect from a region known as "Spain's orchard," a food scene that will blow you away. In sum, Valencia's got it all going on—while still remaining deliciously under the radar.
Done something on this list and loved it? Share it with the hashtag #TimeOutDoList and tag @TimeOutEverywhere.
Find out more about how Time Out selects the very best things to do all over the world.
Best things to do in Valencia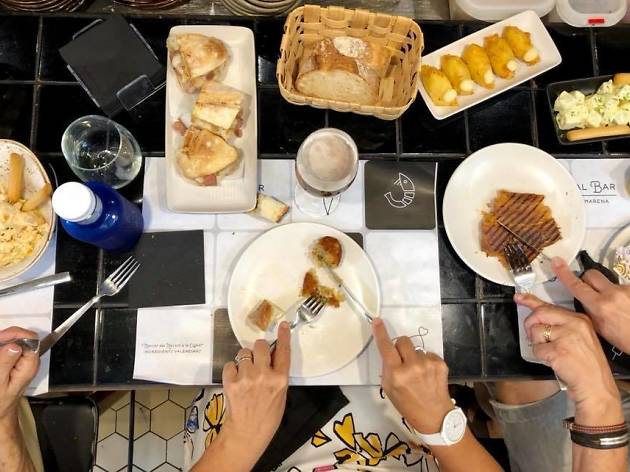 Photograph: Courtesy Central Bar
What is it? An updated version of the classic Spanish counter bar from multi-award-winning chef Ricard Camarena, this sits right in the middle of Valencia's stunning Mercat Central. This vast market is the perfect place to pick up a paella pan and the ingredients to go with it.
Why go? All the tapas and sandwiches are made with the finest, locally sourced produce from the market itself. Ricard Camarena has several other restaurants in town, including his eponymous Michelin-starred flagship restaurant, and the Canalla Bistro in the trendy Ruzafa neighbourhood.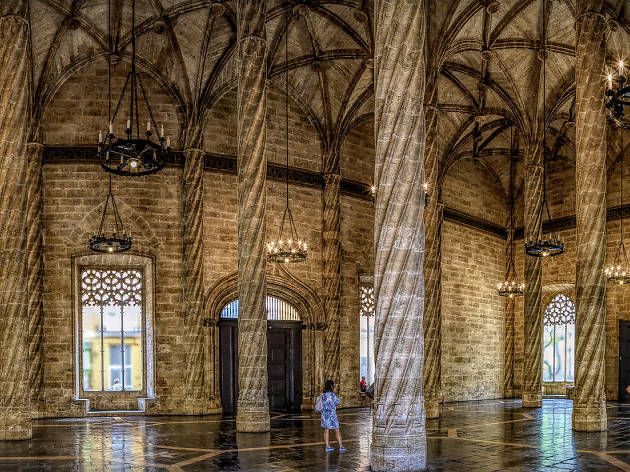 Photograph: Courtesy CC/Flickr/Mark Chinnick
2. Llotja de la Seda (Silk Exchange)
What is it? One of the finest civil Gothic buildings in existence, the fifteenth-century Silk Exchange was built at the height of Valencia's Golden Age. Silk and other commodities came flooding into the city, then one of the most powerful on the Mediterranean.
Why go? This is one of the most beautiful buildings in the city, an ingenious construction that pleased its creators so much they erected themselves a monument. Check out the doorways and capitals inside and around the cloister for some saucy depictions of various sins – find the woman and her bellows, that's all we'll say.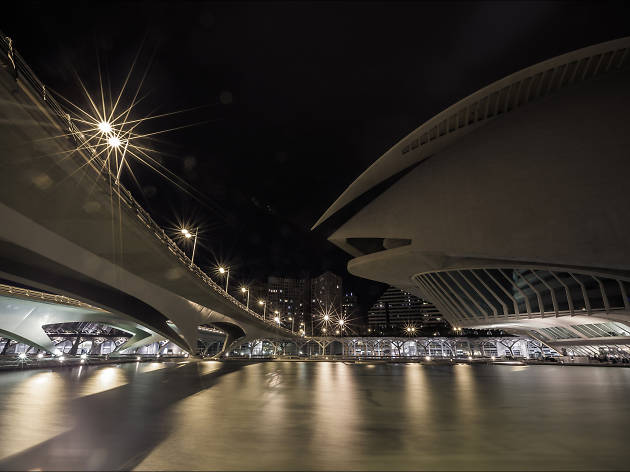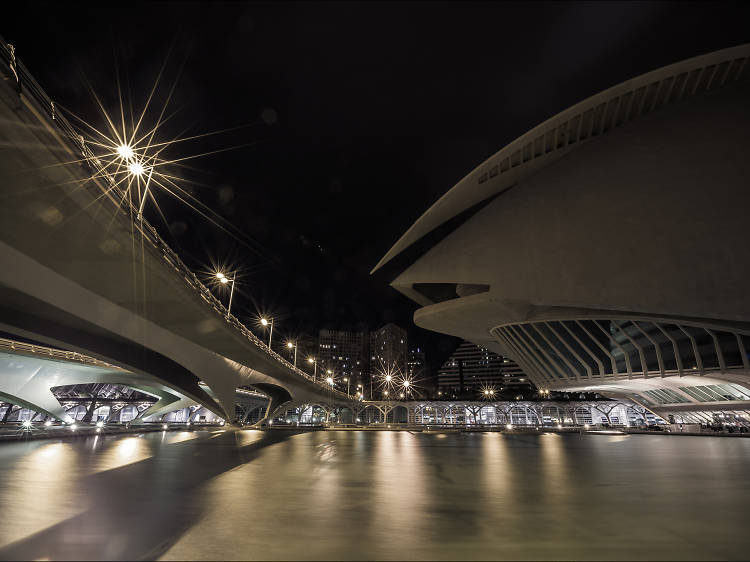 Photograph: Courtesy CC/Flickr/Adrien Sifre
3. City of Arts and Sciences (CAC)
What is it? Valencia-native Santiago Calatrava designed this blazing white complex for the arts and sciences, an artful arrangement of giant sculptural shapes that house, among other attractions, an aquarium that looks like a wave, an opera house in the form of a ship, and a giant eye-cum-planetarium.
Why go? Go to watch the beluga whales wheel around the giant aquarium, to have fun at the interactive science museum, or simply to admire the daring contemporary architecture of what Spaniards voted one of the '12 treasures of Spain'.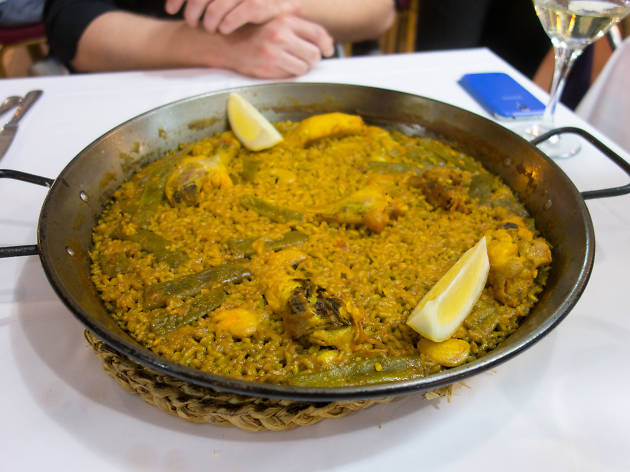 Photograph: Courtesy CC/Flickr/Kent Wang
What is it? Paella, as everyone will tell you, was born in Valencia. And this is the best place in town for a slap-up paella lunch right on the seafront – just be sure to book early for a table on the terrace.
Why go? Hemingway loved it when it was just a beach shack, and the dining room is now covered in photos of celebrity visitors. But this cheerful, traditional restaurant hasn't rested on its laurels, and the authentic paellas and other Mediterranean rice dishes are delicious.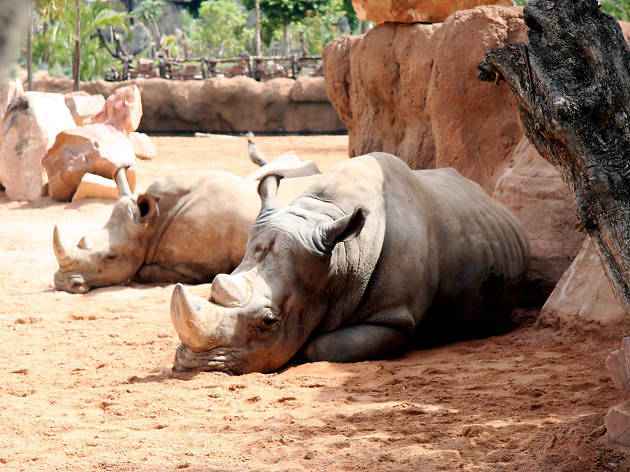 Photograph: Courtesy CC/Flickr/sarahchats
What is it? One of Spain's biggest zoos, Bioparc Valencia offers an immersive animal park experience: several different species of African fauna co-exist in carefully reproduced habitats, just as they would in the wild, and traditional railings are replaced with rivers or unobtrusive glass screens.
Why go? The park is laid out in different African ecosystems, so you can hang out with the elephants and antelopes in the savannah, and the hippos and crocodiles in the wetlands. You can get up close and personal with some friendly lemurs in the Madagascar zone.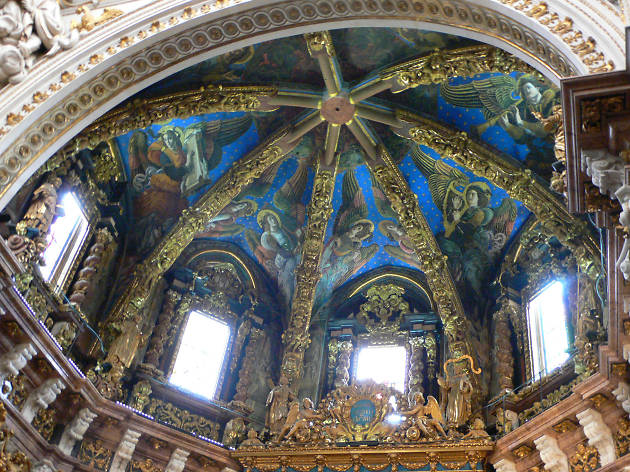 Photograph: Courtesy CC/Flickr/Heather Cowper
6. Valencia Cathedral and Micalet
What is it? Valencia's vast Gothic cathedral has a florid Baroque façade slapped on top but inside is atmospherically dark and shadowy. It's home to what some believe is the Holy Grail, but its crowning glory is the Micalet belltower – the city's symbol.
Why go? Visit the Chapel of the Holy Chalice, where the jewelled cup (one of at least a dozen Holy Grail contenders) is theatrically displayed in an alabaster altarpiece. Puff your way up all 207 steps to the top of the Micalet for glorious views – and perhaps some deafening bells.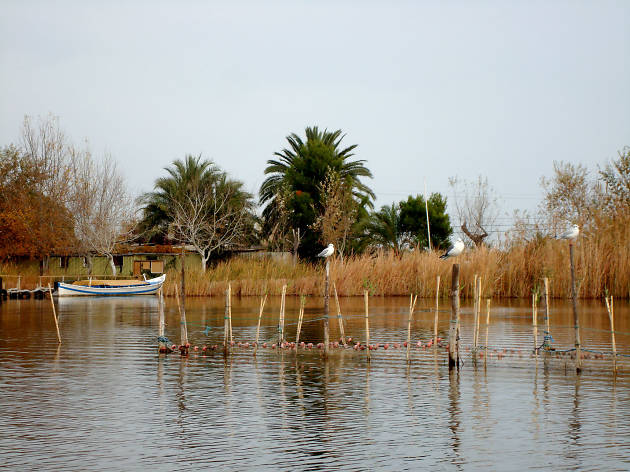 Photograph: Courtesy CC/Flickr/maymonides
7. Parc Natural de l'Albufera
What is it? This lake and natural park, 8km south of the city, is one of Spain's most important wetlands. Surrounded by rice fields, which glow golden in autumn, its undoubted beauty is somewhat marred by factories, except at dusk.
Why go? The park has nature trails and bike paths around the lake, and is home to more than 250 bird species. Spend the day at the unspoilt beach of La Devesa nearby, then visit the lake in the evening for a sunset boat ride.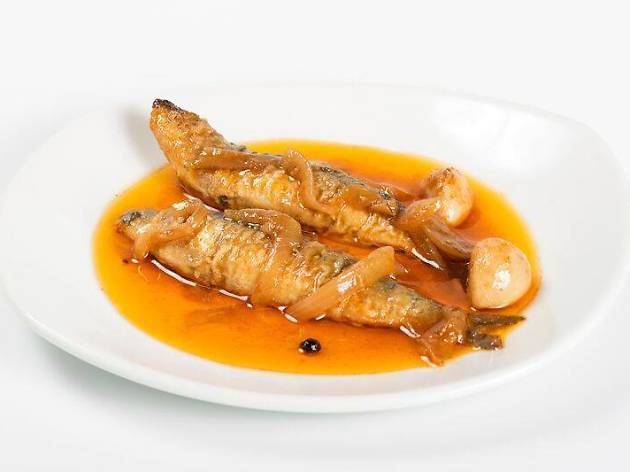 Photograph: Courtesy Casa Montaña
What is it? A deliciously old-fashioned tapas bar, this barrel-lined spot is a long-established stalwart in the romantically faded fisherman's district of Cabanyal. Perch on a high stool, and tuck into high-quality tapas prepared with the freshest local ingredients.
Why go? Perhaps the best traditional tapas bar in town (and hugely popular, so book in advance), this serves up seasonal local delicacies like the little clóchina mussels and grilled artichokes. Work it off with a stroll around the traditional tiled houses of the Cabanyal neighbourhood.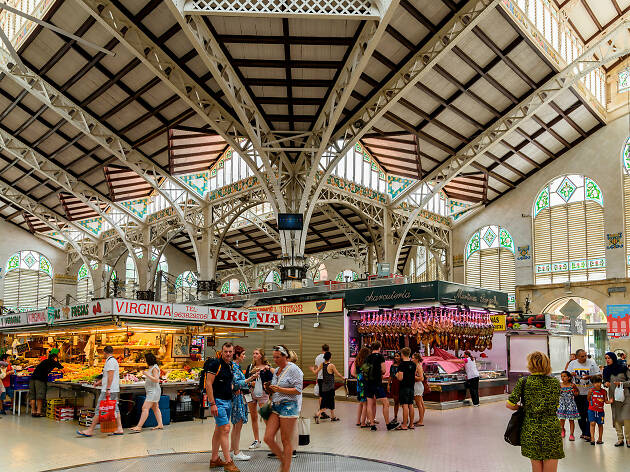 Photograph: Shutterstock
9. Mercat Colón Gastro Market
What is it? A glittering, century-old market of glass and iron, the Mercat Colón was virtually in ruins before it was spectacularly transformed through an award-winning renovation. Now it's a gourmet hub, packed with shiny new restaurants and cafés.
Why go? Come to meander between the gourmet stalls, trying some horchata (the refreshing Valencian tiger-nut drink) here, and a few tapas there. If you're looking for a proper market with fresh produce, though, head to the Mercat Central in the old town.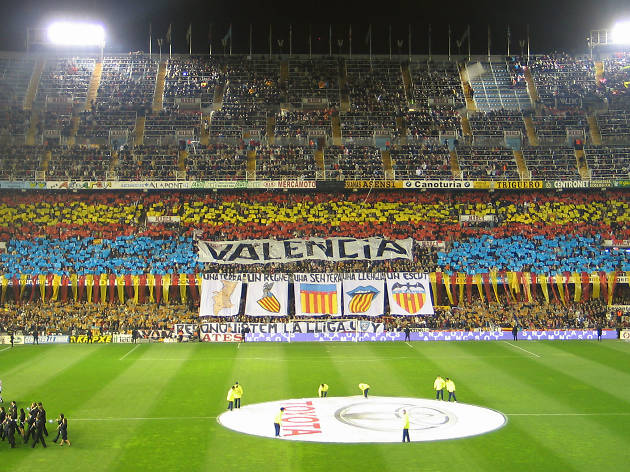 Photograph: Courtesy CC/Flickr/Kurt
What is it? The Mestalla, which has a spectator capacity of 49,500, has been the home stadium of top Spanish league team FC Valencia since 1923. Best if you can catch a match, although devoted footie fans will also enjoy the stadium tour.
Why go? FC Valencia has some of the most ardent fans in La Liga, and the Mestalla stadium boasts the steepest stands of any of Europe's major grounds. The result? Sheer intimidation for visiting teams – and perhaps the most electric place to watch a match in Spain.
Photograph: Courtesy IVAM
11. Institut Valencià d'Art Modern
What is it? Valencia's showcase museum of contemporary art, this gallery presents a fascinating overview of Spanish art over the last century, with challenging exhibits – paintings, sculptures, video installations.
Why go? This was Spain's first modern art museum when it opened in 1986 and is still one of the most prestigious. A superb collection of iron sculptures by Julio González, a friend and contemporary of Picasso's, forms the core of the collection, but don't miss the usually excellent temporary exhibitions.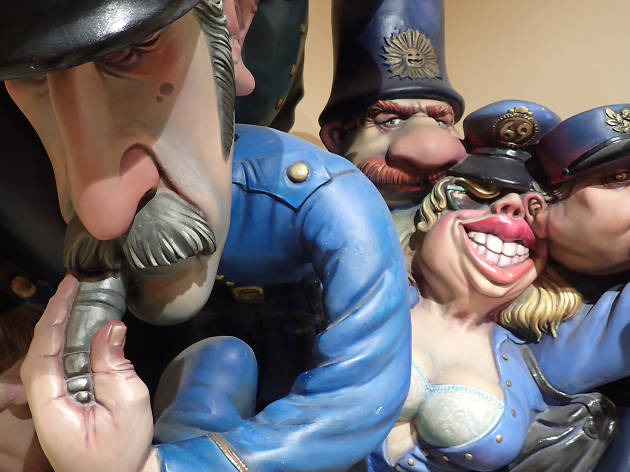 Photograph: Courtesy CC/Flickr/Ron Theunissen
What is it? If you can't make it for the fun and fireworks of Valencia's fiery festival of Les Falles, at least you can get a taste at the Falles Museum. The ninots (papier-mâché characters) saved from the flames are all displayed.
Why go? To learn all about Les Falles, Valencia's biggest traditional festival. The falles are huge papier-mâché creations (that can take a year to create), which are paraded through the streets, then tossed onto bonfires. Only the best ninots (miniature versions of the falles) are saved, and displayed here.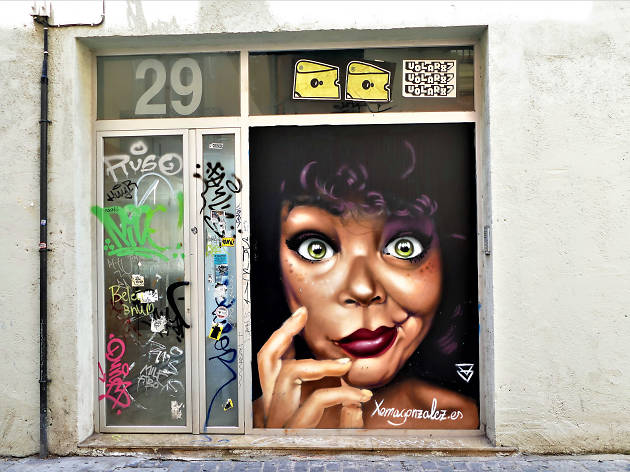 Photograph: Courtesy CC/Flickr/Antonio Marín Segovia
What is it? A tight-packed medieval warren within Valencia's old walls, the Carme neighbourhood in the old town is full of off-beat boutiques, cafés and bars with an underground vibe. It's the go-to spot for LGBTQ+ venues in the city and it currently vies with Ruzafa for the title of Valencia's hippest hangout.
Why go? Come for the art – whether Insta-perfect street art or the contemporary art in the Convent del Carme art centre – and the appealingly scruffy, anything-goes vibe in the cafés and bars.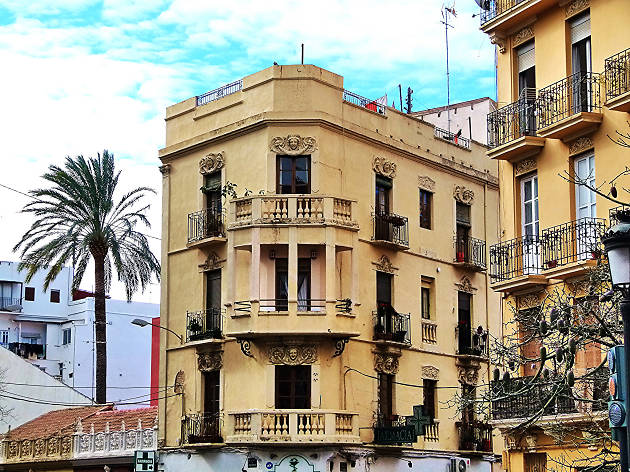 Photograph: Courtesy CC/Flickr/Antonio Marín Segovia
What is it? Arguably the coolest neighbourhood in town (Carmen fans may disagree), Russafa is a mix old-fashioned street life (in the form of a great market and pretty squares), with some of the city's most talked-about restaurants, its slinkiest bars and funkiest boutiques.
Why go? Russafa is a great neighbourhood for an aimless amble – popping into the fantastic little market perhaps, lingering over lunch at one of the stylish cafés, followed by a spot of shopping in the independent boutiques. Things heat up after dusk, when the bars start filling up.