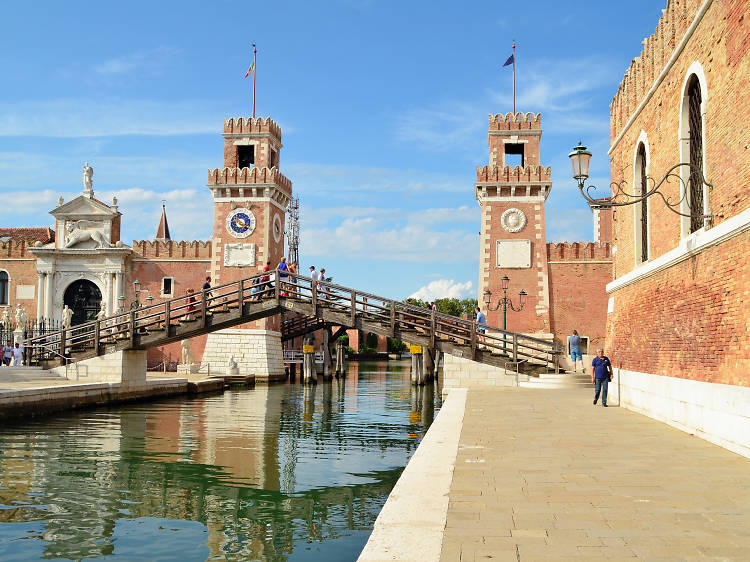 Photograph: Courtesy CC/Flickr/Jpellgen
Do you long to take a quiet walk in Venice, among verdant gardens and the twittering of birds? Then cross over from San Marco into the Castello district, and keep walking. Once you're away from the dense crowds along Riva degli Schiavoni, Castello assumes its low-key, local vibe. It's an ideal neighbourhood for those who wish to be close to the tourist draws of central Venice but still get a taste of everyday, middle-class life in the floating city.
EAT:
Whether you're looking for a bargain or a blow-out, Castello has a restaurant for your budget. Try Corte Sconta for excellent, elegantly plated seafood dishes on a romantic patio, or Trattoria alla Rampa on Via Garibaldi for unpretentious home cooking and egalitarian prices.
DO:
A shipyard since the 1100s, the Arsenale di Venezia is now primarily a cultural centre and event space, though sections of it are still used by the Italian Navy. You can tour public spaces, and the captivating Naval History Museum and Naval Pavilion. In a city short on green space (algae doesn't count), I Giardini della Biennale and the Parco delle Rimembranze gardens are veritable Edens. The former is the home of the Venice Biennale art exhibit, held every other year.
DRINK:
With the gardens at its back and the Venetian Lagoon out front, Il Paradiso bar has an unfair advantage. It's a ridiculously beautiful spot for an Aperol spritz at sunset. To drink where the locals drink, head to the bars along Via Garibaldi.
STAY:
Several high-end hotels overlook the canals that separate Castello from San Marco; Ca' Bragadin Carabba is one of our favourites. If you really want to escape the crowds, Yacht Freedom is one of a handful of small, moored boats offering overnight accommodations at Santa Elena Marina.
If you do just one thing...
The Libreria Acqua Alta calls itself the "most beautiful bookstore in the world," and we can't argue. To avoid damage from the frequent "acqua alta" flooding in Venice, books are stacked in boats, bathtubs and the ceilings—and the owner keeps a mental catalogue of the entire collection.