The 14 best Venice restaurants
Eat Michelin-starred and more laid-back meals (cicchetti! Bigoi in salsa!) at the best restaurants in Venice
There are so many delicious things to eat at the best restaurants in Venice: from a quick snack of cicchetti (snacks and side dishes endemic to the city's food culture) to sarde in saor (fried sardines marinated in vinegar, raisins, onions and pine nuts) and bigoi in salsa (whole-wheat pasta resembling spaghetti in shape, drenched in a sauce made of onions and salt-cured fish, usually anchovies or sardines), one of the very best things to do while in town is to simply eat all the food.
You should know that Venetian fare is the result of over a thousand years of influence from those native to the lagoon and the many folks that have passed through it to trade goods when the city was a maritime empire, which makes all the dishes served at local eateries outstanding amalgamations of flavours, spices and cultures.
Not to be overlooked are the slew of Michelin-starred restaurants that have recently landed on the scene, joining other star-studded and beloved destinations that offer the sorts of meals that in their splendour equal some of the best events in town (yes, eating here is an event). Take Venissa, for example, which serves the best rendition of the northern lagoon's native gastronomical offerings: you'll never taste vegetables quite as fresh and tasty as the ones served by the team here.
From the food offerings at the best hotels in town to the streets eats that pepper your walk through the best attractions in Venice, you're in for a life-changing foodie experience – we promise. Buon appetito!
Best Venice restaurants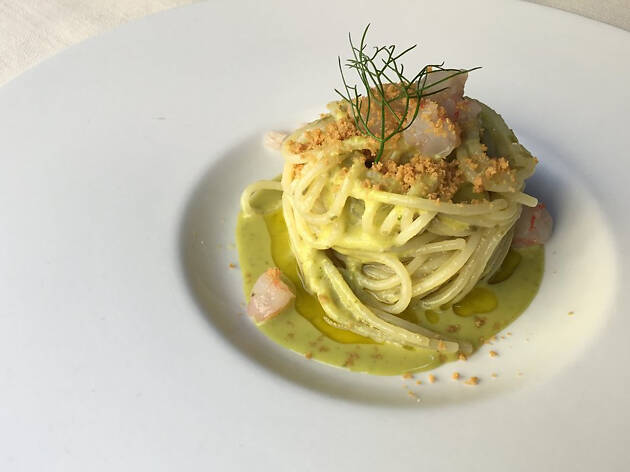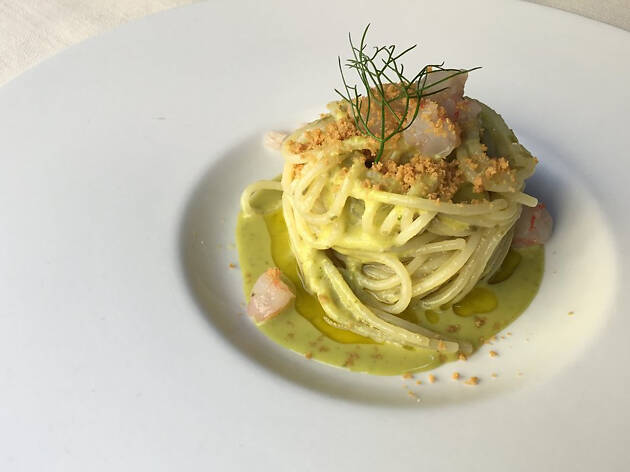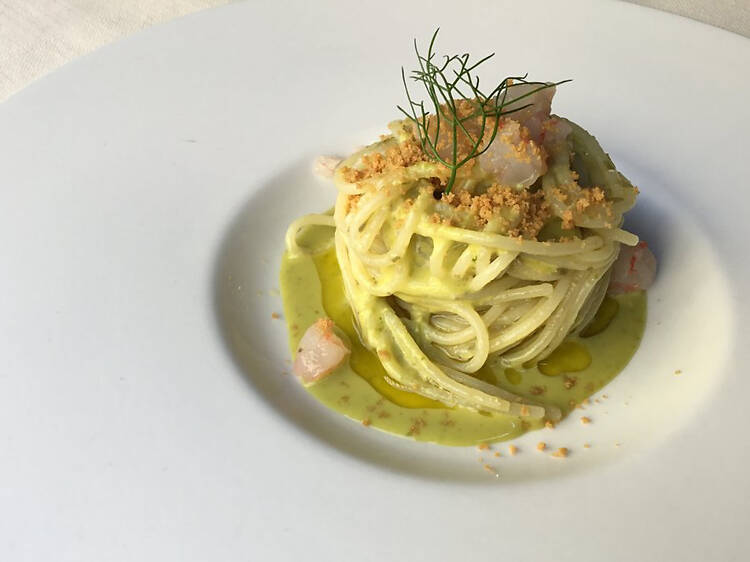 Photography: Courtesy TripAdvisor.com
1. Osteria Campo Santa Marina
Osteria Campo Santa Marina started as a humble sandwich shop. Today, it is one of the city's most creative dining experiences. Chef Agostino Doria spent the last 30 years honing in on his menu, attempting to pay homage to traditional Venetian recipes while elevating them to a form of art. During the warmer months, expect a good amount of outdoor seating but don't be surprised as people opt to stay inside, where the atmosphere is cozy, warmly lit and always bustling. In terms of menu, the eatery specialises in raw fish (think scallops carpaccio with shavings of smoked goose foie gras and sweet white wine jelly), but the house-made pastas are expectedly excellent as well (try the black tagliolini with cuttlefish ink sauce and citrus-flavoured bread). You might want to entrust your palate to the chef completely, ordering the tasting menu to get a comprehensive sense of the restaurant's lagoon fare.
The island of Burano, famed for exquisite lace-making and colourful houses, is also home to one of Venice's most charming family restaurants. Husband and wife Ruggero and Lucia set a jovial tone for "The Black Cat" while son Massimiliano shares his passion for wine as resident sommelier. Feast on hyper-local specialties like homemade tagliolini noodles with spider crab or Burano-style risotto with small fish from the lagoon waters surrounding this canal-side gem.
Photograph: TripAdvisor.com
3. Fiola at Dopolavoro Venezia
To get to Fiola at Dopolavoro, hop on the free JW Marriott ferry from Piazza San Marco, which operates several times an hour each day and evening. Once on the island, you'll walk through flowering gardens and an olive orchard to reach the 1920s architectural masterpiece helmed by chef Fabio Trabocchi. The menu is (surprise, surprise) heavy on the Venetian fare, showcasing items like lagoon soft shell crab, tuna tartare and grilled Bassano white asparagus – to be enjoyed alongside one of the many regional and rare wines on offer (their collection is one of the largest local ones). In terms of décor, large windows face onto the vegetable gardens on premise, the lagoon in the distance and there's a tonne of light that pours into the space.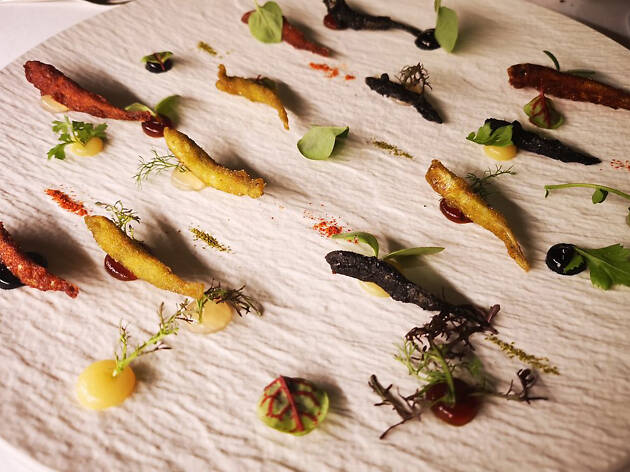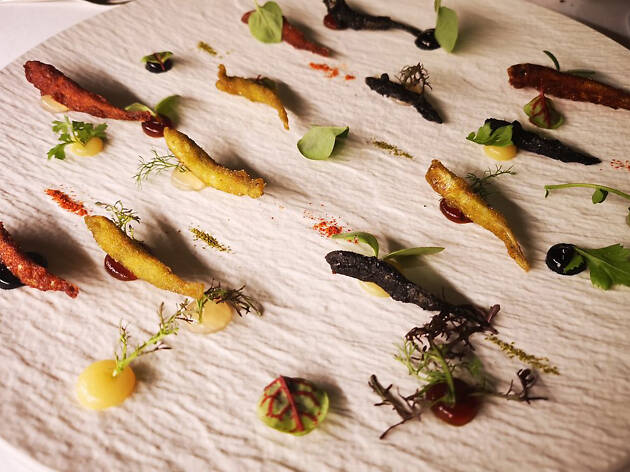 Photograph: Courtesy TripAdvisor.com
Chef Enrico Bartolini's ability to transform classic Venetian dishes into mind-blowing bites of food has earned Ristorante Glam a Michelin star relatively quickly. Find the eatery inside the new Palazzo Venart, with outdoor seating right beneath the shade of ancient magnolia trees. Order the tasting menu, a culinary tour of eight tastes endemic to the lagoon, and settle in to spend a few hours eating spaghetti with smoked eel and fennel leaves before a salted cod with local herbs. Pro tip: make a reservation far in advance as these are some of the most coveted tables across all of Venice.
Half of the experience at Venissa is the journey to Mazzorbo Island in the northern lagoon. This is where Venice really began and, today, owner Matteo Bisol is drenching his native Venice ethos onto every part of the restaurant. Smoked eel, beetroot, kombucha and sorrel or turbot with potatoes, porcini mushrooms, black summer truffle and bay leaves are just a few of the items you'll get to enjoy when ordering the tasting menu, which you can customize to include five, eight or ten plates. While sitting outside, gaze at the restaurant's vineyards and vegetable gardens. In the winer, when the main restaurant is closed, dine at the more casual yet just-as-delectable Osteria Venissa.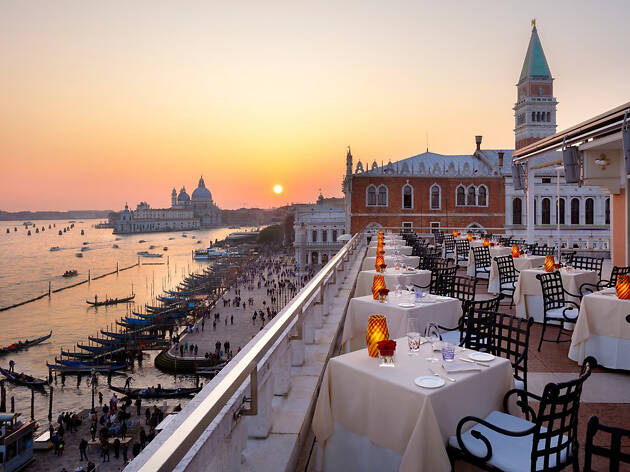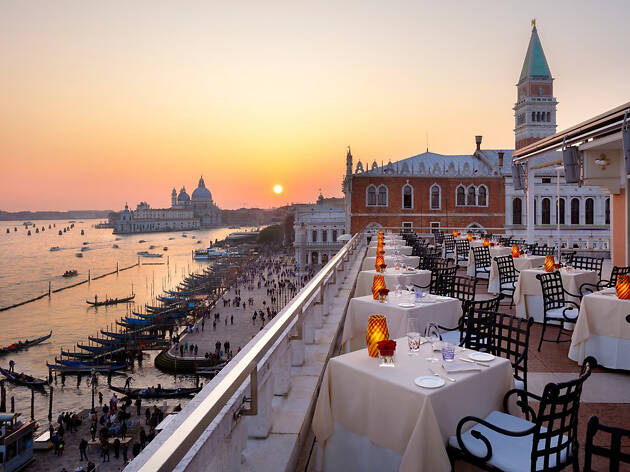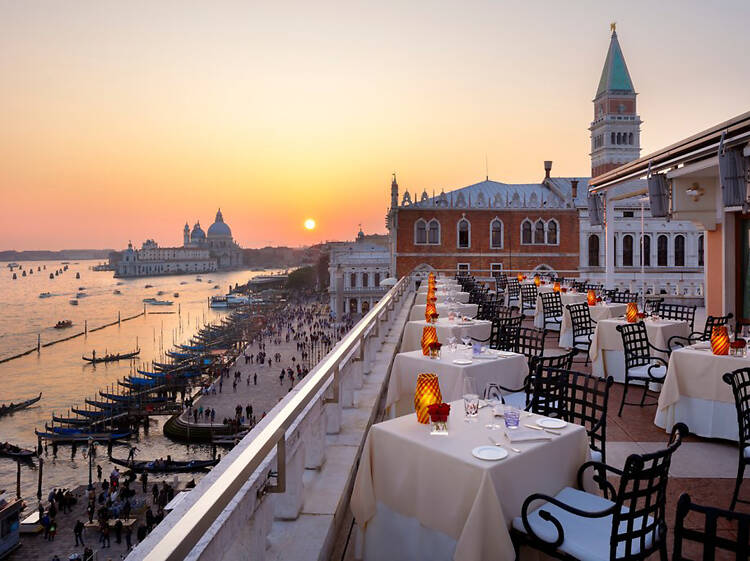 Photograph: Courtesy TripAdvisor.com
The food at this restaurant inside Hotel Danieli is excellent, with a menu that showcases recipes dating back to 1909, including a Dandolo risotto with sea urchin, sole and fresh tomatoes. But that's really besides the point: come here for one of the best views in Venice, overlooking the Grand Canal, Punta della Dogana, Giudecca and San Giorgio Maggiore.
The family behind this beloved restaurant hidden within the labyrinth of San Polo proudly shares culinary traditions passed through generations. Passion for fine, fresh ingredients shines in specials like exquisitely sliced and presented raw fresh catch (carpaccio di pesce crudo), baccala prepared three ways and generous seafood platters, lightly battered and fried to perfection. Don't expect pizza or lasagna, this is classic Venetian fare offered at the highest level (often to visiting celebrities like Bill Murray and Yoko Ono), thus reservations are essential. Moderately priced and with an impressive wine list, this is a can't miss.
Sexy and fashionable, this Michelin-star restaurant located inside the world-famous, five-star Hotel Metropole harnesses Venice's legacy as a once-mighty spice trading empire into a thoroughly modern menu and atmosphere. Murano glass lamps cast a glow over luxurious fabrics setting the stage for creative taste combinations in every course. Most notably, the vegetarian tasting menu infuses classic dishes with Asian elements, such as aubergines with beetroot and wasabi flavoured broccoli cream, topped with crunchy artichokes.
Photograph: Courtesy TripAdvisor.com
Al Covo is one of those tried and tested local standbys with a menu that skews towards Venetian and Veneto regional cuisines. Owned by the same family since 1987 (specifically, by a married couple comprised of a native Florentine and a native Texan), Al Covo is a rustic little restaurant with some outdoor seating on warmer days. The portions are hearty, fresh and beautifully presented. Start with the pumpkin bread with house-smoked red mullet and butter and move onto the Adriatic monkfish wrapped in crispy pancetta, celeriac fondue and Giàlet beans. You'll also be surrounded by master makers, so order the linguini with local clams and chicory sprouts. Ask your waiter about the great wine pairings on offer.
The small, canal-side dining room of La Zucca (meaning "the pumpkin") offers a romantic setting and one of Venice's most unique menus. Vegetables play the starring role – the signature pumpkin and ricotta flan is not to be missed – yet the rotating menu also includes succulent specialties like roasted rabbit with chestnuts. Reservations are essential for one of two nightly seatings and service can be rushed, even burly – but one taste of the house-made pear cake with ginger and those quirks will hardly linger.
This most famous of Venice restaurants, an institution since 1830, recently received a facelift at the hands of designer and architect Philippe Starck. The Michelin star restaurant's beloved Murano glass chandeliers now illuminate walls upholstered in highly-original and playful fabric designed by local textile artisans. To see these opulent dining rooms overlooking St. Mark's Square would be reason enough to visit, but seasonally-inspired three- or five-course tasting menus are the true attraction – with every bite of asparagus and green pepper risotto and accompanying beetroot foam, you will taste the promise of spring. Generous amuse-bouches are also playful and delicious. This is one of the rare Venice menus that includes gluten-free options. The staff has recently opened a small extension of the space in the new Fondaco dei Tedeschi shopping center. You'll likely want to visit both locations.
Since 1936, Venice's oldest wine bar has charmed locals and travellers with warm service and hearty Venetian cuisine. Not far from Rialto Bridge, look for the wooden table on Calle Cavalli and enter old-world Venice, where vintage wine labels cover the bar ceiling and wood panels adorn a cozy dining room. Reservations are essential, portions are generous and prices reasonable, especially by Venice standards. Classic fare like spaghetti with clams, followed by Venetian-style liver with polenta pair perfectly with affordable house wines.
This popular neighbourhood restaurant, located along Venice's hippest stretch of canal in Cannaregio, is a meat lover's paradise. Giant wood boards come loaded with perfectly seared slices of steak, surrounded by mounds of potatoes and veggies. These shareable feasts, along with lagoon-side seating, make for one of Venice's most relaxed and lively dining scenes. You also can't go wrong with sister restaurant, seafood-centric Timon All'Antica Mola, located next door.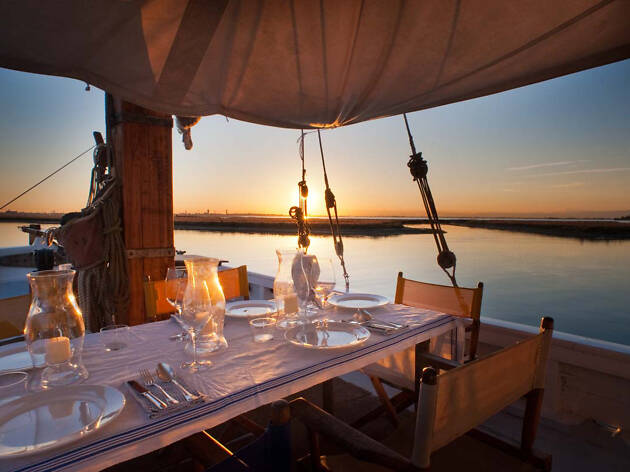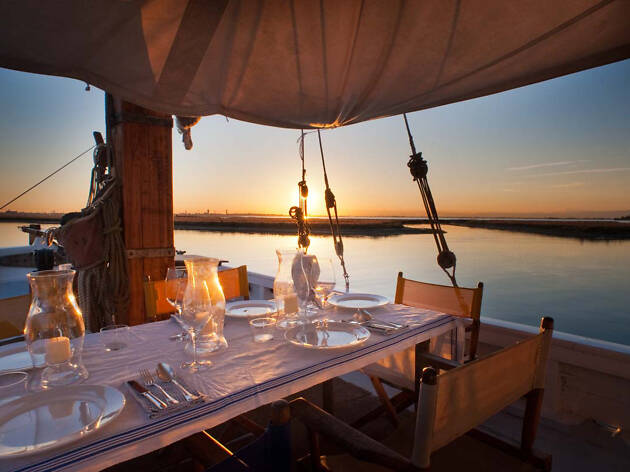 Photograph: Paolo Spigariol
Eolo is a restaurant like no other, set as it is in the wooden belly of one of Venice's last traditional flat bottom sailing boats called bragozzi. These were built in the 1940s and were used for fishing in the shallow waters of the lagoon until 1967. Chef, owner and captain Mauro Stoppa expertly knows his way around the ancient and traditional recipes that he prepares for diners. Some of these recipes include sweet and sour fresh sardines or Venetian calf liver with caramelized onions and raisins. The best part of it all? Guests can book partial or full-day excursions that Stoppa, a brilliant resource for understanding the lagoon and its wonders, will tailor to personal preferences.
Time for a drink
Here's your guide for getting beyond tourist meccas and experiencing the true essence of Venice, one tasty sip at a time.
Best selling Time Out Offers