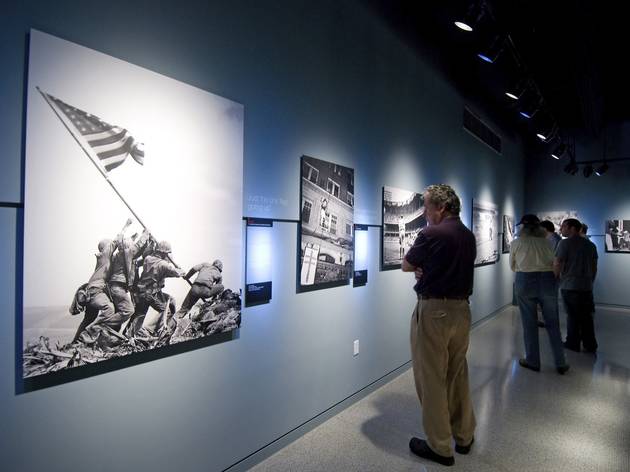 The line of stands by the Pennsylvania Avenue entrance, filled with copies of today's front pages from newspapers around the world, draws passers-by to this museum dedicated to journalism and free speech, which opened in 2008. The museum's mission is further clarified by a huge marble tablet stretching most of the height of the striking, blue-gray rectilinear building, engraved with the words of the First Amendment, guaranteeing free speech.
Visitors first take an escalator down to concourse level, where they are drawn to eight large, graffitied sections of the Berlin Wall, displayed along with an East German watchtower. Photos and words tell the story of the Wall, while screens focus on the media: news reporting from East and West Germany, and, in particular, coverage of the Wall and its fall.
One of the world's largest glass hydraulic elevators speeds visitors straight to Level 6, and one of the city's most magnificent panoramas (there's a clear view of the Capitol from the terrace), as well as a display of more than 80 front pages from around the world.
Level 5 contains a theater with a 90ft screen, showing multiple images of unforgettable news moments. It is also home to the News History exhibition, built around the museum's collection of over 30,000 newspapers, and tracing more than 500 years of news and covering any number of issues—slavery, the Scopes trial and women's suffrage among them. Also explored here are issues of media bias and credibility, modern phenomena of blogging and "citizen journalists" and the environment of 24-hour rolling news. The Great Books gallery, meanwhile, features books and documents influential to ideas of press freedom. Touch screens allow visitors to see digital images of pages.
The First Amendment is explored on Level 4, through current issues such as prayer in schools as well as historic milestones. Also on this level, the 9/11 Gallery has as its centerpiece the upper section of the antenna mast from the World Trade Center's North Tower. There are 9/12 front pages from all 50 states and many other countries, along with first-person accounts from journalists who covered the story. Also included are pictures by photojournalist William Biggart, taken moments before he was killed when the second tower collapsed.
News in an electronic age is the theme of the Internet, TV & Radio Timeline exhibit on Level 3. The timeline traces media milestones, with examples of technology and photographs from the different eras. Touch screens allow visitors to view and listen to important media moments, such as the 1960 Nixon-Kennedy presidential debates and the election of Obama. Coming up to the present, the exhibition looks at the decline of print publications and the role of new media.
The World News Gallery, meanwhile, covers press freedom around the world and highlights hazards faced by journalists. One startling photo depicts photojournalists in the midst of a battle, lying prone on the ground shooting pictures of gunmen, who are shooting their weapons, also lying prone. The Journalists Memorial is a two-story glass structure that includes the names of thousands of journalists who have died reporting the news. More are added every year. Also on this level are two TV control rooms, sometimes used for broadcasts by major networks, when visitors may have the opportunity to join the audience. At other times there are guided tours.
Things get interactive on Level Two, a popular spot for younger visitors. Here you can try reading the news or weather in front of a live camera, and watch your TV performance later (videos can be downloaded at www.newsmuseum.org). Be A Reporter is an animated game that puts the player in the role of a reporter trying to file a story before deadline. Touch screens in the Ethics Center deal with real ethical questions faced by real journalists, and asks viewers to decide what they would do in similar circumstances.
On Level 1, the Pulitzer Prize Photographs Gallery includes every prize-winning entry from 1942 onwards. Over 1,000 images can be viewed through interactive screens. The 535-seat Walter and Leonore Annenberg Theater is the museum's largest, currently showing I-Witness, a 4D interactive film that gives viewers an in-the-thick-of-it experience of news events: Isaiah Thomas reporting on the Battle of Lexington and Edward R Murrow broadcasting from London during World War II. Viewers wear 3D glasses; the extra dimension comes from the movement of seats to create motion effects.
At the museum's core is the Great Hall of News, a 90-foot atrium that houses some of the biggest artifacts, including the first satellite to send and receive signals simultaneously, thus allowing the first global TV broadcast, as well as a giant media screen, playing reports of historic events, documentaries and breaking news.
Venue name:
Newseum
Contact:
Address:
555 Pennsylvania Avenue, NW
Judiciary Square Area
Washington, DC


Opening hours:
9am-5pm daily
Transport:
Archives-Navy Memorial-Penn Center Metro
Price:
Admission $21.95; $12.95 7-18s; free under-7s
Rating Breakdown
5 star:

1

4 star:

0

3 star:

0

2 star:

0

1 star:

0
The Newseum is likely the best museum I've ever been to! I spent a whole day there and likely could have gone back for a second day if I didn't have to leave DC. I would absolutely add this museum to your list for your next visit.