Ford's Theatre, Museum, Theatre Center & Petersen House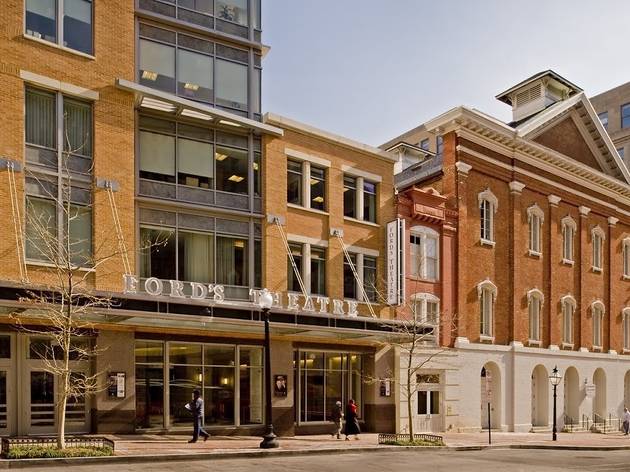 On Good Friday 1865, President Lincoln was enjoying a comedy in Ford's Theatre when actor John Wilkes Booth entered the presidential box and shot him. Wounded in his dramatic leap to the stage, Booth escaped painfully on horseback, only to be killed by US troops 12 days later. Today, the still-working theater, which underwent major restoration in 2009, looks as it did that day. Also the subject of a recent revamp, Ford's Theatre Museum tells the story of the Lincoln presidency, from his arrival in Washington to his assassination, through tableaux, artifacts and videos. Exhibits explore life in the Lincoln White House, his cabinet and, of course, the Civil War, highlighting key events and Lincoln's role, and including his speeches. Artifacts include the clothing Lincoln was wearing on the night of his assassination and the gun that was used to fatally wound him.
Across the street, at 516 10th Street, the Petersen House is where the wounded Lincoln was carried after the shooting, and nursed until his death hours later. The red-brick three-story townhouse has been maintained as a museum, recreating the scene at the time of Lincoln's death.
At 504 10th Street, across the street from the theater and adjacent to the Petersen House, the new Theatre Center explores Lincoln's legacy, including the impact of his ideas on the civil rights movement and his emergence as a pop culture icon. A video installation remixes his famous speeches—and shows how his words still resonate. The Lincoln Book Tower is an installation featuring a winding staircase and a 34ft tower of books—all of them about Abraham Lincoln. The "books" are actually made of aluminium, with cover art printed on to them. The tower features 205 real titles, most of which are currently in print. Titles appear several times, and the tower totals approximately 6,800 books.
Venue name:
Ford's Theatre, Museum, Theatre Center & Petersen House
Contact:
Address:
511 10th Street, NW
between E & F Streets
Washington, DC


Opening hours:
Hours can vary with theatre peformances & events. Theatre Center 9am–4pm daily. Theatre 9am–4.30pm daily. Petersen House 9am–5pm daily
Transport:
Metro Center or Gallery Place-Chinatown Metro
Price:
Admission $2.50 in advance, booked online at website. Some free same-day tickets available from box office from 8.30am daily