National Museum of the American Indian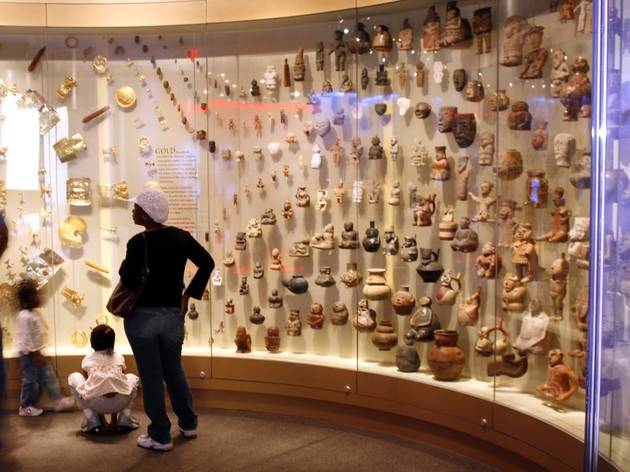 Time Out says
Dedicated to America's colonised and historically abused indigenous people, the National Museum of the American Indian is the most recent addition to the Mall's museum ring—a status it will lose once the National Museum of African American History Culture opens. The structure was designed by a Native American team; the building is as much a part of the message as the exhibits. The details are extraordinary: dramatic, Kasota limestone-clad undulating walls resemble a wind-carved mesa; the museum's main entrance plaza plots the star configurations on 28 November 1989, the date that federal legislation was introduced to create the museum; fountains enliven outdoor walkways. Outside, landscaping and planting (more than 27,000 trees, shrubs and plants, representing 145 species) have created a natural environment that recalls that existed prior to European contact, when the Chesapeake Bay region abounded in forests, wetlands, meadows, and Algonquian peoples' croplands.
Visitors enter at the dramatic Potomac Hall rotunda, with its soaring 120ft stepped dome. The museum's permanent collection, exhibited on the third and fourth floors, orbits around thousands of works assembled at the turn of the 19th century by wealthy New Yorker George Gustav Heye, including intricate wood and stone carvings, hides and 18th-century materials from the Great Lakes region. Collections also include a substantial array of items from the Caribbean, Central and South America, including a dramatic quantity of gold, and the individual and non-stereotypical portraits of George Caitlin.
Native history from a native perspective is a theme of much of the rest of the material on show. Our Peoples looks at how contact changed the world, bringing disease, guns, Bibles and foreign governments to native peoples, and exporting corn, tobacco and chocolate. It focuses on eight tribes, from the Blackfeet of Montana to the Ka'apor of Brazil. Our Universes explores native cosmologies and traditions, including the Day of the Dead, which was eventually assimilated into Christian tradition. Our Lives looks at life and identities in the 21st century through the experiences of eight communities, while Return to a Native Place: Algonquian Peoples of the Chesapeake focuses on tribes of the local area, telling the story through photographs and objects of how events from the 17th century to the present have impacted on lives.
A growing contemporary art collection is based around four broad themes: cultural memory and resistance; landscape and place; personal memory and identity; and history and the contemporary urban experience.
Details
Address:
Independence Avenue & 4th Street, SW
Washington, DC


Transport:
L'Enfant Plaza Metro
Price:
Admission free
Contact:
Opening hours:
10am–5.30pm daily