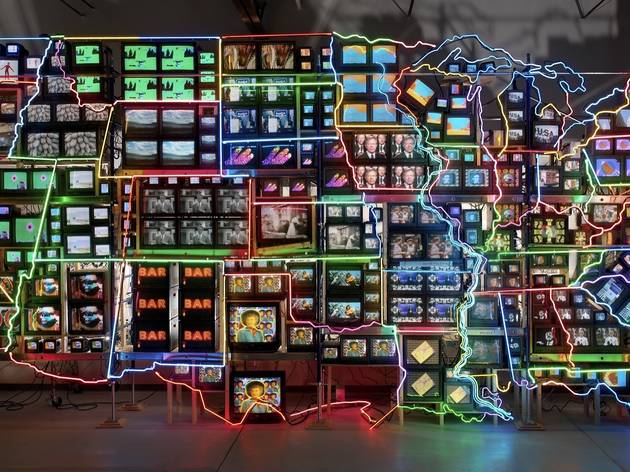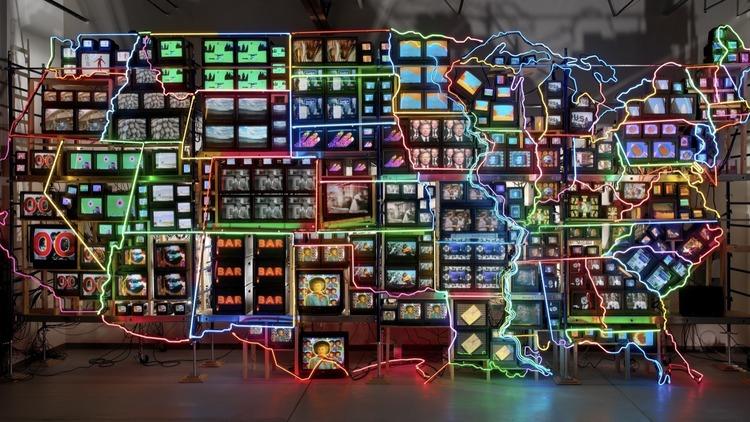 1/2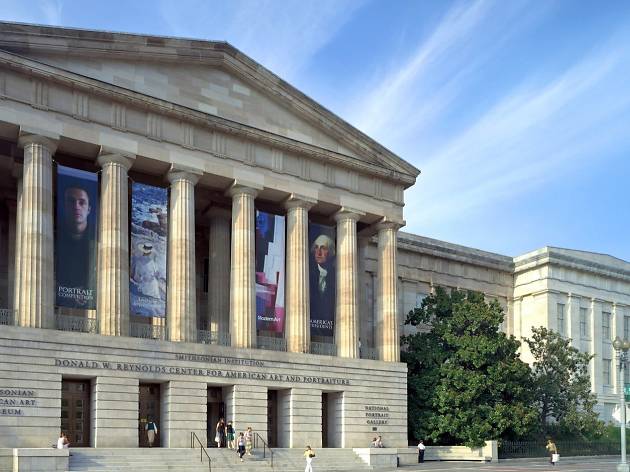 2/2
The National Portrait Gallery features people who played a role in the shaping of the nation and its culture, with figures as diverse as Pocahontas and Juliette Gordon Low, founder of the US Girl Scouts. Presidents are gathered in the America's Presidents section on the second floor. Among the portraits is Gilbert Stuart's seminal "Lansdowne" portrait of George Washington. Other paintings feature the Bushes, father and son, in separate portraits side by side. A TV plays excerpts from epoch-making presidential speeches, Kennedy's "ask not what your country can do for you", and Reagan's "Mr Gorbachev, tear down that wall" among them.
Alongside the magnificently re-created grand hall on the third floor is 20th-Century Americans. Andy Warhol's iconic Marilyn is here, alongside a striking kitsch-classical Elvis by Ralph W Cowan, looming huge over a rural scene with Gracelands in the background, as well as serious figures such as Hillary Clinton.
The theme of art as a window on America continues in the American Art Museum. On the second floor is American Art Through 1940, a chronological collection that reflects America's changing self-image. In the 19th and early 20th centuries, the West was a distant and intriguing place and the frontier a big concept in the national mindset, so artists sought to bring them to the viewing public. Huge, idealized and stylized visions of an almost supernatural landscape were the specialty of Albert Bierstadt, and nothing came bigger or more idealized than his Among the Sierra Nevada, California, which was actually painted in Rome. George Catlin, meanwhile, had a very different mission:
to record disappearing tribal cultures. Contrary to his own prevailing culture, he sought to portray native people not as savages but as individuals and his moving portraits are a testament to this.
Contemporary art and art since 1945 is on the third floor, with work from leading artists, such as Frank Kline's Merce C, a dynamic representation in black and white of dancer Merce Cunningham. Perhaps the most striking exhibit here is Nam June Paik's huge neon map, Electronic Superhighway: Continental US, Alaska, Hawaii. This floor is also home to the Lunder Conservation Center, which allows the public to see the work of conservation staff, and the Luce Foundation Center for American Art, the first public study and art storage center in Washington, with more than 3,300 works from the permanent collection on display. Interactive kiosks provide detailed information.
Back down on the first (ground) floor, American Experience explores themes of land, frontier, cities, monuments and ideals. Here, Edward Hopper's Cape Cod Morning shows a woman looking out of a window; she seems to have spotted something we can't see, and the picture hints at anxiety and isolation. And Georgia O'Keefe's Manhattan (see above) is a series of dynamic geometrical shapes reaching skywards, their sharp lines contrasting with flowers floating in the sky.
Venue name:
Smithsonian American Art Museum/National Portrait Gallery
Contact:
Address:
Reynolds Center, 8th & F Street, NW
Washington, DC


Opening hours:
11.30am–7pm daily
Transport:
Gallery Place-Chinatown Metro
Price:
Admission free