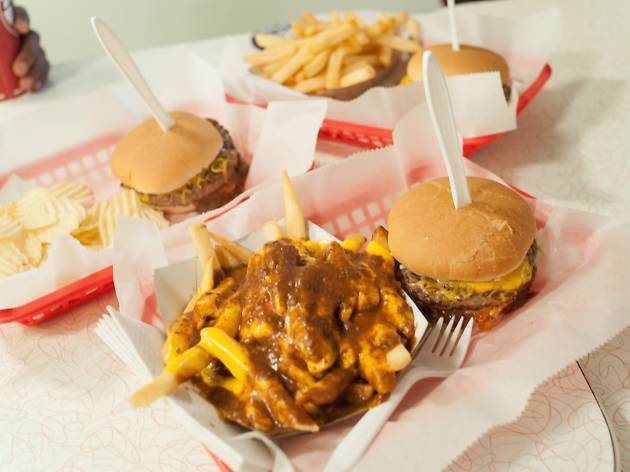 Looking like a museum piece on the yuppified, buppified stretch of U Street once known as Black Broadway, Ben's Chili Bowl, opened in 1958, is in no danger of mouldering away, thankfully. In fact, its claim to be a 100% wind-powered business makes it very contemporary. This family-owned institution's appeal rests on three legs: nostalgia (past customers include Duke Ellington, Miles Davis, Bill Cosby and, more recently, Barack Obama), the insatiable late-night hunger of young partiers, and, of course, the great bang for the buck afforded by burgers, fries and chili. In-the-know customers order chili on a dog or half smoke (arguably Washington's signature specialty) and cheesefries, but you can also get a turkey sub or a veggie burger. These days, in fact, you can even order Ben's over the internet.
Venue name:
Ben's Chili Bowl
Contact:
Address:
1213 U Street, NW
Between 12th & 13th Streets
Washington, DC


Opening hours:
6am–2am Mon–Thur; 6am–4am Fri, 7am–4am Sat; 11am–11pm (no breakfast) Sun
Transport:
U Street/African-American Civil War Memorial/Cardozo Metro
Price:
Main courses $4–$9. No credit cards
Rating Breakdown
5 star:

1

4 star:

0

3 star:

0

2 star:

0

1 star:

0
The anchor of U Street, Ben's Chili Bowl has been dishing out cheese fries, burgers and half smokes for decades. While the street has changed massively, inside, Ben's is the same great spot.