Heads up! We're working hard to be accurate – but these are unusual times, so please always check before heading out.
Cheap date ideas in Washington, DC
From a moonlit hike to a self-guided taco tour, we've got the best dirt-cheap date ideas for cash-strapped city dwellers
Finding someone to date in DC can be a challenge. Finding something to do on that date? That's the easy part considering all the free things to do in DC. The city is one big multicultural playground with inexpensive attractions, free museums, and plenty of delicious food on the cheap. Here are just a few ways to enjoy the company of your date without breaking the bank.
Arrive hungry to Union Market, a huge warehouse in NE DC with nearly 40 kiosks run by the city's best chefs. Follow your gut to breakfast sandwiches at Mason Dixie Biscuit Co., pork buns at Toki Underground or fish and chips at the District Fish Wife. (You brought gum, right?) Once sated, stroll up New York Ave to Nomad Yard Collectiv (411 New York Ave NE, 929-322-3397), a warehouse stocked with clothing, jewelry, furniture and textiles from local vintage vendors. If things are going well, catch an indie flick ($6–$10.50) at the Angelika Theater pop-up next door (550 Penn St NE, 571-512-3311).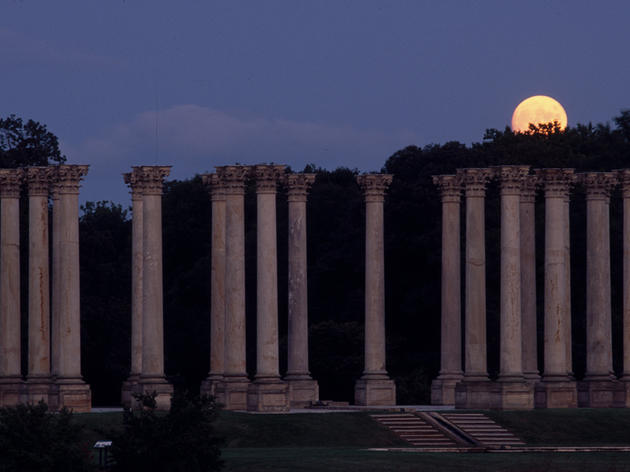 Landing a spot on the full-moon hike at the National Arboretum ($22) takes some finagling: It's quick to sell out, and the Arboretum only opens registration four times a year. But the after-hours stroll through the moonlit meadows is spectacular—not to mention romantic. The ranger-led hike covers approximately four miles and is set at a brisk pace. You'll work up an appetite, so continue your trek to Panda Gourmet (2700 New York Ave NE, 202-534-1620), located a mile up Bladensburg Road. There, tucked into the lobby of a sketchy-looking Days Inn, you'll find one of DC's best Sichuan restaurants.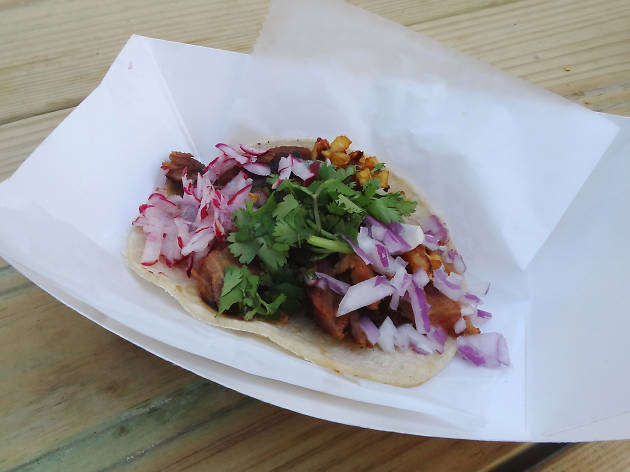 This PBR-fueled neighborhood has a high concentration of taquerias. See how many you can hit on a self-led taco tour. Start at Chinito's Burritos (635 Florida Ave NE, 202-544-4447), where the Asian-leaning tacos and toppings are so fresh there's no can opener on the premises. Next, head to Chupacabra (822 H St NE, 202-505-4628), which started as a food truck in 2011. Likewise, SOL Mexican Grill (1251 H St NE, 202-808-2625) had truck training wheels before opening a brick-and-mortar. End your tour at Impala Cantina y Taqueria, where house-made tortillas cradle braised pork, asada chicken and fresh fish.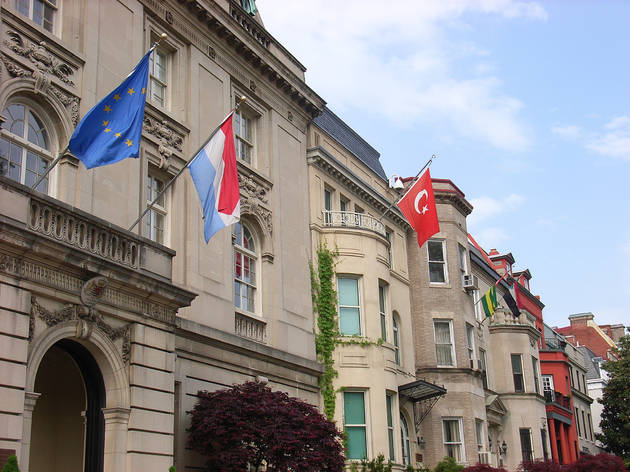 Photograph: Courtesy Creative Commons/Flickr/Mieko-Y
Most of DC's 170-plus foreign embassies sit on Massachusetts Avenue between Scott Circle and the United States Naval Observatory. Dubbed Embassy Row, the stretch is like a refined Epcot Center: Each building is designed to reflect the architecture found in that country. Meet at Scott Circle and head northwest on Massachusetts for almost a mile until you hit Sheridan Circle. You'll have passed the Embassies of Australia, the Philippines, Peru, Uzbekistan, Chile, Sudan, Greece, Indonesia, the Bahamas and Ireland. Hang a right on R Street and a left onto 22nd Street to discover the Spanish Steps, a hidden, whimsical staircase framed by lush trees, where you can sit and plan an exotic couple's vacation.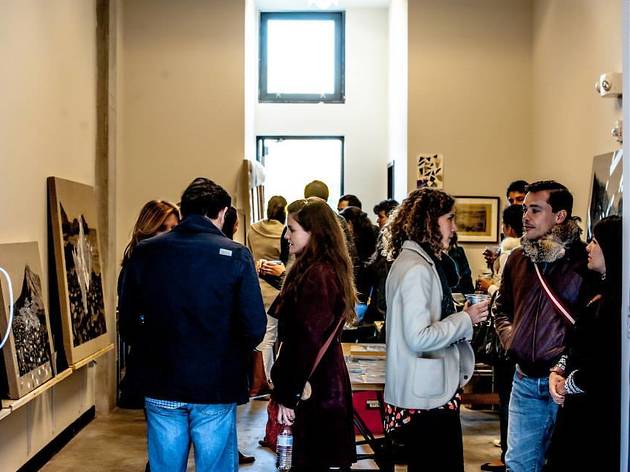 Photograph: Courtesy Monroe Street Market
Brookland's booming art scene
In addition to condos and restaurants, the Monroe Street Market development (625 Monroe St NE, 866-339-1487) includes 27 artist studios known as the Arts Walk. The strip is home to local artisans like Katie Stack of Stitch and Rivet, who sells leather goods and hosts sewing workshops; painter Cheryl Edwards; and Wild Hand Workspace, a community gallery and gathering place. You can usually watch artists at work through the large windows and are encouraged to stop in. For a quick bite, head to nearby Halsa (655 Michigan Ave NE, 202-832-1131), which serves healthy eats in a fast-casual setting and made headlines for pioneering the bone both trend in DC.
Photograph: Courtesy La Colombe Coffee
Scoping out Shaw's alleys
Blagden Alley is a micro-neighborhood in Shaw that was formerly the site of cramped affordable housing and horse stables. Today, the system of alleys is home to a handful of inventive restaurants, including the jaw-droppingly expensive Rogue 24. Best to leave that one to the high rollers and instead grab a globally inspired sandwich from SUNdeVICH (1314 9th St NW, 202-319-1086). There's also La Colombe Coffee (924 N St NW, 202-289-4850) and Localteria (1209 10th St NW Rear, 202-408-9600), a market offering grab-and-go lunches and snacks made by local producers.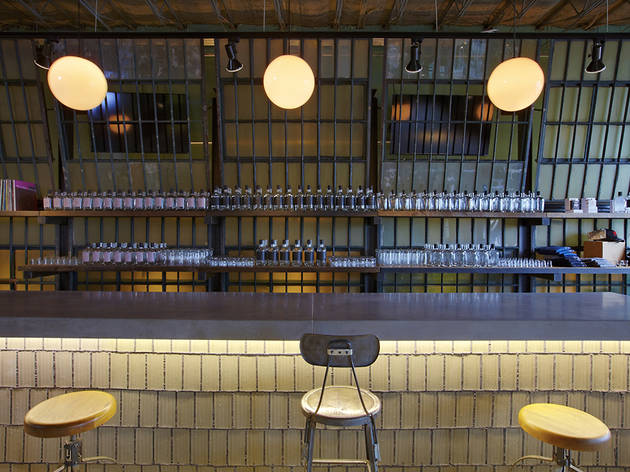 Photograph: Courtesy One Eight Distilling
This Northeast neighborhood is an epicenter of vice: You'll find a marijuana cultivation facility as well as a handful of booze producers. We're talking about New Columbia Distillers, manufacturers of Green Hat Gin and the first distillery to open in DC since Prohibition (1832 Fenwick St NE, 202-733-1710); One Eight Distilling (1135 Okie St NE, 202-636-6638), makers of vodka, whiskey and gin; and beer pros Atlas Brew Works (2052 West Virginia Ave NE #102, 202-832-0420). They're all within stumbling distance, so plan on tastings and tours at all three.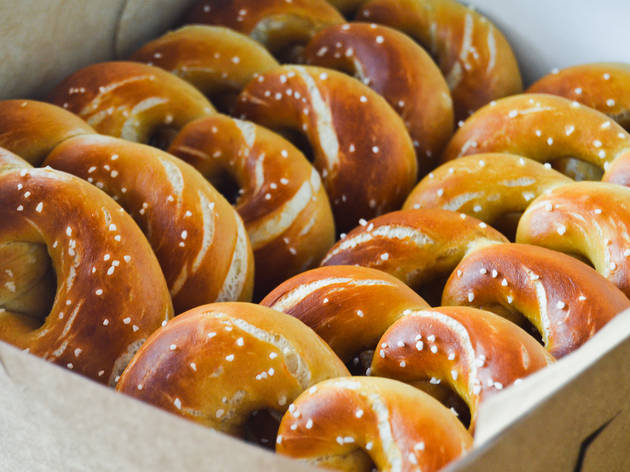 Photograph: Sarah King
In case there weren't enough secrets on Capitol Hill, we found a few more. Grab your partner-in-find and see if you can track down a few of the neighborhood's hidden gems, like The Pretzel Bakery (340 15th St SE, 202-450-6067), an off-the-beaten track shop dedicated to the twisted Philly specialty. Then dive into the Library of Congress to search for the hidden Dunkin' Donuts and Subway sandwich locations. Upon resurfacing, toast your fellow gumshoe at Harold Black, a clandestine speakeasy—you'll need to knock on the unmarked door to be let in.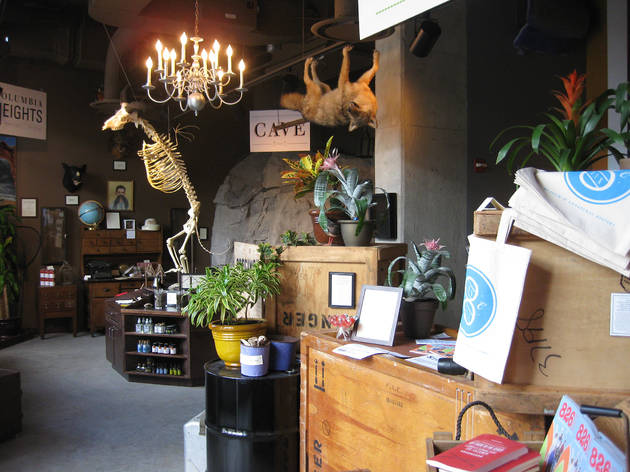 Photograph: Courtesy Museum of Unnatural History
Unicorn burps. Primordial soup. Future mold. These are items available for sale at the Museum of Unnatural History, a volunteer-run shop and children's writing center in Columbia Heights (3233 14th St NW, 202-525-1074). The whacky space is filled with stuffed make-believe specimens like a weagle (a weasel with eagle wings) and an owlephant (an owl with an elephant trunk). Once you've had your fill of weirdness, visit the children's section of the nearby Mount Pleasant Library (3160 16th St NW, 202-671-3121) to peep a mural painted in 1934 by a DC-based illustrator who worked on Disney's original Dumbo. Wrap things up with a game of tag at Meridian Hill Park (2400 15th St NW, 202-895-6000).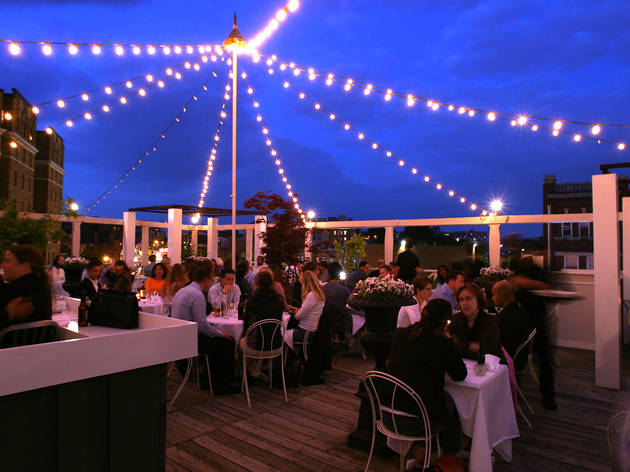 Photograph: Courtesy Perry's
Get a bird's eye view of DC's most colorful neighborhood atop one of its many rooftops. In the warmer months, we'd start with a cocktail and a sushi roll at Perry's, where strung café lights lend the space a European feel. Next, head to Roofers Union for a beer and a bratwurst alfresco. For cooler temps, you can't beat the covered, year-round terrace at Jack Rose Dining Saloon. There's also an enclosed balcony room off to the side with a wood-burning fireplace, as well as a nook that's open seasonally and serves as a tiki bar.