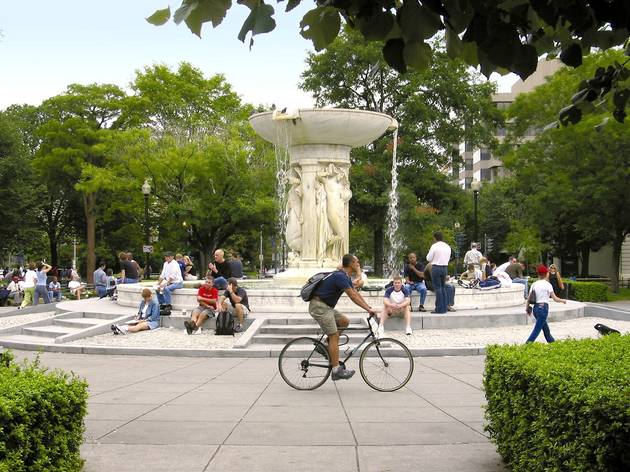 Cycling in Washington, DC
Tips cycling in Washington, DC, and information on the city's Capital Bikeshare scheme
Cycling in Washington, DC
DC is a great place to cycle. Much of the city, including most of the Mall and Downtown, is flat (though there's Capitol Hill at the eastern end of the Mall). The city has close to 60 miles of marked bike lanes and is building more by the day, while Capital Bikeshare is thriving.

The web of bike paths take you to out-of-center spots, and riding from museum to monument will save your feet hours of ache (though you'll have to lock your bike to a signpost or railings).

For more information on biking in and around DC, get in touch with the Washington Area Bicyclist Association (1-202 518 0524, www.waba.org). A helpful map of DC bike lanes is available on the city's transportation website, www.ddot.dc.gov.
Since the launch of the Capital Bikeshare Scheme in September 2010, the bright red aluminum bikes are increasing in number and becoming a real local presence, with over 1,670 of its signature cruisers at 75 stations throughout the city and suburbs.

Each station will begin the day with about ten bikes and five empty docking spaces. Membership is required to rent; daily ($5) or three-day ($15) memberships can be purchased directly at the bike stations, while longer memberships are available online at www.capitalbikeshare.com.

Members can check on the website (and its app) for how many bikes are available and how many docking stations are open for returning bicycles at any given moment. Helmets are not provided.

The pricing structure is designed to encourage short journeys rather than longer leisure trips—the
first 30 minutes are free and additional costs kick in after that. (You wouldn't want to ride the whole day, for example—for six hours, the price for six hours
would be $86.)

If the bike isn't returned within 24 hours, it will be considered stolen and will incur a replacement fee of $1,000.
More travel information