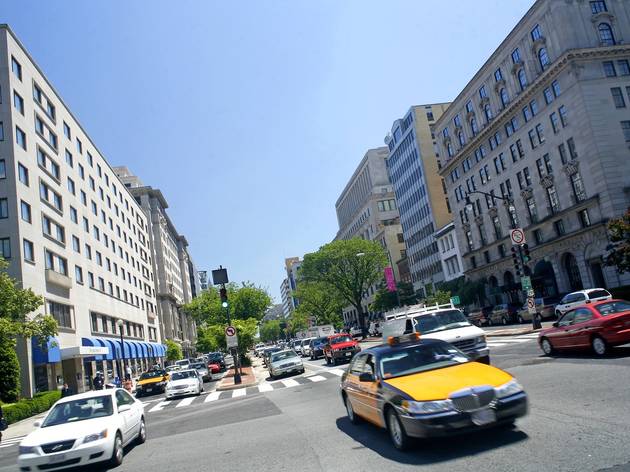 Driving in Washington, DC
Tips on parking and using the roads in Washington, DC
Driving in Washington, DC
The Washington area (especially between DC and Virginia) is not a great place to drive. The traffic circles are confusing and some streets, notably Rock Creek Parkway, change direction in rush hours. Read carefully the times posted in the middle of "Do Not Enter" and "No Turns" signs; at other times, entrance is allowed. Unless there's a sign saying otherwise, you can make a right turn when the lights are red.
There are plenty of off-street pay parking lots around town: Monument Parking (1-202 833 9357) has seven locations; Parking Management Incorporated (PMI, 1-202 785 9191) has many more. Street parking ranges from difficult to impossible, especially near the Mall, Downtown and in popular nightlife areas such as Georgetown and Adams Morgan. At metered spaces, it costs $2 per hour to park in high-demand zones. The parking police are notoriously pedantic. Add to this the regular street shutdowns for presidential motorcades and you'll see why nearly a third of District residents don't own a car.
For up-to-the-minute traffic conditions, check the live cameras on www.trafficland.com. Tune into WTOP (103.5 FM) for traffic reports every ten minutes.
For getting right out of town, driving is often the best option. Almost every rental agency will require a credit card and matching driving license, and few will rent to anyone under 25. The price quoted won't include tax, liability insurance or collision damage waiver (CDW).

If you already have an insured car in the US, your own liability insurance may cover the rental. Ask about discounts, available to members of the AAA (as well as British AA members), AARP (American Association of Retired Persons) and other organisations.

Zipcar (1-202 737 4900, www.zipcar.com) is a car sharing/rental company that has cars in many locations around the city, available on an hourly or daily basis. Foreign visitors will also be required to join the scheme, which has a fee of $50-$60 for membership plus an application fee of $25 (a drivers' licence and paperwork with information about the prospective member's driving history is required). Once a member, the actual hiring fees are low—around $8 an hour. Metro Rail has linked up with Zip Car to situate car pick-up points at certain rail stations. Call 1-800 745 7433 for information

The following national car rental companies have DC offices:
Alamo 1-800 462 5266, www.alamo.com
Avis 1-800 331 1212, www.avis.com
Budget 1-800 527 0700, www.budget.com
Dollar 1-800 800 4000, www.dollarcar.com
Hertz 1-800 654 3131, www.hertz.com
National 1-800 227 7368, www.nationalcar.com
Thrifty 1-800 847 4389, www.thrifty.com
More travel information