London's best party venues
Whether you're planning a birthday bash or a special shindig, here are London's finest venues available for all sorts of occasions
Planning a party? Then you'll already know how tricky it can be to find the right venue. Luckily London is so stacked full of weird and wonderful bars, clubs and nightspots, so you can't really go wrong. We've narrowed down our favourite venues for any sort of occasion, so whether you're pulling together a birthday party, planning the next Christmas do or putting on a spectacular wedding celebration, your venue selection skills will never be questioned. And don't worry about the soundtrack - we've got that covered, too.
---
---
---
Not sure what to play at your party?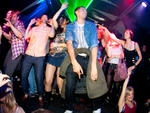 You're having a party, you say? Not sure what to cue up on your iPhone? Rest assured, we've got you covered. In fact, we're worried that our playlist of the 100 greatest party songs may actually cause your dancefloor to spontaneously combust in an explosion of pure joy and body-moving ecstasy. That's how good we think is.
See Time Out's top 100 party songs
---
London venues for all occasions
Whether you're hosting an office Christmas party or getting some friends together, here are the best venues in London
Looking for a venue to host your wedding and/or reception party? Here's our pick
Whether or not you're going big on your birthday here are the coolest venues in town
The ultimate party playlist
Your essential party soundtrack
Looking for the perfect party playlist? Prepare to get your groove on with our list of the greatest dancefloor fillers ever
Not all Christmas songs are totally naff. Forget the turkeys, here's our pick of the festive pops
Looking for something a little different to start off the dancing? We've picked a bouquet of fresh first-dance songs 
See our top 100 party songs
We speak to the DJs involved at a tribute night to the seminal NYC club
See in 2015 with by partying hard at one of London's best NYE club nights
Listen to an all-day playlist from New York DJ duo Eamon Harkin and Justin Carter
See more nightlife features