London restaurants open on Christmas Day
Don't fancy stuffing that turkey? Then leave it to the professionals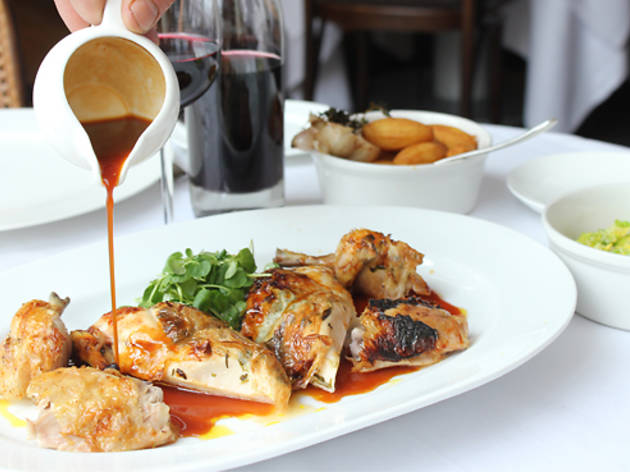 Looking for a traditional Christmas meal, but without all the faff? Or perhaps turkey isn't your thing, but you'd still like to dine out on 25 December? The Time Out Food Editors round up the best places to eat on Christmas Day 2016. Do you have suggestions for restaurants to eat on Christmas Day? Use the comments box below or tweet your suggestions.
RECOMMENDED: Find more festive fun with our guide to Christmas in London
Central London restaurants open on Christmas Day
North London restaurants open on Christmas Day
East London restaurants open on Christmas Day
South London restaurants open on Christmas Day
West London restaurants open on Christmas Day
Find more festive feasting options
Whether you're bleary-eyed and in need of a good feed, or looking for somewhere more refined to meet friends and family, start the year as you mean to go on.
Read more
Sponsored listing
Tapas Brindisa London Bridge
The upsurge in Spanish food quality in London since the 1990s can in part be dated from the arrival in Borough Market of food importers Brindisa, bringing first-rate Iberian hams, cheeses and other essentials to the city almost for the first time. The firm's showcase tapas restaurants are equally a benchmark. In early 2011, star chef José Pizarro left to start José, but we haven't noticed any drop in standards, so you'll still find an ideal blend of superb ingredients and refined cooking (the latter normally confined to larger dishes). At the original Brindisa in Borough Market, 'black rice' (cooked with squid in its ink, with unusually fragrant aïoli) had a superbly smooth flavour, without any acridity; ham croquettes gained extra depth from the quality of the meat. Padrón peppers (Galician peppers simply fried and salted) exemplified wonderful produce being allowed to shine. The style is easy going, prices very reasonable – though inescapably higher for delicacies such as the finest Ibérico meats. Wines are sophisticated and priced accordingly. The only drawback is that it's often impossible to get a seat at the Borough and Soho branches, as there's no booking; fortunately, South Ken's Casa Brindisa does now take reservations.