London musicals
Discover the best London musicals in the West End and beyond and book tickets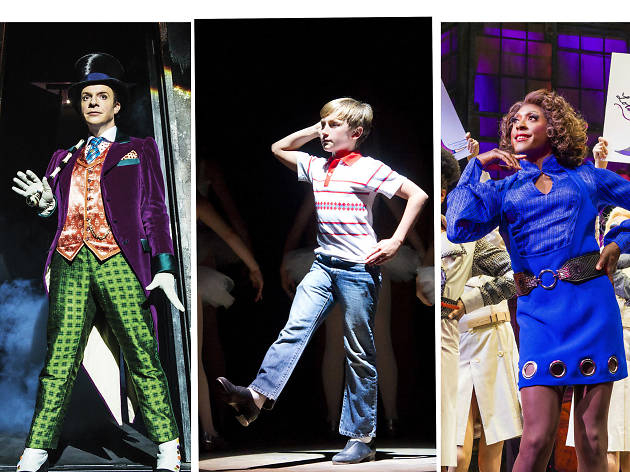 It had fantastic reviews when it opened – but is it still kicking after five cast changes? Time Out brings you news, up-to-date reviews and discounted tickets in its comprehensive guide to all musicals in London's West End and beyond: the best shows, the worst shows and the weirdest and most wonderful alternative choices.
A-Z list of West End musicals
A major revival for the classic American backstage musical about a dictatorial theatre director attempting to mount a massive production at the height of the Great Depression.
Read more
Packed full of jazz standards from George and Ira Gershwin, 'An American in Paris' is a musical to treasure.
Read more
The Brits love an underdog. The Yanks love a winner. And Carole King was both. So it's no wonder this biographical jukebox musical is shaping up to be a transatlantic smash, having already conquered Broadway. Hitting the big time aged just 16, gawky, self-effacing Brooklynite King went on to write a string of smashes for other artists during the '50s and '60s, before overcoming shyness and a failed marriage (to her writing partner Gerry Goffin) to strike out on her own with the world-conquering album 'Tapestry'.
Read more
'The Bodyguard' returns for 2016 with Beverley Knight as Rachel Marron (not performing Mondays or Wednesday matinees).
Read more
Jonathan Slinger replaces Alex Jennings as Willy Wonka from May 4 2015. A luminous roller-coaster ride of colour, spectacle and fantastical happenings, Sam Mendes's stage version of Roald Dahl's adored children's book is still as entertaining as ever, two years and a couple of casts down the line. And though a lot of that comes down to the show's garishly-hued stage tricks, it's also due to the main attraction.
Read more
Loosely inspired by the rise of Diana Ross and the Supremes, this Broadway smash-hit musical was made into a 2006 film starring Beyonce Knowles and Jennifer Hudson. Its latest costume change is into a glittering new West End production, featuring 'Glee' star Amber Riley in her West End debut as singer Effie White.
Read more
The Chichester Festival Theatre hit machine gears up once again as this acclaimed new version of 'Half a Sixpence' – the musical adaptation of HG Wells's autobiographical novel 'Kipps: The Story of a Simple Soul' – transfers to the West End…
Read more
Easily the biggest hit theatre show of our age, Lin-Manuel Miranda's 'Hamilton' is an exuberant, multi-racial hip hop account of the life and times of American founding father Alexander Hamilton.
Read more
Here's the 'Jersey Boys' concept. Take one gleaming back-catalogue – that of Frankie Valli & the Four Seasons, whose Bob Gaudio-penned songs have become so woven into the fabric of Western pop culture that it's easy to forget who actually wrote them. Next, instead of torturously extrapolating a zany plot out of the lyrics, simply make the story of 'Jersey Boys' the story of the Four Seasons. Get a top-notch book, written by Rick Elice and Woody Allen collaborator Marshall Brickman.
Read more
Show more