Open House London: our highlights
Peek behind the doors of some of London's most famous buildings at Open House weekend this September
The annual Open House London weekend, which takes place on Saturday September 17–Sunday September 18 2016, gives Londoners the chance to explore behind the closed doors of some of the capital's biggest, most renowned and most secret venues for free this September. This is your chance to explore a bit of hidden London and have a poke around some of London's best buildings.
When is Open House London?
It takes place for one weekend and one weekend only - Saturday September 17–Sunday September 18 2016.
Where is Open House London?
Across the whole of London, with the full programme of architectural venues spanning 30 of the capital's boroughs.

What is Open House London?
An annual celebration of London's architecture and design, which allows access to 800-odd venues not normally open to the public – private homes, government buildings, historic sites, educational establishments – but it's not just about being nosy, there are also loads of walks and tours to bring the buildings alive. See below for more details.
How much does Open House London cost?
Amazingly, it's all free. Some of the popular events need to be pre-booked, but otherwise you can just turn up on the day.
Check out our highlights from 2015 below. We'll be updating this page with events as and when they are announced for 2016.
Open House highlights
Saturday 10am-5pm

This innovative little house was featured on 'Grand Designs' and used sutainable features and clever design to solve the issue of how to build on an 'unusable' brownfield site on a limited budget.
Read more
Saturday and Sunday 10.30am-1.30pm

The doors of the Millennium Mills open for the first time in 2015 following a £3.5 billion redevelopment of the Silvertown area they are located in. The building was designed by millers William Vernon & Sons in 1905 and became famous for its rapid flour production and the girls that worked there. Expect to see the original art deco frontage and high ceilings still in place.
Read more
Saturday and Sunday noon-9pm

London's only mobile community garden is currently in its third year and on its third site. It's run by local residents and will offer coffee, cake and drinks in its on-site café, with disco and soul DJs to round out the Open House party.
Read more
Saturday 10am-5pm

Global ad agency McCann's London team work from this 1930s art deco building, which was once a garage. They'll run regular guided tours during Open House.
Read more
River Sculpture/Studio (Slice of Reality)
Saturday 10am-5pm

Admire the habitable sections of a sea-going sand dredger which has been sliced vertically, leaving only 15% of the original ship and a great view of its interior. Accessible parts include the bridge, poop and engine room.
Sunday 1pm-5pm

The St Mary Magdalen Roman Catholic Church was opened in 1852, and its churchyard is home to the Grade II* listed mausoleum of Sir Richard Burton. The tomb is in the shape of an Arab tent, its interior embellished with oriental lamps, devotional paintings and camel bells. It holds the coffins of both Burton and his wife, Isabel Arundell Burton, who had the mausoleum built when he died in 1890.
Read more
Saturday 10am-5pm

This sewage treatment works processes 209,000 tonnes of flow every day. It is currently undergoing an upgrade, due for completion in 2018. It will be open for 30-minute tours that must be pre-booked by emailing rachelgroves@murphygroup.co.uk.
Read more
Open House highlights
The Darke House
Sunday 10am-5pm

Celebrated architect Geoffrey Darke designed this home, and its Grade II listing describes it as 'the country's finest example of a modernist house in a Georgian setting'. Almost all the original features and fittings remain.

25 Montpellier Row, TW1 2NQ
Friern Road, East Dulwich (Pear Tree House)
Saturday 10am-5pm

This self-build architect's house was built around a 100-year-old pear tree. The contemporary design uses concrete and timber cladding, and the joinery and light fittings were made on site.

190a Friern Road, SE22 0BA
Garden House
Sunday 10am-1pm

This home and artist's studio in a land-locked site in Hackney features a cantilevered steel stair and bespoke terraced garden on the roof.

27 Buckingham Road, N1 4DG
The Pavilion
Saturday 10am-5pm

This award-winning and utterly modern house neighbours a Grade II* listed pagoda in the Blackheath Conservation Area. It's fully automated and features open plan living with plenty of natural light plus verdant gardens.

The Pavillion, Pagoda Gardens, Blackheath, SE3 0UZ
Spiral House
Sunday 10am-1pm

Just one wall forms this single storey house – it wraps the boundary and then spirals into the site's centre to create a habitable space.

19b Culverden Road, Balham, SW12 9LT
Tin House
Saturday 10am-1pm

Interconnecting top-lit pavilions make up this house and its calm private courtyard. The design maximises the irregular urban site.

2 Smugglers Yard, Devonport Road, W12 8PB
Concrete House
Saturday 10am-5pm

This Victorian terraced house has been remodelled to include a rear extension and new garden design. Among the materials used are concrete, steel and Iroko timber, all of which are used both internally and externally to link the spaces.

40 Roman Road, E3 5QJ
Doyle Gardens
Sunday 1pm-5pm

This 1930s semi-detached house has been renovated and extended to open up the ground floor. A timber extension was added to connect living spaces with the garden.

86 Doyle Gardens, Kensal Rise, NW10 3SR
Open House highlights
The curly-wurly red scaffolding tower lords it over the Queen Elizabeth Olympic Park from its position right alongside the Olympic Stadium. Designed by the artist Anish Kapoor and structural engineer Cecil Balmond, it stands 114.5m (376ft) tall – with lifts (and a 455-step staircase) up to two platforms from which you take in the interesting, if not entirely spectacular, view ­– The Shard, St Paul's and the Wembley arches are all very much on the skyline.
Read more
Sun 10am-5pm. Hourly tours, no booking. Last entry 4pm.
This 16-storey building is a truly striking office block in the heart of the City, offering spectacular views from its covered rooftop garden.
Read more
Sat 10am-5pm. Informal tours.
This Grade II listed building – actually London's tallest secular building when it opened in 1936 as the administrative HQ of the University of London – balances Portland stone classicism and Art Deco elements in perfect harmony. Look out too for the handsome, lavishly-panelled interiors and original period features.
Visitors are also welcome to explore Senate House Library, showcasing the 'Shakespeare: Metamorphosis' exhibition.
Read more
Alphabeta
Sat 1pm-5pm. Hourly tours. Last entry 4.30pm.
The historic office building has been given a makeover and an extension in order to to create a contemporary space fit for the challenges of a changing workplace culture.
Lancaster House
Sat and Sun 9.30am-5pm. Half-hourly tours, pre-book.
An extravagant building fit for a royal: This private palace, originally built for the Duke of York, has a magnificent central hall and staircase. You can access the whole house including fine rooms on ground and first floor.
Saturday and Sunday 9.30am-4pm. 30 minute tours. No booking.

Originally designed by George Sampson, Robert Taylor and John Soane in the eighteenth century, the Bank of England is a building brimming with history and interesting architecture. It was rebuilt in imperial classical style by Herbert Baker in the 30s, but Soanian touches remain. The tour concludes in the Bank of England Museum.
Read more
Open House highlights
Hackney's Timber Buildings
Saturday 10.30am

Three of the world's most significant timber buildings are situated in Hackney. Architect Andrew Waugh will lead this guided walk to view all of them, including Stadthaus, which is the world's tallest timber apartment block.

Murray Grove, N1 7FB
ICE Engineering Highlights Cycle Tour of the Queen Elizabeth Olympic Park
Sunday 2pm

This two-hour cycle tour of the Olympic Park is organised by the Institution of Civil Engineers. Engineer Andrew Weir and architect Kay Hughes will explain the construction of the venues, the park's utilities and their supporting infrastructure. Bring your own bike.

Timber Lodge Café, Honour Lea Avenue, Queen Elizabeth Olympic Park, E20 3BB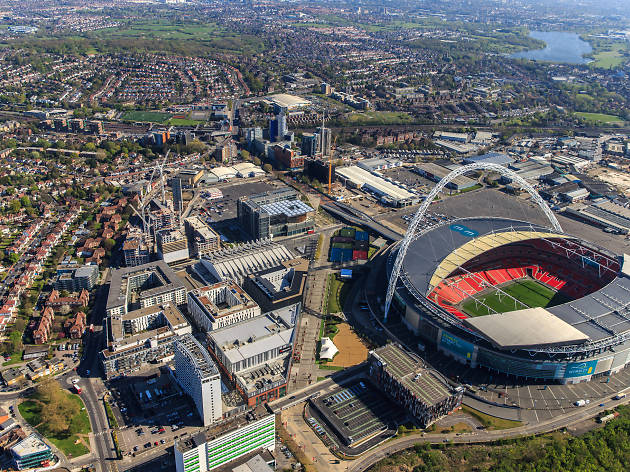 Wembley Park Masterplan
Saturday 10.30am, 11.30am, 12.30pm, 1.30pm

Find out what Wembley Park's 85-acre mixed-use district has in its future on these walking tours led by the creative team from property investors Quintain, architect Flanagan Lawrence and enironmental design business LDA Design.

The Yellow Pavilion, off Olympic Way, HA9 0FA
City Alleyways South West
Saturday and Sunday 10.15am-2pm

Discover the City's old alleyways on this two-hour tour led by a qualified City of London guide. You'll pass Wren churches, Livery halls and the historic area of Carter Lane.

Outside Guildhall Art Gallery, Guildhall Yard, EC2V 5AE
Modernism in Metroland
Saturday 10am and 2pm

Take a trip to Stanmore in idyllic 'Metroland' – the suburbs served by the Metropolitan Line – for a walking tour of the art deco and modernist homes.

Stanmore tube station
World's End Estate Walk
Sunday 2.30pm and 4.30pm

Designer and architect Eric Lyons designed the World's End Estate as an attempt to overcome issues encountered with previous high-rise developments. It was constructed in the mid-70s uses alternative designs and materials to break up monotonous and bland facades.

16 Blantyre Street, SW10 0DS
Looking for more September events?
Say goodbye to summer in style – get out and get stuck into the last of the capital's festivals, pop-ups and outdoor shindigs this month.
Read more