Ed Sheeran concert photos: Live at Madison Square Garden
The fast-rising British troubadour concludes his two-year tour with a final bow at MSG
By Michael Chen Fri Nov 8 2013
Photograph: Michael J. Chen
Ed Sheeran performs at Madison Square Garden on November 7, 2013.
Earnest singer-songwriter Ed Sheeran strolled through Madison Square Garden for the last of three NYC shows (with a surprise Halloween appearance at Mercury Lounge thrown in for good measure) that put an endcap to his whirlwind two-and-a-half years of touring. Along the way, the 22-year-old Brit has seen his star shoot up meteorically—his debut album, +, is an internationally multiplatinum hit machine, he was called upon to perform at the Summer Olympics closing ceremony in London, and his opening slot on bestie Taylor Swift's Red tour unearthed a new legion of fans stateside. No doubt many Swifties were in attendance as Sheeran commanded the MSG stage with just an acoustic guitar, running through his stable of hits to the one that started it all, encore closer "The A Team." Sheeran got a little help from his friends during his previous two MSG gigs—Scottish rockers Snow Patrol provided the assist on night one, while Miss Swift herself came out to duet on night two. No major guest-star wattage on night three, but perhaps it was best to leave the spotlight on Sheeran, as kudos for two years well spent.
Download + on iTunes
Download + on Amazon
What are your thoughts? Let us know in the comments box below or tweet us at @TimeOutNYMusic.
---
Listen to + on Spotify
Read more music features
These New Yorkers, who both recently launched new solo ventures, get together for a chat on their home turf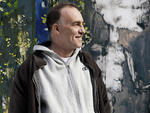 The Lounge Lizard, Jim Jarmusch star and all-around NYC alt legend gets a tribute worthy of his multimedia brilliance
Get ready for a busy season this fall, with shows from arena heavy-hitters to indie gems