Broadway's 25 all-time greatest divas
We name the top leading ladies of musical theater.
By Adam Feldman and David Cote Tue Jan 24 2012
Barbara Cook, The Music Man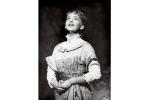 10. Barbara Cook
A top Broadway ingenue in such 1950s classics as The Music Man and Candide, Barbara Cook has since emerged as perhaps the greatest living interpreter of the classic Broadway songbook—an accomplishment recognized with a Kennedy Center Honor in 2011. Her exquisite honesty has a restorative effect on the material she sings, which in other hands might seem expendable; she spins Broadway straw into gold. Despite her success in concerts and cabaret, Cook remains a theater singer to the core. The golden age lives for as long as she sings; listen closely to her voice, and you may hear the fabled lullaby of Broadway itself.—AF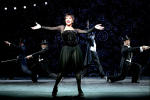 9. Chita Rivera
Time has treated Chita Rivera with the kindness of a loyal fan. Now in her late seventies, this bona fide Broadway icon seems fit as a well-tuned fiddle; in her 2005 Broadway retrospective, The Dancer's Life, she was still pulling off high kicks. Rivera came to New York in the early 1950s, and the rest is razzle-dazzle history: starring roles in the original West Side Story, Bye Bye Birdie and Chicago; eight Tony nominations, with two wins; a 2002 Kennedy Center Honor. Throughout, Rivera has retained the vital mixture of warm lan and triple-threat aggression that has driven her definitive roles; not for nothing did the balletic Jerome Robbins and the down-and-dirty Bob Fosse both adore her.—AF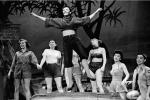 8. Mary Martin
She was a perky, sweet-singing, sexually restrained trouper who originated Tony-winning leading roles in South Pacific, Peter Pan and The Sound of Music. She had an astoundingly steady career that stretched half a century, starting in 1938 with her sparkling rendition of Cole Porter's "My Heart Belongs to Daddy." But although her roles were iconic, she doesn't inspire the same devotion today as some other ladies on this list. Maybe that's because she was denied the chance to immortalize most of her performances on celluloid, or because she didn't have an outsize personal style. (When was the last time you heard someone do a Mary Martin impression?) Whatever the cause, Martin deserves credit for being the first to tell us what we now take for granted: that the hills are alive, that children can fly and that men can be washed out of hair.—DC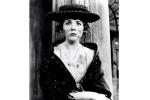 7. Julie Andrews
For a leading lady who serves as an icon for the old-fashioned joys of Rodgers and Hammerstein and Lerner and Loewe—she was the host of PBS's 2004 docuseries Broadway: The American Musical—Julie Andrews hasn't worked that much on the Great White Way. She made her debut in the English retro-chestnut The Boy Friend (1954), which she soon topped with My Fair Lady (1956) and Camelot (1960). The rising stage star then headed for Hollywood and Disney showcases, but Andrews has always carried the torch for the Broadway stage, even up on the screen. She never lost our affection, and when she returned in 1995 for the stage adaptation of Victor/Victoria, she made us fall in love all over again with her natural beauty, heart-melting voice and soulful grace.—DC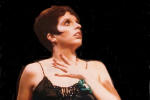 6. Liza Minnelli
Born of a showbiz merger between Judy Garland and Vincente Minnelli, Liza Minnelli has entertainment in her blood, and in that sense she's always been a cutter, eager to pour herself out on the boards. She was just 19 when she won her first Tony for 1965's Flora, the Red Menace, and her trademark mannerisms (the spiky jazz-dance gestures, the huge acting choices, the eyes widened into needy pools) have remained largely intact through the decades. Now in her sixties, with an EGOT behind her, she somehow still seems precocious, as if she sought not the just the audience's love but its approval. And after countless travails, professional and personal, she continues to give it her all, ever the sequined model of a Broadway barely-survivor.—AF

Listen to the All-time top Broadway musical leading ladies playlist on Spotify.