The 30 best Tony Awards performances
Divas and dancers stop the show on our ranked list of the best musical Tony Awards performances of all time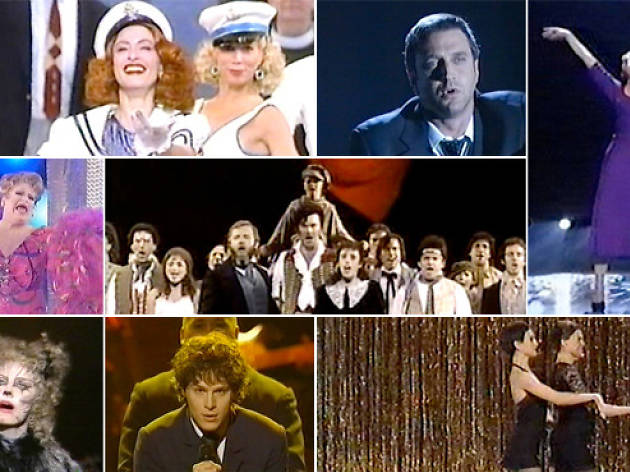 The Tonys are not just a celebration of excellence in Broadway theater, but also a national showcase and public record of performances that are otherwise local and fleeting. The most memorable Tony Awards performances can echo in theater history for decades to come. But which are the best of the best? We've surveyed every performance of a nominated musical or musical revival since the very first Tony telecast in 1967, and here's our list of the top 30. Note that we're limiting ourselves to Tony-nominated Broadway musicals in the years they were nominated; don't look here for special material, musical guests, opening medleys and the like. But do expect plenty of thrilling music, go-for-broke dance numbers and dazzling Broadway divas. So without further ado—and steeling yourself for the possibility that some of your favorite Broadway shows may not have made the cut—prepare to be razzle-dazzled by the greatest of the Great White Way.
RECOMMENDED: See complete Tony Awards coverage
See the 30 best Tony Awards performances
30
42nd Street, "Lullaby of Broadway" (1980)
Having created many ornate dance sequences for 42nd Street, the final show of his celebrated career, Gower Champion pared his choreography way down for the show's rousing centerpiece. In lieu of fancy stepwork is the simplest possible movement: legs kicking up in cakewalks, arms waving from side to side or rising like corkscrew wings. It's show dancing scraped to its bones, and the magic is in how well it still works.
29
The Life, "My Body" (1997)
Cy Coleman's final Broadway musical, a look back at the seedy lives of Times Square hookers in the 1980s, was not a hit, but its several standout numbers included "My Body," in which sex workers of all shapes and sizes (Tony winner Lillias White among them) flout their haters and flaunt their wares. In contrast with the weary come-on of "Big Spender" in Coleman's Sweet Charity, "My Body" is a sassy come-off-it, and that energy has earned the song a solid after-Life among Tony aficionados.
28
Grey Gardens, "The Revolutionary Costume for Today" (2007)
Broadway loves weirdos, and it has produced few so compelling as Little Edie Beale, the East Hampton heiress gone to seed in this adaptation of the cult 1975 documentary. In a performance that transcended imitation, Christine Ebersole played Edie with uncanny commitment and sly comedy; her wittily defiant second-act opener, explaining her unconventional attire, is a march to be to played when a freak flag is raised.
27
Company, "Being Alive" (2007)
In musical theater, leading ladies get most of the big emotional songs, but composer Stephen Sondheim has often shared the wealth with the male characters—such as Company's Bobby, played with unusual depth and intensity by Raúl Esparza in the musical's 2006 revival. The sheer capaciousness of Esparza's voice—it's as though he had a microphone built into his vocal cords, complete with reverb switch—helps give Bobby's personal breakthrough in "Being Alive" an almost cosmic resonance.
26
The Wild Party, "Welcome to My Party"/"When It Ends" (2000)
Toni Collette made a striking Broadway debut as a trouble-prone showgirl (opposite Mandy Patinkin's abusive clown) in Michael John LaChiusa and George C. Wolfe's underappreciated 2000 adaptation of a Jazz Age poem. And the unique Eartha Kitt—returning to Broadway after a 22-year absence, with her trademark felinity honed to claw and fang—brought down the house with her ferociously dire "When It Ends": part warning, part curse and part bloodied lament.
25
Guys and Dolls, "Sit Down, You're Rockin' the Boat" (1992)
The beloved 1992 revival of Frank Loesser's classic Guys and Dolls had a lot going for it, including a swell cast led by Nathan Lane and Faith Prince and an old-school aesthetic that went hand in glove with the show's colorfully cartoonish world of lovable New York gangsters. The show's liveliest number found a minor character, Nicely-Nicely Johnson—played by Walter Bobbie, who went on to direct the Chicago revival—pretending to have seen the religious light. Choreographer Christopher Chadman, a longtime associate of Bob Fosse's, came up with a staging that is pure musical-comedy elation.
24
Next to Normal, "You Don't Know"/"I Am the One" (2009)
Alice Ripley is like steel wool: a cleansing mess, at once cloudlike and tough. Her raggedness is perfectly attuned to the mental distress of her character, a psychotic suburban mother, in the Pulitzer Prize–winning Next to Normal. In this powerful sequence, torn between a loving husband and an idealized son, Ripley is terrified and terrifying. She all but dares you to go to the ledge with her and jump.
23
The Book of Mormon, "I Believe" (2011)
As an eager missionary for the Church of the Latter Day Saints, Andrew Rannells glows with radiant pep in this hilarious solo, which pokes fun at the religion's idiosyncrasies without sliding into meanness. At the time, some people wondered why The Book of Mormon hasn't chosen a bigger production number for the telecast, but this one perfectly captures the spirit of Matt Stone, Trey Parker and Robert Lopez's irreverent musical satire.
22
Annie, "Tomorrow"/"You're Never Full Dressed Without a Smile"/"Easy Street (1977)
The long medley of songs from the orphan fantasy Annie would be remarkable enough for its opening salvo alone: Andrea McArdle's poignantly belted, nonsaccharine delivery of "Tomorrow," the show's famous paean to implacable optimism. This is followed by more adorable kid stuff with Annie's fellow ragamuffins, before the peerless Dorothy Loudon spikes the punch with "Easy Street." If her lips are not always in sync with the prerecorded vocals (a common practice in Tony numbers from that period), her bumping hips and flouncing blouse put her in her own league of gleeful malice.


21
Evita, "A New Argentina" (1980)
Evita was the show that put Broadway superdiva Patti LuPone on the map—or at least the map of South America. The unlikely subject of Andrew Lloyd Webber and Tim Rice's pop opera was the former first lady of Argentina, Eva Peron, and her oft-repeated theme song, "Don't Cry for Me, Argentina," was the show's signature tune. But for the Tonys, the show chose Harold Prince's brilliant staging of its Act I closer, in which an aquiline, predatory LuPone knocks out huge notes that help explain Eva's role in the political rise of her populist-strongman husband: When this lady belts, people listen. (The performance might rank higher on this list if its vocals had not been pretaped for the telecast.)
Show more