The 30 best Tony Awards performances of all time
Divas and dancers stop the show on our updated list of the best musical Tony Awards performances of all time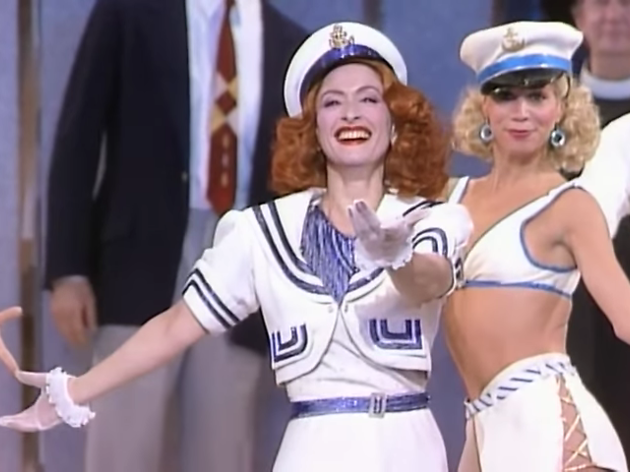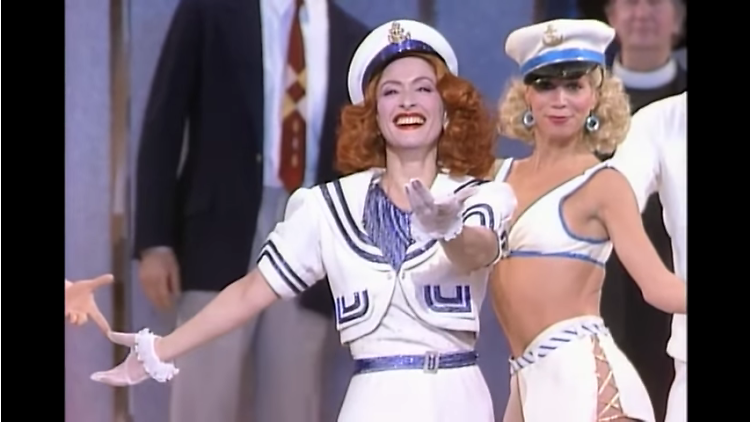 The Tony Awards provide a national showcase and public record of performances that are otherwise local and fleeting, and the most memorable performances from Broadway musicals on the Tonys can echo in theater history for decades to come. But which of those numbers are the best of the best? We've surveyed every televised number from a nominated musical or musical revival since the very first Tony telecast in 1967 to create this list of the all-time top 30. We're limiting ourselves to Tony-nominated Broadway musicals in the years they were nominated; that means no special material, musical guests, opening medleys or the like. But do expect plenty of thrilling music, go-for-broke dance numbers and dazzling Broadway divas. Without further ado—and accepting the possibility that some of your favorite Broadway shows may not have made the cut—prepare to be razzle-dazzled by the greatest of the Great White Way.
RECOMMENDED: Complete guide to the Tony Awards
Missing Time Out magazine?
You can still read our latest issue from the comfort of your couch
Read online
Watch the 30 best Tony Awards performances
Dreamgirls, "It's All Over"/"And I Am Telling You I'm Not Going" (1982)
No matter how many times you watch Jennifer Holliday's massive performance of Dreamgirls' rafter-ripping Act I finale, the only adequate response remains awe. After a bickering backstage setup, the sequence kicks into gear at the three-minute mark; playing a woman in a spiral of personal and professional rejection, Holliday grabs her aria by the throat and squeezes every breath of wailing pathos from it. (Astonishingly, she was just 21 years old at the time.) A master of dynamic stagecraft, director Michael Bennett opts for aching slowness here. Holliday's ogreish movement grounds her in implacable abjection, right up to the number's startling penultimate image: After a giant gasp, her face a Kabuki mask of pain, the singer moans out a final note and reaches a desperate arm out for rescue as she sinks behind the golden waves of a falling curtain. That's not just showbiz: That's greatness.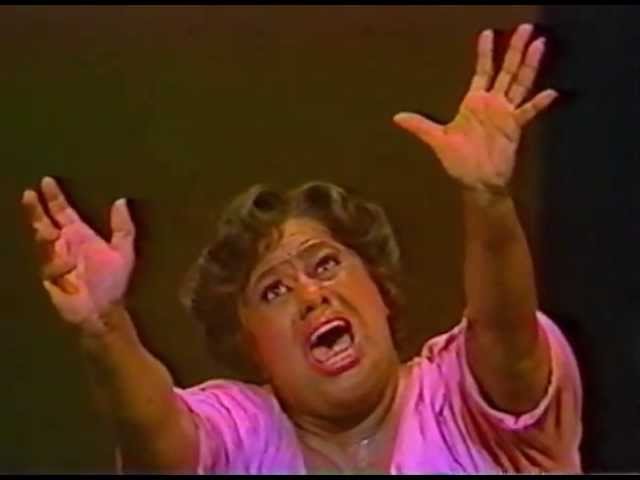 Grand Hotel, "We'll Take a Glass Together" (1990)
Has there ever been so pure a distillation of drunken joy as Michael Jeter's performance in this ebullient number from Grand Hotel? As a terminally ill accountant bent on living the good life while he can—encouraged by a shady baron (a sturdy Brent Barrett)—the liquid-limbed Jeter seems to lose his bones completely. He leaps, flails, twists and kicks with a breathtaking mix of control and release; in Tommy Tune's witty staging (the bar is a barre), he flashes out in gorgeously messy relief from the tight chorus doing Charlestonish steps behind him. This number is widely credited with reviving Grand Hotel's financial fortunes, and Jeter received a well-deserved Tony for Best Featured Actor—ending his acceptance speech, ironically, with a moving testimonial to hard-won sobriety.
Gypsy, "Everything's Coming Up Roses" (2008)
The strange thing about performing in the vast Radio City Music Hall, where the Tonys have been held nearly every year since 1997, is that solos or relatively small scenes—which can be captured closely on camera—tend to fare better there than larger-scale production numbers, which often seem a little lost in the space. The best-case scenario, of course, is a solo by a performer with a presence and talent big enough to fill the hall as well as the camera. And that's what Patti LuPone delivers in her definitive 2008 version of Gypsy's Act I closer. The song itself may seem encouraging and hopeful, but in the context of show it's more like a threat: the denial spasm of a woman who will not let reality get in her way. In LuPone's epic performance, sung with extraordinary power, this smother-mother's raw fury takes center stage—watch her rip that letter!—as she tries to bellow her hapless lover, her cowering daughter and the whole hostile world into the submission her bottomless frustration demands.
Promises, Promises, "Turkey Lurkey Time" (1969)
"Turkey Lurkey Time" is frankly idiotic: one of the silliest songs ever written for a hit Broadway show, with no pretext of being anything but an excuse for a production number set at an office Christmas party. But what a number! The very inconsequence of the song—in which a trio of office workers wish their cohorts "a snowy, blowy Christmas/A mistletoe-y Christmas"—frees choreographer Michael Bennett to create a number that is entirely about a sense of growing exuberance. In a bright red dress at the center of the party, making head movements that give new meaning to the term rubbernecking, is Bennett's longtime muse, Donna McKechnie, one of the great show dancers of all time. It's hard to keep your eyes off her, but it's worth pulling them away (at least on a second or third viewing) to see how Bennett brings in the rest of the chorus, building the number to a gloriously frenetic climax to match the pounding brass and drums of Burt Bacharach's music.
A Chorus Line, "I Hope I Get It" (1976)
Michael Bennett's backstage musical, A Chorus Line, had generated so much excitement, and its win for Best Musical at the 1976 Tony Awards was so widely expected, that Tony producers gave the show both the first and last spots on the telecast that year. The former was a version of A Chorus Line's own celebrated opening number: an audition sequence that portrays aspiring Broadway dancers being put through rigorous paces before stepping forward to disappear behind their headshots. The concept is sharp and the deconstructed dance is quick and thrilling, but the sequence is also notable for the way in which it was photographed (reportedly under Bennett's supervision); it has a noticeably more cinematic sensibility than other performances from the period.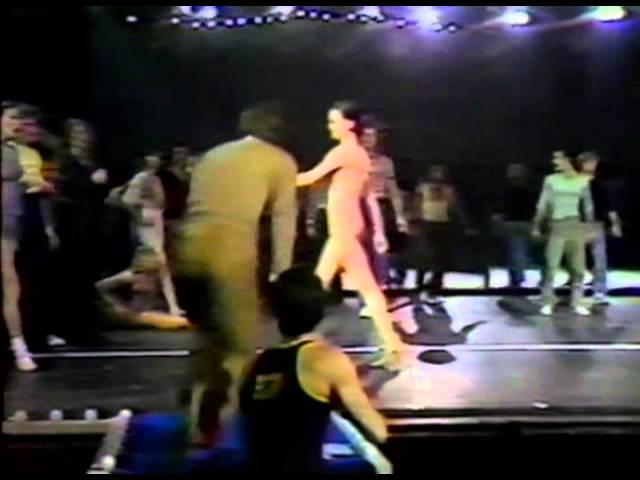 The Lion King, "Circle of Life" (1998)
From the opening blare of Lesotho-born singer Tsidii Le Loka's pulsing Zulu call, it is clear that Julie Taymor's visionary reimagining of Disney's animated movie is no trip to the theme park, but an expedition through gorgeous new terrain. And as the music morphs into Elton John's familiar tune from the soundtrack, Taymor produces a fantastical menagerie of puppet beasts—flocks of birds, herds of antelopes, jungle cats, giraffes, an elephant and a rhino lumbering up the aisles of Radio City Music Hall. Overlaying the source material's essential songs and story with African pride and ingenious theatricality, "Circle of Life" announced to anyone watching that this was not your children's Lion King.
Anything Goes, "Anything Goes" (1988)
Just before she clears the decks to make way for a nifty nautical tap-dance number, Patti LuPone turns and gives the crowd a lingering wink—both a come-on and a playful hint that the show is all in fun. Refurbished for its return to Broadway after half a century, Cole Porter's frisky lark was unapologetically old-fashioned, and Michael Smuin's dances perfectly channel the vintage vibe—especially in the title tune, performed by crewmen in white and gals in barely anything. LuPone, perhaps the last of the great Broadway broads, anchors the tune with a lustiness that says, "Hey, sailor!" and a voice that could shiver any ship's timbers.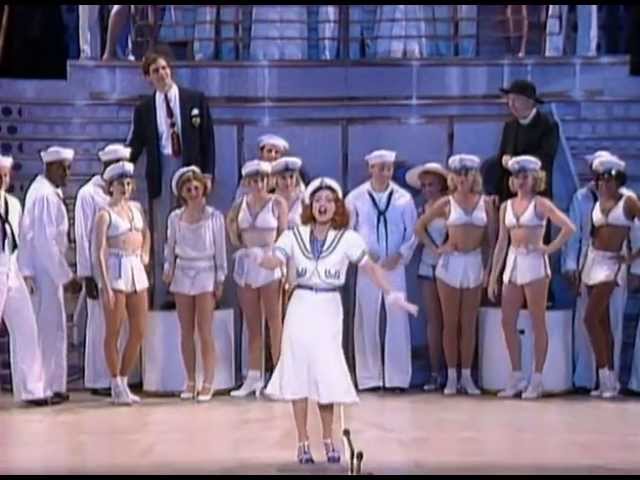 Les Misérables, "At the End of the Day"/"One Day More" (1987)
A French pop opera that had been translated and expanded into a London hit, Les Miz took New York by storm in 1987, sweeping audiences into a saga of love, greed, revolution and redemption. Absent its high-tech turntable set, the ensemble's rousing Tony performance of "One Day More"—an Act I finale that introduced the show's major characters and musical motifs, with close-ups and smart sound mixing to help sort things out—made a strong impression with just a few back-and-forth steps and a waving red flag. The British invasion of Broadway was officially on the march.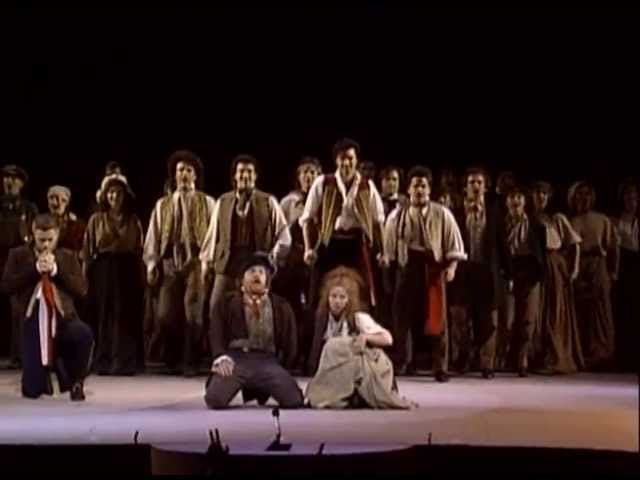 Gypsy, "Rose's Turn" (2003)
Perennial Broadway baby Bernadette Peters took a lot of flak for vocal trouble and missed performances toward the start of her run as Mama Rose—the King Lear of musical-theater roles—in Sam Mendes's shadowy 2003 revival of Gypsy. But she comes through magnificently in her fiercely committed Tony performance of the show's 11-o'clock number, "Rose's Turn," a musical nervous breakdown that takes her from defiant, sexy strut to smoldering hurt, full-throttle anger and a last resort of self-embrace.
Hamilton, "History Has Its Eyes on You"/"Yorktown" (2016)
Hamilton really is everything: a drama, a comedy, a character study, a spectacle, a lesson, a romance, a war story, a historiographical critique. No single number can quite convey that breadth, but this medley, drawn from the hip-hop half of the score—and perhaps chosen because the cast had already performed Hamilton's opening number on the 2016 Grammys—conveys a thrilling sense of the show's electric energy and historic impact. (Not every Tony nominee gets an introduction by Barack and Michelle Obama.) Performing his own material center stage, Lin-Manuel Miranda pushes Broadway forward into vigorous contemporary relevance.
Cats, "Jellicle Songs for Jellicle Cats"/"Memory" (1983)
Andrew Lloyd Webber's feline revue became such an institution that it is easy to forget just how weird it was when it opened: a more or less plotless musical adaptation of light verse by T.S. Eliot, performed on an oversize trash heap by a chorus dressed in yak fur and Kiss-y makeup. For the Tony Awards, the production offered a medley of its opening number—which aptly captures the piece's variety-show feel, as well as Gillian Lynne's slinky choreography—and its breakout song, "Memory," performed with wounded, searing delusional intensity by Betty Buckley at the height of her formidable powers.
Purlie, "I Got Love" (1970)
She starts out tentative and girlish, but don't be taken in: Melba Moore is just winding up for a shocking pitch—a piercing vocal performance that reached heights rarely if ever heard on Broadway before or since. In the original cast of Hair two years earlier, Moore had used her banshee wail to ornament the coda of "Let the Sunshine In" with soulful high-belt counterpoint, but in her Tony-winning turn in Purlie, she ups the ante, building her blissful expression of romantic pride to a climactic high A.
Dancin', "Sing, Sing, Sing" (1978)
For a lesson in the gap between an original and a reproduction, first watch the perfectly respectable performance of "Sing, Sing, Sing" by the cast of the dance revue Fosse on the 1999 Tony Awards. Then watch the Tony performance of the number it was re-creating, from Bob Fosse's 1978 show Dancin'. The moves are the same, and the tempo of the music is identical, yet the two performances seem radically different. Danced in costume by a cast that includes a young Ann Reinking, the version that Fosse supervised plays faster and looser. Every second of the number is suffused with the jazzed-up spirit of a swinging party; it bursts with flesh, flash and abandon.
Pippin, "Magic to Do" (1973)
Like A Funny Thing Happened on the Way to the Forum's "Comedy Tonight," the opening number to Pippin finds the actors candidly welcoming the audience to an evening's entertainment. But under the heavy-lidded eye of director-choreographer Bob Fosse, this invitation takes on a slightly sinister cast. At first, we see only an eerie arrangement of hands; and when the heavily made-up ensemble emerges from the dark, led by a sinuous Ben Vereen, its players are oozily eroticized—knowing, used and intent.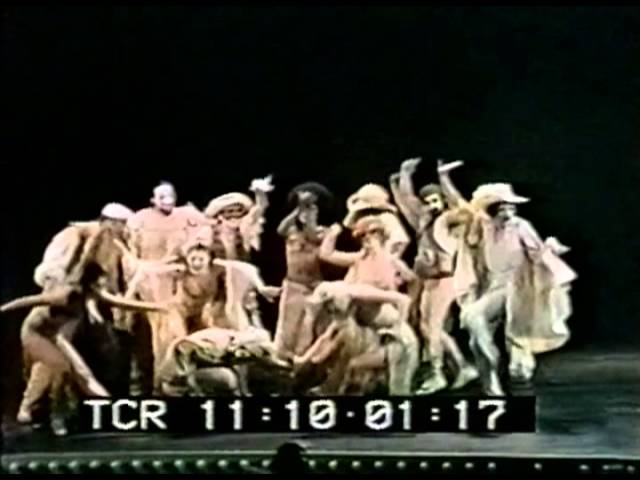 Hairspray, "You Can't Stop the Beat" (2003)
It's almost impossible to watch Hairspray's relentlessly peppy finale without eventually giving in to the urge to bop along. The number's lather-rinse-repeat structure—in which the show's five major character groups get a verse apiece, with energetic refrains after each—is built to wiggle its way into your brain. (It's also hard to forget the sight of Harvey Fierstein in his parade-float fuchsia dress.) And Jerry Mitchell's zippy choreography doesn't give you a moment to catch your breath, especially as performed by a pre-Glee Matthew Morrison, leaping for joy in a gleaming white suit.


Fun Home, "Ring of Keys" (2015)
Sometimes the smallest number can bring down the house. Fun Home's "Ring of Keys" is a quiet, searching song for a proto-lesbian girl who has seen her first butch woman and is trying to make sense of what the encounter might mean. The limpid young Sydney Lucas plays to the camera instead of to the house, and the result has a time-stopping intimacy. Her wide-open eyes are windows to a soul that that is fumbling for a salvation she can't name.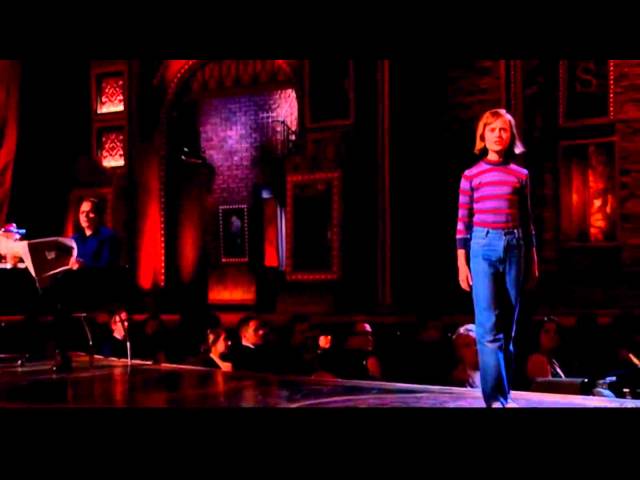 Chicago, "All That Jazz"/"Hot Honey Rag" (1997)
The hugely successful Broadway revival of Kander and Ebb's cynical Chicago began as a concert staging at Encores!, and the production's sleek, pointed style retains an air of presentational formality that is in perfect tune with Bebe Neuwirth's icy-hot delivery of the show's opening number. Ann Reinking's choreography summons the spirit of Bob Fosse, but this Tony sequence is most compelling when, in "Hot Honey Rag," Neuwirth and Reinking dance the 90-second synchronized duet that Fosse himself devised for the musical's original 1975 production.
Spring Awakening, "Mama Who Bore Me"/"The Bitch of Living"/"Totally Fucked" (2007)
One of the first rock musicals to sound like contemporary rock music, Spring Awakening throbbed with new blood—a quality accentuated by an attractive young cast (fronted by Jonathan Groff and Lea Michele). By offering a medley instead of a single number, the show smartly emphasizes newness, speed and change. And when the cast explodes into the last song, whose unsafe-for-TV language the actors preemptively struck, the nothing-to-lose wildness of Bill T. Jones's choreography is heightened by herky-jerky pans and zooms of the camera.
The Will Rogers Follies, "Will-a-Mania"/"Favorite Son" (1991)
The extravagant Ziegfeld-revue format of this 1991 extravaganza allowed its creators to go all-out in mixing cowboy kitsch and Broadway glitz. The spectacular high point, created by Tommy Tune and associate choreographer Jeff Calhoun, places Keith Carradine in the middle of a row of beautiful women—cleverly decked out in red, white and blue, with powder-puff bosoms and tambourine hats—for a Rockettes-worthy explosion of precision dancing, made all the more impressive by the fact that the chorus is seated the entire time.
In the Heights, "In the Heights"/"96,000" (2008)
As a Washington Heights bodega owner with dreams of winning the lottery, the supremely charming Lin-Manuel Miranda turned the stage of Radio City Music Hall into a block party in this vivacious medley from his Best Musical winner. Hip-hop and Latin rhythms swirl together as the diverse ensemble sings with hope, swagger, attitude and even—in Karen Olivo's longing vocals—a deep sense of sadness. The seeds that Miranda planted here would bloom, nearly a decade later, into Hamilton.
The Band's Visit, "Omar Sharif" (2018)
In this transporting selection from 2018's elegant The Band's Visit, Katrina Lenk plays an Israeli woman making a tentative connection with the visiting Egyptian musican played by Tony Shalhoub. It's a heightened moment of conversation; she barely moves from her seat, and he doesn't sing at all. Yet it's mesmerizing in every detail, from Lenk's yearning vocals and undulating arms to the way the rest of the once-dull café, lit in blue, gets washed into the song toward the end, then ebbs away gently again. As the camera glides in to capture these moments, the whole world seems to swoon.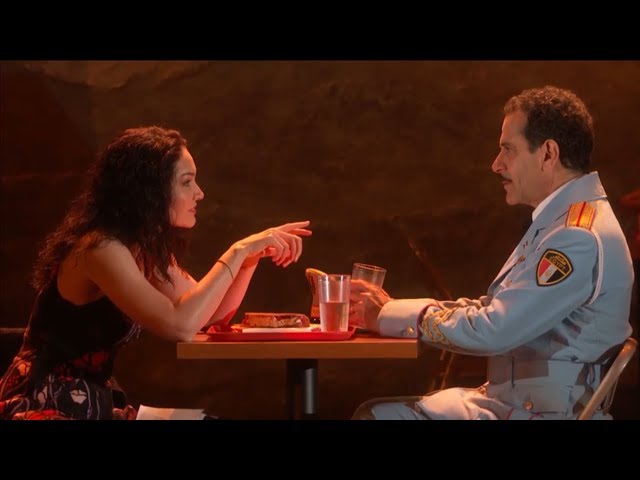 Annie, "Tomorrow"/"You're Never Full Dressed Without a Smile"/"Easy Street (1977)
The long medley of songs from the orphan fantasy Annie would be remarkable enough for its opening salvo alone: Andrea McArdle's poignantly belted, nonsaccharine delivery of "Tomorrow," the show's famous paean to implacable optimism. This is followed by more adorable kid stuff with Annie's fellow ragamuffins, before the peerless Dorothy Loudon spikes the punch with "Easy Street." If her lips are not always in sync with the prerecorded vocals (a common practice in Tony numbers from that period), her bumping hips and flouncing blouse put her in her own league of gleeful malice.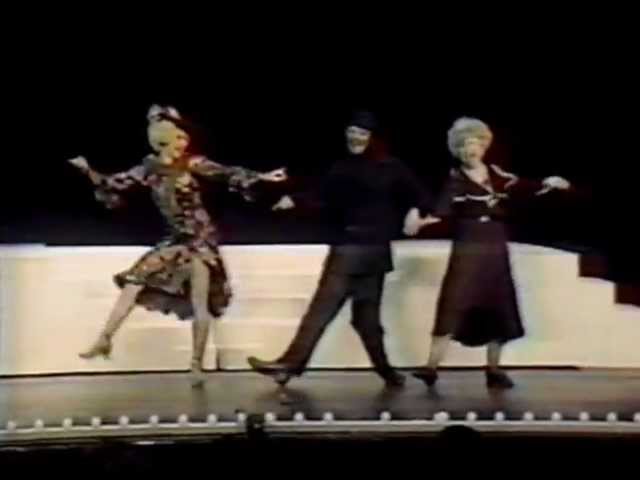 Evita, "A New Argentina" (1980)
Evita was the show that put Broadway superdiva Patti LuPone on the map—or at least the map of South America. The unlikely subject of Andrew Lloyd Webber and Tim Rice's pop opera was the former first lady of Argentina, Eva Peron, and her oft-repeated theme song, "Don't Cry for Me, Argentina," was the show's signature tune. But for the Tonys, the show chose Harold Prince's brilliant staging of its Act I closer, in which an aquiline, predatory LuPone knocks out huge notes that help explain Eva's role in the political rise of her populist-strongman husband: When this lady belts, people listen. (The performance might rank higher on this list if its vocals had not been pretaped for the telecast.)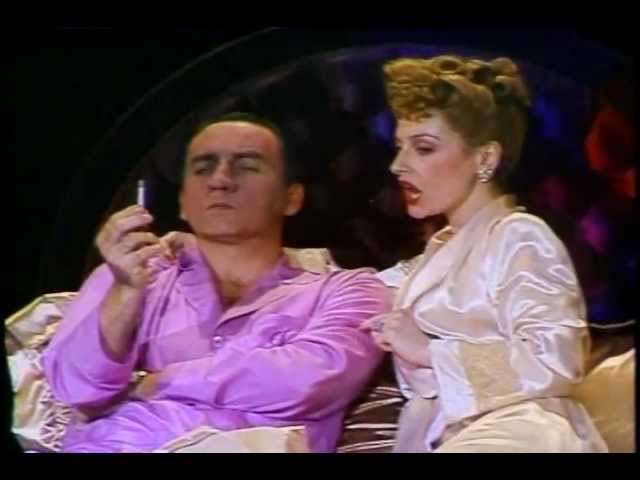 La Cage Aux Folles, "We Are What We Are"/"I Am What I Am" (1984)
Broadway finally came out of the closet, where it had apparently been trying on its mom's nuttiest clothes, with the groundbreaking 1983 musical comedy La Cage Aux Folles. Introduced as though they were exotic flowers in some alien garden, the show's unabashed transvestites shed their puffy gowns and perform a snappy tap number in sparkly miniskirts. And although George Hearn—as the show's drag queen bee, Zaza—bizarrely performs the show's gay-pride anthem in a tuxedo instead of a frock, the former Sweeney Todd star sings with forceful dignity.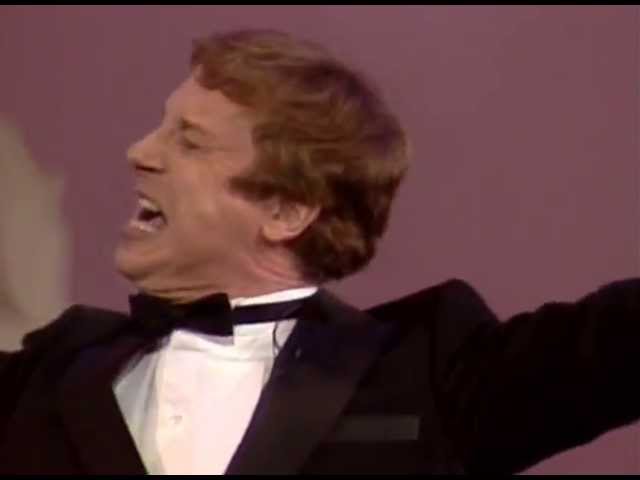 The Book of Mormon, "I Believe" (2011)
As an eager missionary for the Church of the Latter Day Saints, Andrew Rannells glows with radiant pep in this hilarious solo, which pokes fun at the religion's idiosyncrasies without sliding into meanness. At the time, some people wondered why The Book of Mormon hasn't chosen a bigger production number for the telecast, but this one perfectly captures the spirit of Matt Stone, Trey Parker and Robert Lopez's irreverent musical satire.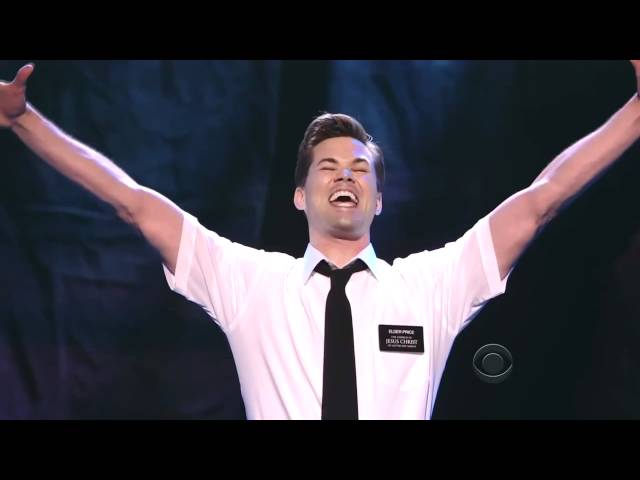 Next to Normal, "You Don't Know"/"I Am the One" (2009)
Alice Ripley is like steel wool: a cleansing mess, at once cloudlike and tough. Her raggedness is perfectly attuned to the mental distress of her character, a psychotic suburban mother, in the Pulitzer Prize–winning Next to Normal. In this powerful sequence, torn between a loving husband and an idealized son, Ripley is terrified and terrifying. She all but dares you to go to the ledge with her and jump.
Guys and Dolls, "Sit Down, You're Rockin' the Boat" (1992)
The beloved 1992 revival of Frank Loesser's classic Guys and Dolls had a lot going for it, including a swell cast led by Nathan Lane and Faith Prince and an old-school aesthetic that went hand in glove with the show's colorfully cartoonish world of lovable New York gangsters. The show's liveliest number found a minor character, Nicely-Nicely Johnson—played by Walter Bobbie, who went on to direct the Chicago revival—pretending to have seen the religious light. Choreographer Christopher Chadman, a longtime associate of Bob Fosse's, came up with a staging that is pure musical-comedy elation.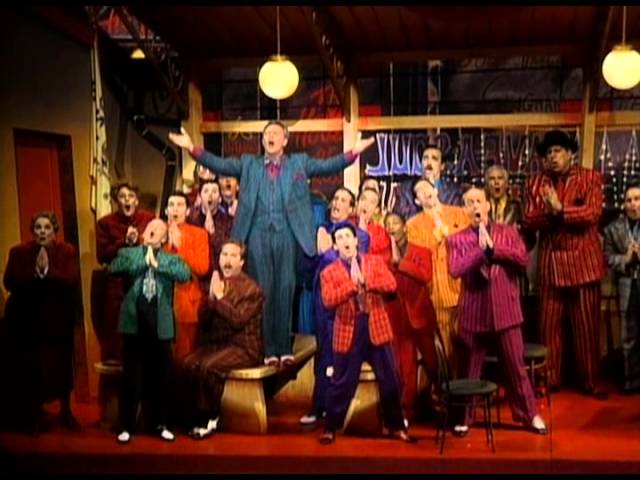 The Wild Party, "Welcome to My Party"/"When It Ends" (2000)
Toni Collette made a striking Broadway debut as a trouble-prone showgirl (opposite Mandy Patinkin's abusive clown) in Michael John LaChiusa and George C. Wolfe's underappreciated 2000 adaptation of a Jazz Age poem. And the unique Eartha Kitt—returning to Broadway after a 22-year absence, with her trademark felinity honed to claw and fang—brought down the house with her ferociously dire "When It Ends": part warning, part curse and part bloodied lament.
The Life, "My Body" (1997)
Cy Coleman's final Broadway musical, a look back at the seedy lives of Times Square hookers in the 1980s, was not a hit, but its several standout numbers included "My Body," in which sex workers of all shapes and sizes (Tony winner Lillias White among them) flout their haters and flaunt their wares. In contrast with the weary come-on of "Big Spender" in Coleman's Sweet Charity, "My Body" is a sassy come-off-it, and that energy has earned the song a solid after-Life among Tony aficionados.
42nd Street, "Lullaby of Broadway" (1980)
Having created many ornate dance sequences for 42nd Street, the final show of his celebrated career, Gower Champion pared his choreography way down for the show's rousing centerpiece. In lieu of fancy stepwork is the simplest possible movement: legs kicking up in cakewalks, arms waving from side to side or rising like corkscrew wings. It's show dancing scraped to its bones, and the magic is in how well it still works.