Shakespeare tickets: How to get free tickets to the Delacorte
Getting your hands on free tickets for Shakespeare in the Park is no mean feat; follow our tips to increase your chances of bagging Shakespeare tickets.
By Jeremy Winograd Sun May 19 2013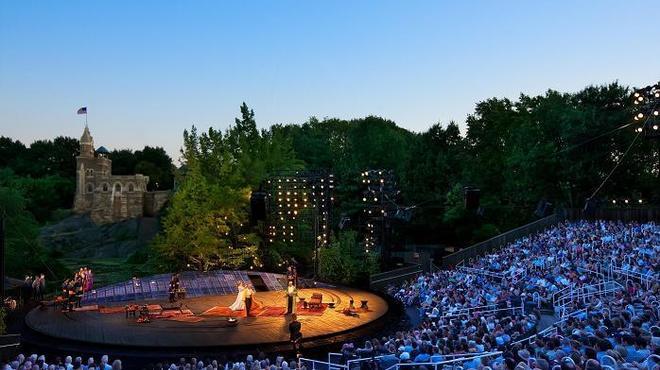 Shakespeare in the Park Photograph: Joseph Moran
Every summer, the Public Theater presents Shakespeare in the Park at the Delacorte Theater in Central Park. This year's productions are The Comedy of Errors, directed by Daniel Sullivan and starring Jesse Tyler Ferguson and Hamish Linklater, and Love's Labour's Lost, a new musical by Alex Timbers and Michael Friedman. As has been the case since Shakespeare in the Park began in 1962, the Public distributes free tickets, but only the most perseverant will be able to secure seats.

RECOMMENDED: All Shakespeare in the Park stories

How to get Shakespeare tickets from the Delacorte
Tickets are distributed in front on the Delacorte on a first-come, first-served basis at 12pm on the day of the show, so you'll have to wait in line—likely for a long time—if you want to get in.

The park doesn't open until 6am, but although the Public doesn't condone it, it is legal to camp out before then by the park entrance at Central Park West and 81st Street. A line monitor from the Public will escort any early birds in when the park opens. We recommend this option only for the extremely desperate; otherwise, arrive no later than 10am to give yourself a chance at tickets, though it would be wise to get there much earlier if you can manage to drag yourself out of bed.

In order to endure the hours-long wait, you'll need a chair or a blanket, something—a book, an iPod—to occupy yourself and breakfast (bring food, or if you prefer, Michael Psilakis and Donatella Arpaia's Kefi will deliver its excellent Greek fare to the Delacorte). Also make sure to bring an umbrella in case it rains, but don't worry, shows are very rarely rained out. Consider braving drizzle and choose a wet day to wait on line; there will probably be less of a turnout, which will increase your chances of nabbing a ticket.

Tickets are limited to two per person, and the number of available tickets varies from day to day. There's no cutting, saving spots or leaving the line for any extended length of time. Patrolling Public Theater staff will ask you to give up your spot in line if you breach any of these rules.

How to get Shakespeare tickets in the outer boroughs
There are alternative ways of securing tickets if you'd prefer to avoid this (totally worth it) ordeal. Vouchers are made available in each of the five boroughs on specific days between 12pm and 2pm (while supplies last). These vouchers can then be exchanged for tickets at the Delacorte between 4:30pm and 7:30pm.
For The Comedy of Errors, ticket vouchers will be distributed on May 29 in Manhattan at Harlem Stage Gatehouse; on May 30 in Staten Island at Snug Harbor Cultural Center; on June 4 in the Bronx at the Lehman Center for Performing Arts; on June 5 in Queens at the New York Hall of Science; and on June 7 in Brooklyn at the Brooklyn Children's Museum.

For Love's Labour's Lost, ticket vouchers will be distributed on July 25 in Staten Island at Snug Harbor Cultural Center; on July 26 in the Bronx at the Point; on July 27 in Brooklyn at the Brooklyn Public Library; on July 30 in Manhattan at the Public Theater; and on July 31 in Queens at the Queens Central Library.
How to get Shakespeare tickets via the online lottery
You can also apply for tickets in a daily online raffle. Create an account at shakespeareinthepark.org and enter your name in the lottery between midnight and 12pm on the day of the show; then check back after 12pm to see if your name was selected.
How to pony up for Shakespeare tickets
Or you can turn your back on fickle Lady Luck and purchase a Summer Supporter Ticket. A tax-deductable donation of $175 to the Public will net you one reserved seat for either play (although only a limited number of these tickets are available).
The Comedy of Errors May 28–June 30; Love Labour's Lost July 23–Aug 18. 8:30pm; free.

You might also like
Profile: As You Like It star Lily Rabe
Shakespeare in the Park umbrella etiquette
Shakespeare in the Park: Outdoor theater in NYC this summer
Write your own review