Theater review by Raven Snook

At Shakespeare in the Park's latest version of Hamlet, it's clear from the hip hop, blue face masks and vanity Georgia license plate ("ELSINORE") that we're not in 16th-century Denmark anymore. In fact, for anyone who saw director Kenny Leon's revelatory Much Ado About Nothing at the Delacorte four years ago, it seems to unfold on an exploded version of that production's set, with designer Beowulf Boritt's stately Southern mansion now in ruins. Leon's take on the classic tragedy of a prince (Ato Blankson-Wood) avenging his father's murder is set squarely in today's tumultuous America; if it's not entirely convincing, it feels urgently contemporary. A few savvy tweaks to the language add to the effect: When this young Black Hamlet says "our country is a prison"—instead of the standard "Denmark's a prison"—it elicits chills.
A trio of superb actors keeps it compelling. John Douglas Thompson is riveting as Hamlet's uncle-turned-stepfather Claudius, a conniving killer torn between greed and guilt; as his wife, Gertrude, Lorraine Toussaint is regal, erotic and willfully ignorant about her new man. Charismatic and emotionally translucent, Blankson-Wood pierces your soul with his manic mood swings, but there is method in his madness: This is a Hamlet who understands how to use the guise of insanity to manipulate others and obfuscate his revenge plot, even as he questions whether to move forward. Only his indecision itself seems dubious; his perpetually tearful eyes are so full of rage, there's nowhere to go but postal.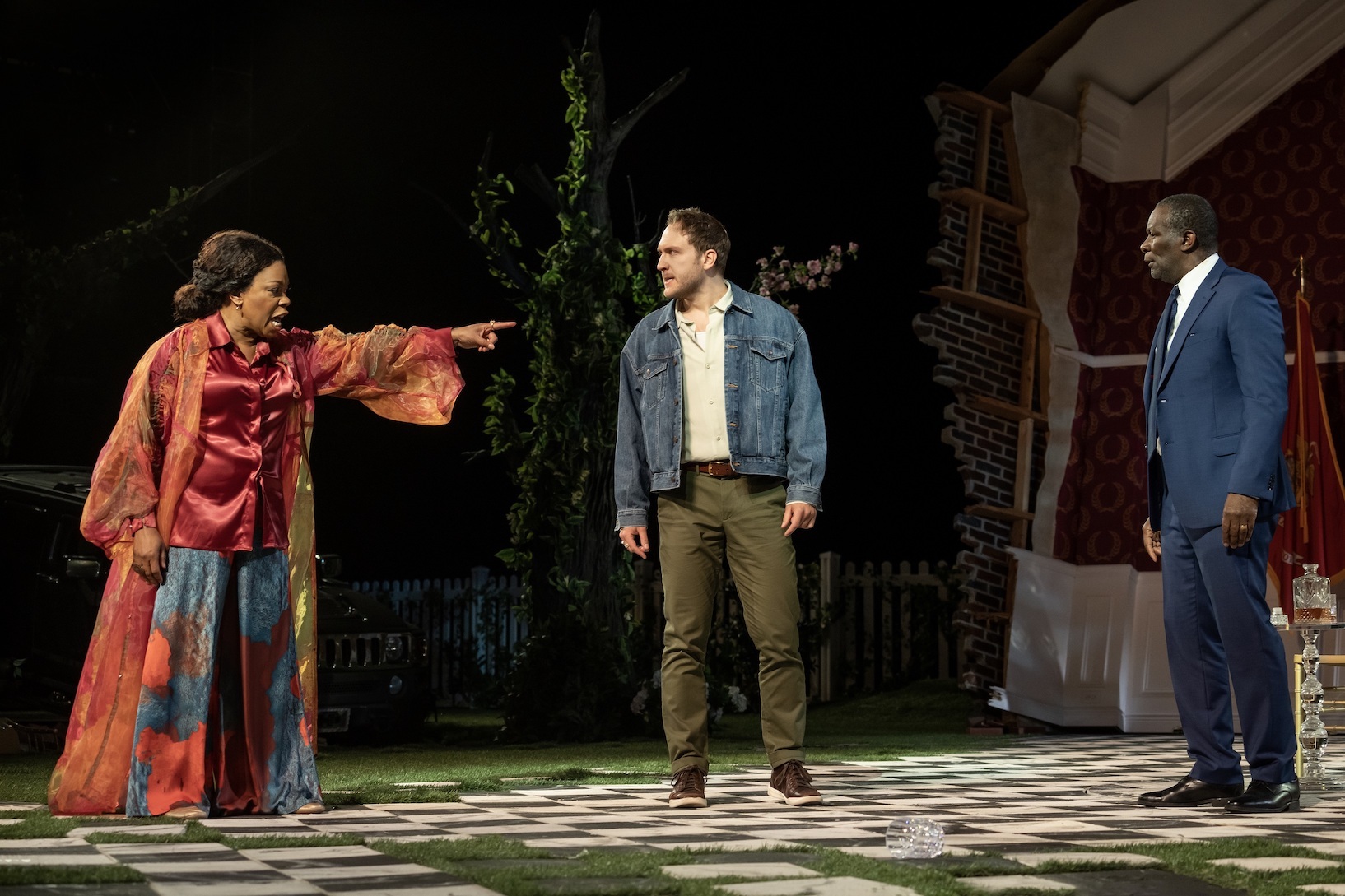 Hamlet | Photograph: Courtesy Joan Marcus
Boritt's Elsinore is a physical manifestation of Hamlet's psyche and his family's downfall. Everything is broken and askew, including an American flag and a torn STACEY ABRAMS 2020 sign; only a solemn portrait of late Hamlet's father hangs straight, overseeing the waste. Subtle it's not, but it is effective—as is Leon's clever conjuring of Hamlet's father's ghost, which is staged as a possession instead of a visitation, and makes excellent use of Justin Ellington's booming sound design, Jeff Sugg's unnerving projections and Blankson-Wood's lip-syncing of Samuel L. Jackson's voice.
These attributes make up for the evening's early longueurs and some uneven casting. Although Solea Pfeiffer performs Jason Michael Webb's interpolated songs gorgeously, her Ophelia's unraveling is unconvincing. But Nick Rehberger is solid as her aggrieved brother, Laertes, and Daniel Pearce is a hoot as her pompous papa, Polonius. This Hamlet may not rip your heart out, but gets in your head as you ponder its themes of free will, cyclical violence and the debt sons owe to fathers. As the final Shakespeare in the Park production before the Delacorte undergoes a massive 18-month renovation, the play's a good thing.
Hamlet. Delacorte Theater (Off Broadway). By William Shakespeare. Directed by Kenny Leon. With Ato Blankson-Wood, John Douglas Thompson, Lorraine Toussaint, Solea Pfeiffer. Running time: 2hrs 45mins. One intermission.
Follow Raven Snook on Twitter: @ravensnook
Follow Time Out Theater on Twitter: @TimeOutTheater
Follow Time Out Theater on Facebook: Time Out Theater
RELATED: A complete guide to getting free tickets to Shakespeare in the Park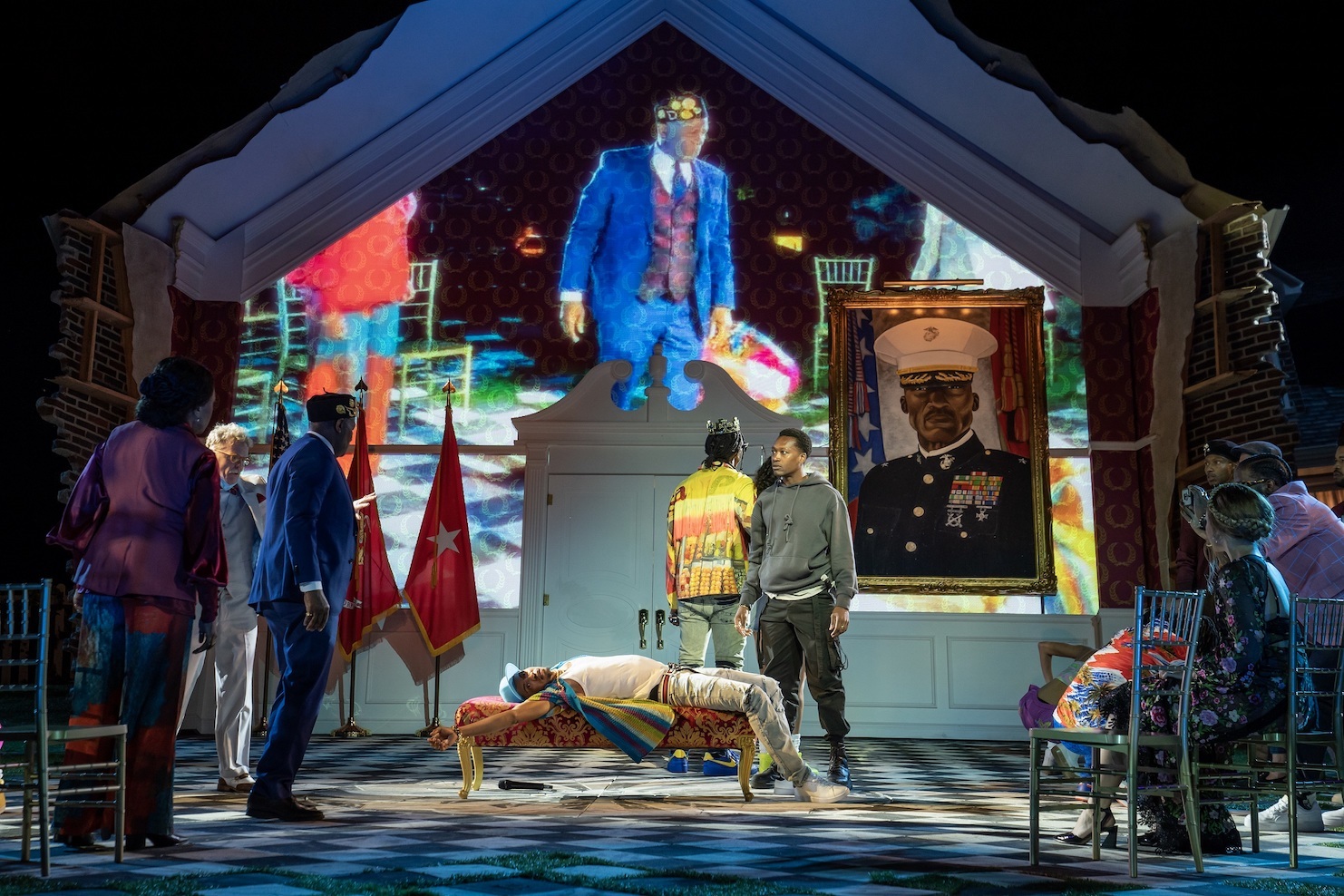 Hamlet | Photograph: Courtesy Joan Marcus