Free outdoor theater this summer in New York
Can't get into Shakespeare in the Park? Here's a complete guide to other free outdoor theater you can find in New York.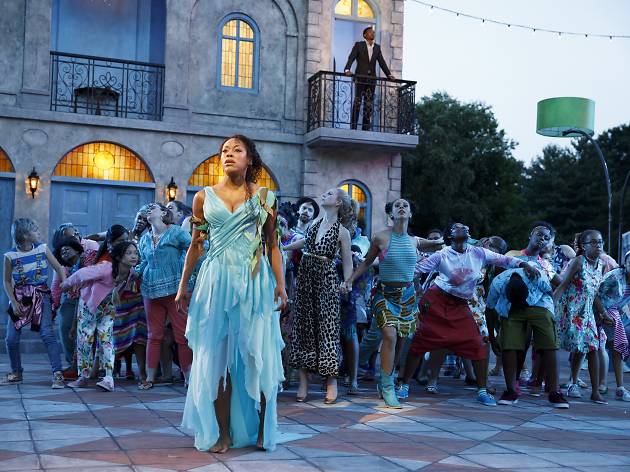 Public spaces come alive with free outdoor theater in New York City in the summer, and especially with the plays of William Shakespeare. The top destination, of course, is the Delacorte Theater in Central Park, where the Public Theater's Shakespeare in the Park presents excellent productions that among New York's best things to do in the summer. But you can also enjoy plays by Shakespeare and other classical masters elsewhere in the city: in Brooklyn, at Bryant Park, even at a parking lot in the Lower East Side. You might be surprised by the magic that can come from wonderful words, inventive actors and a mild summer breeze.
RECOMMENDED: Full guide to things to do outside in NYC
Free outdoor theater in NYC
Hip to Hip Theatre Company moves from park to park with this staging of Shakespeare's tragedy of being and nothingness, directed by Jason Marr and presented in rep with the company's take on All's Well That End's Well. The production roams through multiple boroughs but never plays the same spot twice in a row, so consult Hip to Hip's website for details.
A woman relentlessly pursues the uninterested object of her affections in Shakespeare's rarely produced comedy, directed by Owen Thompson for the peripatetic Hip to Hip Theatre Company. Presented in rep with the company's take on King Lear, the production never plays the same park twice in a row, so check the Hip to Hip website for details.
South Brooklyn Shakespeare presents an outdoor staging. directed by Elizabeth Sutton-Stone, of the Bard's bittersweet portrait of jealousy, love, repentance, angry bears and magic statuary. Park Slope's evocative, 17th-century Old Stone House serves as the background for all performances except the first, which takes place on on a Brooklyn street (5th Ave between 17th and 18th Sts).
The Drilling Company continues its Bryant Park residency with Shakespeare's much-loved comedy about nearly-identical twins of the opposite sex who sow romantic confusion wherever they go. Jane Bradley directs a one-weekend reprise of her imaginative 2017 production, with most of the original cast.
American Thymele Theatre's tenth annual New York Euripides Summer Festival travels to three outdoor locations to perform Euripides' rarely seen ancient Greek political tragedy, which concerns the lamentations of women over the unburied dead in the aftermath of an attack on Thebes—a subject addressed from a different angle in Sophocles' better-known Antigone.
Theater for the New City takes its 42nd annual Street Theater Company operetta on the road, performing in outdoor locations throughout the five boroughs. Crystal Field and Joseph Vernon Banks's family-friendly (but corporation-hostile!) musical allegory pits a high school teacher and his students against a sinister Trumpian boss who is secretly building a machine to destroy the world.
Jason Pizzarello's new play traces the inhabitants of a small town through crises and reconciliations in this celebration of community and diverse public spaces. Christine Zagrobelny directs the free outdoor performances in Central Park for Everyday Inferno Theatre Company; attendance is free but $10 donations are welcome.
In the two past years, Torn Out Theater has mounted two all-nude productions of Shakespeare: an all-male rendition of Hamlet and all-female production of The Tempest. Now the troupe goes coed for its let-it-all-hang-out rendition of Aphra Behn's rollicking 1677 comedy, set during Carnival in Italy.
The Drilling Company concludes its 2018 season at Bryant Park with Shakespeare's marquee tragedy, in which a nobleman and his wife descend into a nightmare of mental disquiet after planning their king's murder. Alessandro Colla directs a production intended to evoke the Five Points turf-war carnage of 18th-century New York.
The Public Theater celebrates the 35th anniversary of this 1985 Pulitzer Prize finalist: a Pentecostal gospel-musical retelling of Sophocles' Oedipus story, directed by librettist Lee Bruer and featuring original music by Bob Telson. Among the performers in the six-performance run are the Blind Boys of Alabama, the Legendary Soul Stirrers and Rev. Dr. Earl F. Miller. Tickets are free and are distrubuted the same way as tickets for Shakespeare in the Park. Glory be!
Looking for a Broadway show in NYC?
A complete list of every play and musical on Broadway right now