The complete guide to Shakespeare in the Park in NYC
All the world's a stage this summer at the time-honored tradition of Shakespeare in the Park in Central Park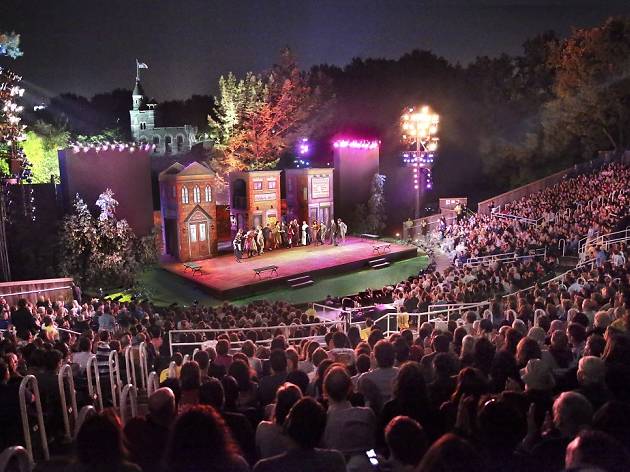 Every summer, the Public Theater produces a beloved NYC democratic tradition and one of the best free things to do in NYC: Shakespeare in the Park, presented at the open-air Delacorte Theater in Central Park. There's nothing quite like hearing the Bard's immortal words performed outside in New York, with a backdrop of natural splendor and the Belvedere Castle looming in the background like the world's most impressive set decoration. But Shakespeare in the Park's popularity means that tickets aren't easy to come by. Only the most perseverant will be able to secure seats. Here's our guide to navigating the system.
What is Shakespeare in the Park?
Created by the late Joseph Papp in 1962, the Public Theater's series offers free, large-scale productions of works by William Shakespeare (as well as the occasional musical or non-Shakespearean drama). The productions often feature some of the most talented actors of our day. Past casts have included including Meryl Streep, Kevin Kline, Al Pacino, Blythe Danner, Philip Seymour Hoffman, George C. Scott and Denzel Washington.
What is being performed this season?
Othello is playing May 29 through June 24, 2018, in a production directed by Ruben Santiago-Hudson. Twelfth Night is playing July 17 through August 19, 2018, directed by Oskar Eustis and Kwame Kwei-Armah.
When is Shakespeare in the Park?
Shakespeare in the Park runs from May 29 through August 19, 2018. With few exceptions, performances are Tuesday through Sunday at 8pm.
How do I get there?
The easiest way to get to the Delacorte Theater in Central Park is to enter at 81st Street and Central Park West. Take the B or C train to 81st St–Museum of Natural History.
When should I go?
If possible, shoot for the first week of performances—seats are always in greater supply early in the run of a show, before reviews and word of mouth have pushed up demand for tickets. Another good way to increase your odds, paradoxically, is to attend on days when bad weather is predicted. The Public hates canceling Shakespeare in the Park, so the show will go on even if it is drizzling; often, performances will take breaks if it gets too rainy, then resume when the downpour subsides. Open umbrellas are not allowed during performances, so be sure to bring a poncho. (Tickets for rained-out shows are not exchangeable.)
How can I get tickets?
Check out our handy instructions on how to get free tickets to Shakespeare in the Park.
Are there other productions of Shakespeare in New York parks?
Indeed there are, all over the city. For details, check out our guide to free outdoor theater in the summer.
Shakespeare in the Park 2018 coverage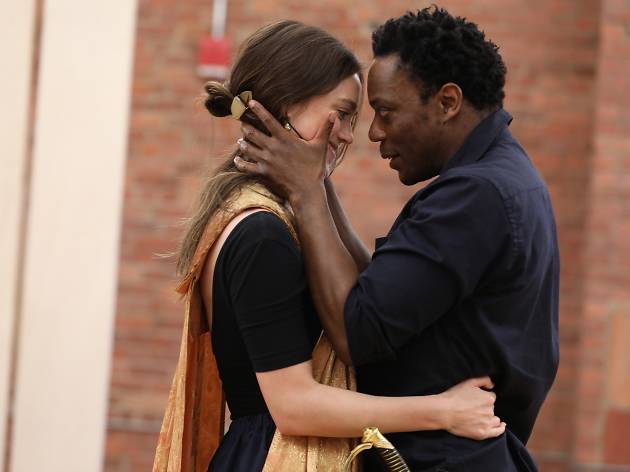 Othello
Ruben Santiago-Hudson (Jitney) directs the first offering of the Public Theater's 2018 season of Shakespeare in the Park: an account of the Bard's fast-paced tragedy of jealousy and misplaced trust, in which a villain preys on the insecurities of a Moorish war hero married to a white woman. The cast is headed by Chukwudi Iwuji as Othello, Corey Stoll as Iago and Heather Lind as Desdemona. See our complete guide to Shakespeare in the Park tickets for details.
Buy tickets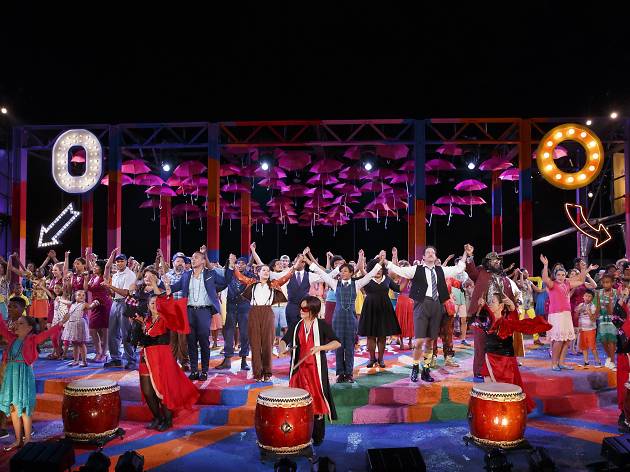 Twelfth Night
This musical adaptation of Shakespeare's ever-popular comedy began in 2016 as a one-weekend run under the auspices of the Public's civically ambitious Public Works program, which collaborates with multiple New York communities to create large-scale theater. Director Kwame Kwei-Armah is joined by Public honcho Oskar Eustis to helm the production's return engagement as part of Shakespeare in the Park; Ato Blankson-Wood joins original cast members Nikki M. James, Andrew Kober, Jacob Ming-Trent and Shaina Taub—who also wrote the songs—alongside a huge cast of less seasoned actors and residents of all five boroughs.
Buy tickets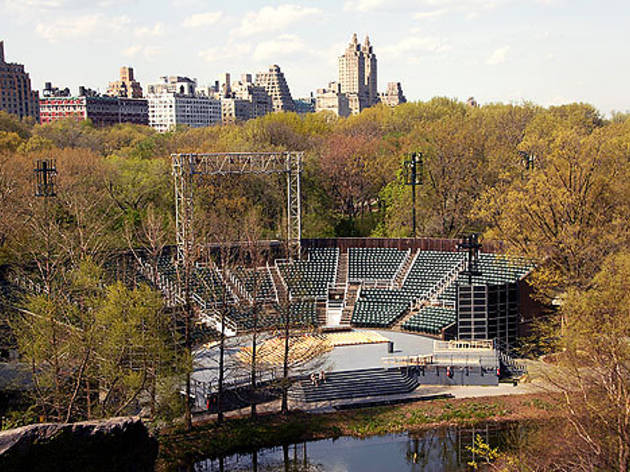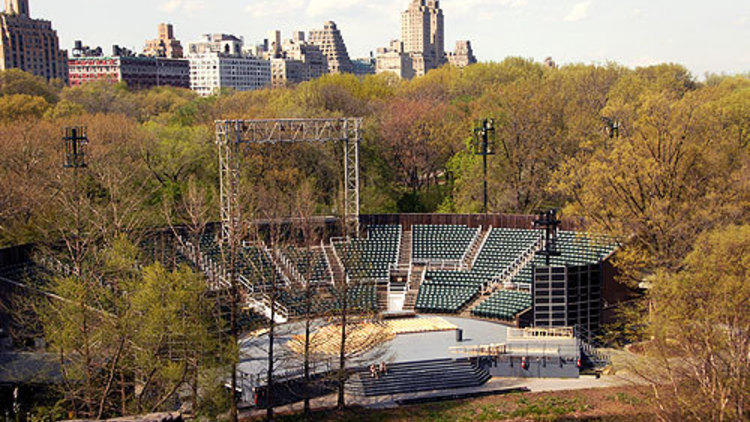 Announcing the new Shakespeare in the Park productions for this summer
The Public Theater just announced its two Shakespeare in the Park productions for summer 2018, and we're ready to line up right now. First up will be Othello (May 29–June 24), the Bard's classic tragedy of jealousy and misplaced trust. It will be directed by Ruben Santiago-Hudson, who helmed last season's acclaimed Broadway revival of Jitney; casting has not yet been announced. Lighter fare follows in the form of Kwame Kwei-Armah and Shaina Taub's exuberant musical adaptation of Twelfth Night (July 17–August 19), directed by Kwei-Armah and Public Theater honcho Oskar Eustis. First presented for one week in 2016 as part of the Public Works program, the production will return with original cast members Taub (Feste) Nikki M. James (Viola), Andrew Kober (Malvolio), Jacob Ming-Trent (Sir Toby Belch), joined by rotating ensembles of community members from all five boroughs. RECOMMENDED: Complete guide to Shakespeare in the Park The free outdoor series is an unmissable New York City experience, from waiting in line at Central Park at the crack of dawn to watching the show begin as the sun sets behind the Delacorte Theater. The Public has been offering free performances of Shakespeare since 1962, starring celebrities, theater icons and up-and-comers alike. The series typically features two consecutive productions running from May through August. Last summer's were a politically relevant rendition of Julius Caesar and the more mellow and magical A Midsummer Night's Dream. As you
Archive Shakespeare in the Park coverage