The complete guide to Shakespeare in the Park in NYC
All the world's a stage this summer at the time-honored tradition of Shakespeare in the Park in Central Park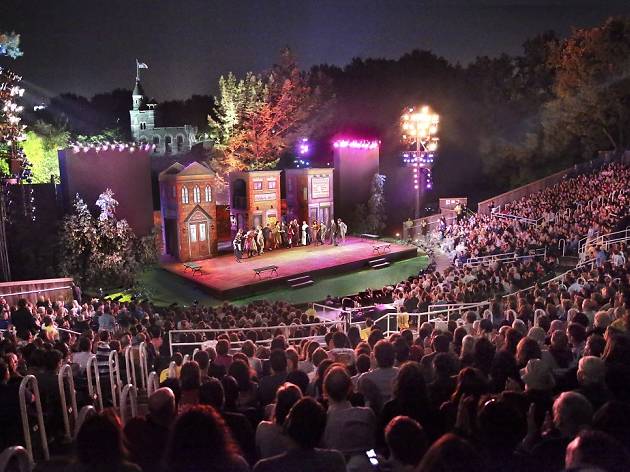 Every summer, the Public Theater produces a beloved NYC democratic tradition and one of the best free things to do in NYC: Shakespeare in the Park, presented at the open-air Delacorte Theater in Central Park. There's nothing quite like hearing the Bard's immortal words performed outside in New York, with a backdrop of natural splendor and the Belvedere Castle looming in the background like the world's most impressive set decoration. But Shakespeare in the Park's popularity means that tickets aren't easy to come by. Only the most perseverant will be able to secure seats. Here's our guide to navigating the system.
What is Shakespeare in the Park?
Created by the late Joseph Papp in 1962, the Public Theater's series offers free, large-scale productions of works by William Shakespeare (as well as the occasional musical or non-Shakespearean drama). The productions often feature some of the most talented actors of our day. Past casts have included including Meryl Streep, Kevin Kline, Al Pacino, Blythe Danner, Philip Seymour Hoffman, George C. Scott and Denzel Washington.
What is being performed this season?
Julius Caesar is playing May 23 through June 18, 2017, in a production directed by Oskar Eustis. A Midsummer Night's Dream is playing July 11 through August 13, 2017, directed by Lear deBessonet.
When is Shakespeare in the Park?
Shakespeare in the Park runs from May 23 through August 13, 2017. With few exceptions, performances are Tuesday through Sunday at 8pm.
How do I get there?
The easiest way to get to the Delacorte Theater in Central Park is to enter at 81st Street and Central Park West. Take the B or C train to 81st St–Museum of Natural History.
When should I go?
If possible, shoot for the first week of performances—seats are always in greater supply early in the run of a show, before reviews and word of mouth have pushed up demand for tickets. Another good way to increase your odds, paradoxically, is to attend on days when bad weather is predicted. The Public hates canceling Shakespeare in the Park, so the show will go on even if it is drizzling; often, performances will take breaks if it gets too rainy, then resume when the downpour subsides. Open umbrellas are not allowed during performances, so be sure to bring a poncho. (Tickets for rained-out shows are not exchangeable.)
What are the drinking and dining options?
The Public sells snacks and beverages, including beer and wine, at its Public Fare booths and carts. The lines at the carts are shorter, but the selection of refreshments is more limited. You can also bring your own food and drinks into the Delacorte, but glassware is not allowed.
Are there restrooms?
Yes, but if possible, go to the bathroom before attending Shakespeare in the Park. The lines at the Delacorte rest station are always absurdly long.
How do I get tickets to Shakespeare in the Park?
There are several different ways to get tickets. We've laid them all out below.
The traditional way: Line up in Central Park 
Tickets are distributed in front of the Delacorte on a first-come, first-served basis at noon on the day of the show, and you'll have to wait in line for a long time if you want to get in. Arrive no later than 10am to give yourself a chance at tickets, though it would be wise to get there much earlier if you can manage to drag yourself out of bed. (Central Park doesn't open until 6am, but—although the Public doesn't condone it—it is legal to camp out before then by the park entrance at Central Park West and 81st Street; a line monitor from the Public escorts early birds to the theater when the park opens.) To endure the hours-long wait, you'll want a folding chair or a blanket, and something—a book, an iPhone—to keep yourself occupied. Tickets are limited to two per person, and the number of available tickets varies from day to day. There's no cutting, saving spots or leaving the line for any extended length of time; patrolling Public Theater staff will ask you to give up your spot in line if you breach any of these rules.
The new way: Enter the online lottery
 If the idea of waiting in line for hours, even in Central Park, doesn't appeal to you, you can also apply for tickets in a daily online raffle. Create an account and enter your name in the lottery between midnight and 12pm on the day of the show; then check back after noon to see if your name was selected. The number of tickets offered by lotto varies from day to day.
The outside track: Vouchers in the outer boroughs
 On some days, a limited number of vouchers are distributed in each of the five boroughs between 12pm and 2pm. These vouchers can then be exchanged for tickets at the Delacorte. Visit the Public's Shakespeare in the Park page to find out when and where these vouchers are available.
The non-free guarantee: Summer Supporter tickets 
If you make a tax-deductable donation of $200 to the Public to become what's known as a Summer Supporter, you are rewarded with one reserved seat to one of the summer's two productions. Only a limited number of such tickets are available, though, so join the program early if you hope to secure a seat through it.
The long shot: Going standby
 As a last resort, or if you happen to be in Central Park with some time to kill in the evening, consider the standby line, which begins at 6pm. Unclaimed tickets (if there are any!) are distributed just before curtain time, so you might get lucky—especially if the weather is less than ideal.
The alternative: Other outdoor Shakespeare productions 
So loved is Shakespeare in the Park that it has inspired small companies around the city to mount their own Shakespeare events alfresco. You'll find performances in parking lots, community gardens and, of course, other parks. These productions are not as high-level as the ones at the Public's version, of course, but for many theater lovers, any chance to see Shakespeare outdoors is a midsummer night's dream. Here's our full list of free outdoor theater in New York this summer, updated as information about the shows becomes available.
Shakespeare in the Park stories
Archive Shakespeare in the Park coverage