The 25 best Tony Awards performances
We choose the top musical numbers from 44 years of Tony telecasts.
By Adam Feldman Thu Jun 2 2011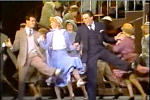 25. 42nd Street, "Lullaby of Broadway" (1980)
Click here to view
Having created many ornate dance sequences for 42nd Street, the final show of his celebrated career, Gower Champion pared his choreography way down for the show's rousing centerpiece. In lieu of fancy stepwork is the simplest possible movement: legs kicking up in cakewalks, arms waving from side to side or rising like corkscrew wings. It's show dancing scraped to its bones, and the magic is in how well it still works.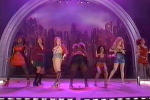 24. The Life, "My Body" (1997)
Click here to view
Cy Coleman's final Broadway musical, a look back at the seedy lives of Times Square hookers in the 1980s, was not a hit, but its several standout numbers included "My Body," in which sex workers of all shapes and sizes (Tony winner Lillias White among them) flout their haters and flaunt their wares. In contrast with the weary come-on of "Big Spender" in Coleman's Sweet Charity, "My Body" is a sassy come-off-it, and that energy has earned the song a solid after-Life among Tony aficionados.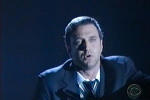 23. Company, "Being Alive" (2007)
Click here to view
In musical theater, leading ladies get most of the big emotional songs, but composer Stephen Sondheim has often shared the wealth with the male characters—such as Company's Bobby, played with unusual depth and intensity by Raúl Esparza in the musical's 2006 revival. The sheer capaciousness of Esparza's voice—it's as though he had a microphone built into his vocal cords, complete with reverb switch—helps give Bobby's personal breakthrough in "Being Alive" an almost cosmic resonance.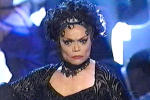 22. The Wild Party, "Welcome to My Party"/"When It Ends" (2000)
Click here to view
Toni Collette made a striking Broadway debut as a trouble-prone showgirl (opposite Mandy Patinkin's abusive clown) in Michael John LaChiusa and George C. Wolfe's underappreciated 2000 adaptation of a Jazz Age poem. And the unique Eartha Kitt—returning to Broadway after a 22-year absence, with her trademark felinity honed to claw and fang—brought down the house with her ferociously dire "When It Ends": part warning, part curse and part bloodied lament.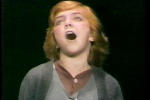 21. Annie, "Tomorrow"/"You're Never Fully Dressed Without a Smile"/"Easy Street" (1977)
Click here to view
The long medley of songs from the orphan fantasy Annie would be remarkable enough for its opening salvo alone: Andrea McArdle's poignantly belted, nonsaccharine delivery of "Tomorrow," the show's famous paean to implacable optimism. This is followed by more adorable kid stuff with Annie's fellow ragamuffins, before the peerless Dorothy Loudon spikes the punch with "Easy Street." If her lips are not always in sync with the prerecorded vocals (a common practice in Tony numbers from that period), her bumping hips and flouncing blouse put her in her own league of gleeful malice.