The 25 best Tony Awards performances
We choose the top musical numbers from 44 years of Tony telecasts.
By Adam Feldman Thu Jun 2 2011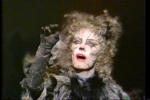 10. Cats, "Jellicle Songs for Jellicle Cats"/"Memory" (1983)
Click here to view
Andrew Lloyd Webber's feline revue became such an institution that it is easy to forget just how weird it was when it opened: a more or less plotless musical adaptation of light verse by T.S. Eliot, performed on an oversize trash heap by a chorus dressed in yak fur and Kiss-y makeup. For the Tony Awards, the production offered a medley of its opening number—which aptly captures the piece's variety-show feel, as well as Gillian Lynne's slinky choreography—and its breakout song, "Memory," performed with wounded, searing delusional intensity by Betty Buckley at the peak of her formidable powers.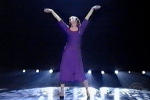 9. Gypsy, "Rose's Turn" (2003)
Click here to view
Perennial Broadway baby Bernadette Peters took a lot of flak for vocal trouble and missed performances toward the start of her run as Mama Rose—the King Lear of musical-theater roles—in Sam Mendes's shadowy 2003 revival of Gypsy. But she comes through magnificently in her fiercely committed Tony performance of the show's 11-o'clock number, "Rose's Turn," a musical nervous breakdown that takes her from defiant, sexy strut to smoldering hurt, full-throttle anger and a last resort of self-embrace.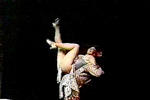 8. Dancin', "Sing, Sing, Sing" (1978)
Click here to view
For a lesson in the gap between an original and a reproduction, first watch the perfectly respectable performance of "Sing, Sing, Sing" by the cast of the dance revue Fosse on the 1999 Tony Awards. Then watch the Tony performance of the number it was re-creating, from Bob Fosse's 1978 show Dancin'. The moves are the same, and the tempo of the music is identical, yet the two performances seem radically different. Danced in costume by a cast that includes a young Ann Reinking, the version that Fosse supervised plays faster and looser. Every second of the number is suffused with the jazzed-up spirit of a swinging party; it bursts with flesh, flash and abandon.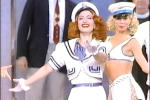 7. Anything Goes, "Anything Goes" (1988)
Click here to view
Just before she clears the decks to make way for a nifty nautical tap-dance number, Patti LuPone turns and gives the crowd a lingering wink—both a come-on and a playful hint that the show is all in fun. Refurbished for its return to Broadway after half a century, Cole Porter's frisky lark was unapologetically old-fashioned, and Michael Smuin's dances perfectly channel the vintage vibe—especially in the title tune, performed by crewmen in white and gals in barely anything. LuPone, perhaps the last of the great Broadway broads, anchors the tune with a lustiness that says, "Hey, sailor!" and a voice that could shiver any ship's timbers.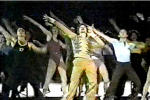 6. A Chorus Line, "I Hope I Get It" (1976)
Click here to view
Michael Bennett's backstage musical, A Chorus Line, had generated so much excitement, and its win for Best Musical at the 1976 Tony Awards was so widely expected, that Tony producers gave the show both the first and last spots on the telecast that year. The former was a version of A Chorus Line's own celebrated opening number: an audition sequence that portrays aspiring Broadway dancers being put through rigorous paces before stepping forward to disappear behind their headshots. The concept is sharp and the deconstructed dance is quick and thrilling, but the sequence is also notable for the way in which it was photographed (reportedly under Bennett's supervision); it has a noticeably more cinematic sensibility than other performances from the period.