The 25 best Tony Awards performances
We choose the top musical numbers from 44 years of Tony telecasts.
By Adam Feldman Thu Jun 2 2011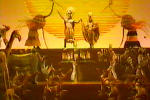 5. The Lion King, "Circle of Life" (1998)
Click here to view
From the opening blare of Lesotho-born singer Tsidii Le Loka's pulsing Zulu call, it is clear that Julie Taymor's visionary reimagining of Disney's animated movie is no trip to the theme park, but an expedition through gorgeous new terrain. And as the music morphs into Elton John's familiar tune from the soundtrack, Taymor produces a fantastical menagerie of puppet beasts—flocks of birds, herds of antelopes, jungle cats, giraffes, an elephant and a rhino lumbering up the aisles of Radio City Music Hall. Overlaying the source material's essential songs and story with African pride and ingenious theatricality, "Circle of Life" announced to anyone watching that this was not your children's Lion King.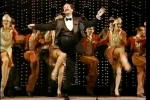 4. Grand Hotel, "We'll Take a Glass Together" (1990)
Click here to view
Has there ever been so pure a distillation of drunken joy as Michael Jeter's performance in this ebullient number from Grand Hotel? As a terminally ill accountant bent on living the good life while he can—encouraged by a shady baron (a sturdy Brent Barrett)—the liquid-limbed Jeter seems to lose his bones completely. He leaps, flails, twists and kicks with a breathtaking mix of control and release; in Tommy Tune's witty staging (the bar is a barre), he flashes out in gorgeously messy relief from the tight chorus doing Charlestonish steps behind him. This number is widely credited with reviving Grand Hotel's financial fortunes, and Jeter received a well-deserved Tony for Best Featured Actor—ending his acceptance speech, ironically, with a moving testimonial to hard-won sobriety.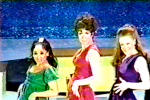 3. Promises, Promises, "Turkey Lurkey Time" (1969)
Click here to view
"Turkey Lurkey Time" is frankly idiotic: one of the silliest songs ever written for a hit Broadway show, with no pretext of being anything but an excuse for a production number set at an office Christmas party. But what a number! The very inconsequence of the song—in which a trio of office workers wish their cohorts "a snowy, blowy Christmas/A mistletoe-y Christmas"—frees choreographer Michael Bennett to create a number that is entirely about a sense of growing exuberance. In a bright red dress at the center of the party, making head movements that give new meaning to the term rubbernecking, is Bennett's longtime muse, Donna McKechnie, one of the great show dancers of all time. It's hard to keep your eyes off her, but it's worth pulling them away (at least on a second or third viewing) to see how Bennett brings in the rest of the chorus, building the number to a gloriously frenetic climax to match the pounding brass and drums of Burt Bacharach's music.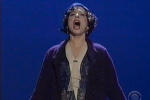 2. Gypsy, "Everything's Coming Up Roses" (2008)
Click here to view
The strange thing about performing in the vast Radio City Music Hall, where the Tonys were held from 1997 through 2010, is that solos or relatively small scenes—which can be captured closely on camera—tend to fare better there than larger-scale production numbers, which often seem a little lost in the space. The best-case scenario, of course, is a solo by a performer with a presence and talent big enough to fill the hall as well as the camera. And that's what Patti LuPone delivered in her definitive 2008 version of Gypsy's Act I closer. The song itself may seem encouraging and hopeful, but in the context of show it's more like a threat: the denial spasm of a woman who will not let reality get in her way. In LuPone's epic performance, sung with extraordinary power, this smother-mother's raw fury takes center stage—watch her rip that letter!—as she tries to bellow her hapless lover, her cowering daughter and the whole hostile world into the submission her bottomless frustration demands.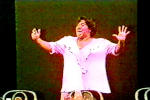 1. Dreamgirls, "It's All Over"/"And I Am Telling You I'm Not Going" (1982)
Click here to view
No matter how many times you watch Jennifer Holliday's massive performance of Dreamgirls' rafter-ripping Act I finale, the only adequate response remains awe. After a bickering backstage setup, the sequence kicks into gear at the three-minute mark; playing a woman in a spiral of personal and professional rejection, Holliday grabs her aria by the throat and squeezes every breath of wailing pathos from it. (Astonishingly, she was just 21 years old at the time.) A master of dynamic stagecraft, director Michael Bennett opts for aching slowness here. Holliday's ogreish movement grounds her in implacable abjection, right up to the number's startling penultimate image: After a giant gasp, her face a Kabuki mask of pain, the singer moans out a final note and reaches a desperate arm out for rescue as she sinks behind the golden waves of a falling curtain. That's not just showbiz: That's greatness.