50 things to do in New York City on a Saturday 2012
Make the most of your Saturday with these urban adventures.
By Time Out editors Fri Apr 27 2012
Price band: 1/4
Critics choice
Crispy on the outside and smooth as butter inside, the taro-and-turnip cakes at this dim sum palace are sweet with thick oyster sauce, and only on the weekends from noon to 3pm.
18 East Broadway, between Catherine and Market Sts, 10007-21
More info
This no-frills ballroom is the locus of Greenpoint's indie-rock scene, but on occasional Saturday nights, the 1914 hall reverts back to its original (and still daytime) identity as the Polish National Home, hosting Polish dance parties with plenty of canned Frankie Yankovic. No matter who's in attendance, $3.50 Jack and Cokes and $5 noshes (pierogi, kielbasa and cheese blintzes) are available.
261 Driggs Ave between Eckford and Leonard Sts, Greenpoint, Brooklyn
More info
13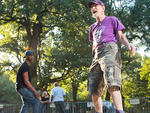 Roller-skate in Central Park
In the heart of the park under a grove of blossoming cherry trees, you'll find the Central Park Dance Skater Association's skate circle. Bring your own quads and bust a move with people of all ages to disco classics, contemporary hits and throwback R&B, house and dance music spun by a rotating roster of local DJs. If you're not a skater, there's space to dance without colliding with those on wheels or just watch the old hands do their thing. Make sure to scan the crowd as well—you may spot singer-songwriter M. Ward, who told TONY that watching the skaters is one of his favorite things to do in NYC.
Skate circle at midpark, enter at Central Park West and W 72nd St or Fifth Ave and E 72nd St
Sat Mar 15
15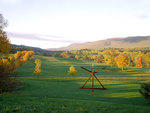 Get out of the city
Dia:Beacon doesn't have a monopoly on arty day trips. In the Hudson River Valley, Storm King Art Center boasts more than 100 post-1945 sculptures—many of them monumental in stature—on 500 acres of land. Stroll at your leisure or rent a bike ($10 per hour, minimum two hours; full day $40). On May 12, the exhibit "Light and Landscape" opens; it features 20 pieces that play with the idea of natural light, ranging from videos and installations in the institution's museum to site-specific works by Peter Coffin, Katie Holten and William Lamson. Coach USA Short Line runs one service a day between Port Authority Bus Terminal (625 Eighth Ave between 40th and 42nd Sts; 212-564-8484, coachusa.com/shortline; departs NYC 10am, departs Storm King 5:02pm; $44) and Storm King on the Mountainville Line.
1 Museum Rd, New Windsor, NY (845-534-3115, stormkingartcenter.org)
It may take a while to get to, but the Bartow-Pell's beautiful and serene formal garden and lawn, featuring a picturesque fountain and wrought-iron benches, is the perfect place to find solace away from the city. Once you've finished reclining in verdant surroundings, tour the mansion (Wed, Sat, Sun noon–4pm; $5), home to a 19th-century merchant family.
895 Shore Rd at Pelham Bay Park, Bronx
More info
Just down the street from contemporary-art hub MoMA PS1, outdoor graffiti museum 5Pointz proves that the beauty and grit of New York City isn't always found in conventional places. Nearly every inch of this five-story, 200,000-square-foot factory's exterior has been covered and re-covered in murals by a rotating cast of artists. You can call ahead to arrange a guided tour, or just show up and pull out your camera.
45-46 Davis St at Jackson Ave, Long Island City, Queens
More info
Every weekend starting in May, the New York Outrigger Club offers up to three free training sessions for the six-man Polynesian canoe. The lesson begins on land, where you'll familiarize yourself with the boat and its history, learning stroke work, safety protocols, and calls and commands; then you'll get 30 to 45 minutes of practice on the water with three expert shipmates who'll steer you in the right direction. Sessions are limited to six people each, so e-mail ahead to book your space. The club provides everything you need—boats, paddles and life vests—but it's up to you to bring drinking water, sunscreen and a lock for the provided locker. Grass skirts optional.
Boathouse at Pier 66, W 26th St at the Hudson River
More info
19
The eight members of this improv troupe operate fast: After interviewing an audience member about his or her worst living situation, they spin through scenes with a speedy viciousness that rivals the armed chopper after which they're named.
---