New York attractions: New places to go in NYC in the future
Find out what's happening with New York attractions that are opening in the future, including the final section of the High Line and new spaces on Governors Island.
By Time Out editors Tue Oct 16 2012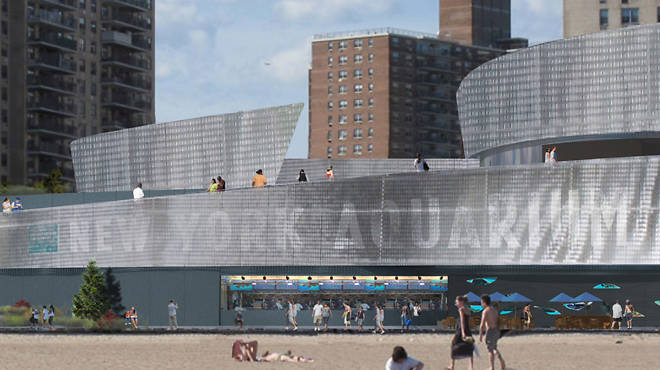 Ocean Wonders: Sharks!, rendering
RECOMMENDED: View all the New Places to Go and New York Attractions in 2012
Ocean Wonders: Sharks!
What it is: Construction on this 57,000-square-foot building at the New York Aquarium is set to begin later this year. The approximately $127 million project will feature upwards of 100 species, including stingrays, sea turtles, fish and (yes, yes) sharks.

Why you should care: As the building's name seems to scream: Sharks! The prospect of marveling at a host of underwater man-eaters (13 species in all) from a safe, dry distance sounds pretty awesome. (Aspiring oceanographers craving a shark-spotting fix, albeit on a much smaller scale, can view reef, nurse and sand-tiger sharks in the aquarium's existing Sharks building—but go now, since it'll close temporarily in the next few weeks.) The new exhibit is also part of the city's Coney Island Revitalization Plan, an initiative to boost tourism in the seaside destination. The exterior will be covered in aluminum, creating a facade that's meant to resemble a glimmering sea. The exhibit will face the Atlantic, and will be accessible via the Coney Island Boardwalk. Surf Ave at 8th St, Coney Island, Brooklyn (718-265-3474, nyaquarium.com). Opens spring 2015.—Tim Lowery
You might also like
---
Users say
High Line casts too many shadows and should b dismantlex to make way for more parking.