Anglophile in New York? Here's your essential guide
Check out NYC's very best British pubs, restaurants, teashops and stores
By Time Out Contributors Thu Oct 2 2014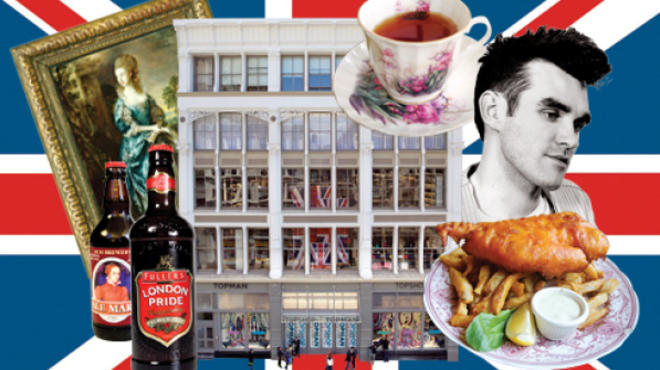 It's fitting that Brits tend to fly under the radar in New York—after all, waving the flag of St. George from balconies or pushing esoteric tea-drinking ceremonies (milk, two sugars) on the Starbucks-swilling masses wouldn't be very...well, English, would it? But NYC is full of expats and Anglophiles alike—music fans with their iTunes set to British pop talents Ed Sheeran and FKA Twigs, foodies seeking the best British & Irish food and places to drink, tea fans looking for, well, tea. So it's only proper that we offer you our guide to the city's top Britain-related revelry. Fill yer boots at our favorite bastions of Englishness around the city.
Best British tea time in NYC
Pop in to Tea & Sympathy if you are English, or just want a proper cup of char. There's always a devoted community of Brits and wanna-bes at this cramped but homey space, where, over the clinking of china, you can strike up a conversation with the diner sitting right next to you. Order the afternoon tea ($35 for one, $65 for two), which comes with assorted finger sandwiches, scones and a selection of cakes—plus a steaming pot of the only beverage more sacred to the English than beer. "It's the actual tea-drinking that we do so well. When I first came here, I couldn't believe it—I'd go to other places and the tea was just revolting," says Nicky Perry, a former Londoner who opened Tea & Sympathy in 1990. "I'm very, sort of, 'This is it, this is how it is.' You walk in the doors, and you're in my living room. But our tea is very popular, made fresh to order. And I always tell people to come hungry!" You can never go wrong with the classic English breakfast or Earl Grey, but Tea & Sympathy has 41 other varieties to choose from, including Yorkshire Gold and rose petal.
108–110 Greenwich Ave, (between 12th and 13th Sts), 10014
More info
Etiquette demands you educate yourself with a posh afternoon tea ($38 per person) at the London Bar, Gordon Ramsay's sleek fine-dining space tucked within the cosmopolitan London NYC Hotel. Offered daily from 3 to 5pm, the service features a selection of tea sandwiches, raisin scones and other pastries, and your choice of char—go with the Darjeeling, if you're feeling bold.
The London NYC Hotel, 151 W 54th St, (between Sixth and Seventh Aves), 10019
More info
Podunk owner Elspeth Treadwell is Scandanavian, not British, but this miniature East Village teahouse is one of the most charming spots in New York City to relax with a mug and the latest edition of the Currant Bun (the proper Cockney way to refer to daily tabloid The Sun). The mismatched vintage chairs, shelves of books and cozy knickknacks are a delight, but the teas and accompanying sandwiches or treat trays are even more so: Try the Tittle-Tattle tray ($12), which comes with some dainty cupcakes and cookies, along with a pot of tea. However, we suggest you ask to substitute coconut-flavored tea for the Lady Black; royal labels are unnecessary if you can trade them for tea leaves that taste like liquid ambrosia.
231 E 5th St, (between Second and Third Aves), 10003
More info
---
You might also like
---
Popular features in Things to Do
Here are the ten New York experiences you simply can't miss.
Don't fret, penny-pincher—each of these fun cheap date ideas will cost you $30 or less.
Tired of swamped tourist traps, huh? Check out these alternative things to do in New York.