Anglophile in New York? Here's your essential guide
Check out NYC's very best British pubs, restaurants, teashops and stores
By Time Out Contributors Thu Oct 2 2014
Best British food spots in NYC
England may not be famous for its cuisine, but one culinary technique the Brits excel at is frying just about any foodstuff until it tastes good. The Brooklyn chainlet Chip Shop showcases this skill with a full slate of golden-crusted goodies, including Mars bars, mac and cheese, bangers and, of course, fish—choose from cod, haddock or plaice, cooked to perfection beneath a thick layer of malty batter ($12–$12.75). The small hangout is also a great place to quaff British beers (like Old Speckled Hen) and hard-to-find soft drinks like Lilt ($3) and the blackcurrant-flavored Fizzy Ribena ($3).
383 Fifth Ave, (between 6th and 7th Sts)
More info
Price band: 2/4
Critics choice
Trendy gastropubs like the Spotted Pig do a valiant job of giving British-style cooking some sex appeal, and April Bloomfield, the Birmingham-born toque behind both ventures, deserves every bit of praise she receives. But while foodies have been frothing at the mouth for decadent dishes like fried pig feet and breaded scrumpets (sort of like a fish stick made out of lamb), a better-kept secret at the Breslin is the bang-up breakfast menu. Stop by when most of the hipper-than-thou clientele is still asleep for one of the city's best full English brekkies ($23), featuring English bacon, homemade sausage, garlic-laden mushrooms, slow-roasted tomatoes and organic sunny-side up eggs.
314 W 11th St, (at Greenwich St), 10014-23
More info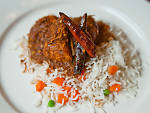 Fish and chips may seem as English as it gets, but any Brit fanatic worth his weight in sterling knows that curry is the country's national dish (at least according to former Foreign Secretary Robin Cook, who proclaimed it as such). Brick Lane Curry House takes its name from an East London street famous for Bengali-style Indian food, and it specializes in the dangerously spicy phaal ($14–$21) that's popular along the 'hood's restaurant row. The menu wisely warns that the curry, which is made from 10 different chilis, is "more pain and sweat than flavor"—those who demonstrate a stiff upper lip and make it through the agony get a beer of their choice (such as Kingfisher, Taj Mahal or Stella).
---
You might also like
---
Popular features in Things to Do
Here are the ten New York experiences you simply can't miss.
Don't fret, penny-pincher—each of these fun cheap date ideas will cost you $30 or less.
Tired of swamped tourist traps, huh? Check out these alternative things to do in New York.