US Open FAQ
Wondering about tennis etiquette or what to wear to the US Open championship? Here's everything you need to know.
By Time Out editors Mon Aug 18 2014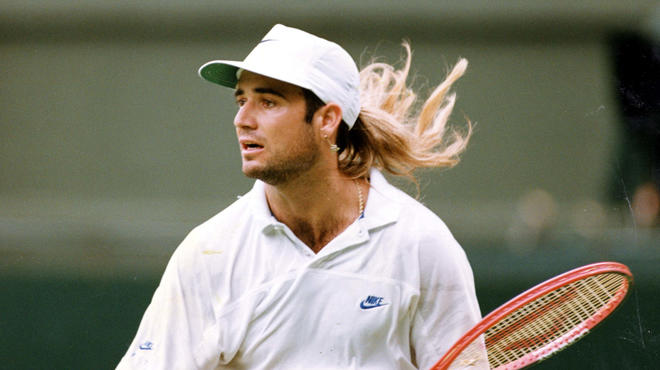 Andre Agassi Photograph: REX USA/Andy Hooper / Daily Mail
RECOMMENDED: See all US Open coverage
When is the US Open?

The US Open takes place in Flushing Meadows–Corona Park in Queens, New York at the end of the summer from August 25 to September 9, 2014.

The Qualifying Tournament—which features 128 men and 128 women competing for the 32 U.S. Open entries—begins August 19, and is free and open to the public until August 22.
How do I get tickets for this year's US Open?
Ticketmaster is the best option. You can also get individual tickets by going to usopen.orgor ticketmaster.com, calling 800-OPEN-TIX or visiting the physical box office at the USTA Billie Jean King National Tennis Center in Flushing Meadows, New York. Check usopen.org/tickets/individual_tickets for ticket availability on any of the US Open dates.
How much will I pay for tickets?
There's a whole lot of options, ranging from single games, starting at $85 for the cheap seats to $595 for seats closer to the action, to a full pass that will allow you to see all the games and get you some pretty sweet amenities, like a personal concierge, which starts at $2,100.
Where is the US Open taking place? How do I get there?
The US Open is held at the USTA Billie Jean King National Tennis Center (Flushing Meadow-Corona Park, Flushing, New York). Getting there by rail is easy: You can take the 7 train (Queens-bound to Mets-Willets Point) or the LIRR to Mets-Willets Point. If you're one of the lucky people who happen to be driving to the games, be sure to check usopen.org for possible parking restrictions and interferences with Mets home games at Citi Field.
What happens if it rains?
The general rule of thumb is that you'll be able to exchange your tickets for credit or a full refund, but you may be ineligible if more than 90 minutes of a game has been played. You may be able to exchange your tickets for next year's tournament. Check the US Open site for full details here.
Are there places to eat? Can I take a picnic?
Aww. That's delightful that you want to picnic, but you won't be allowed to. There will be multiple places to eat at the stadium. Alongside light-food options (think snacks), this year there's Cuban food and a speciality sandwich stand to whet your appetite. For the more adventurous, the US Open Food Village will feature regional cuisines from around the world. There's also the Heineken Café and the Moët & Chandon bar if you're into fancy drinks with even fancier people. Foods for infants or those with dietary restrictions will be allowed in.
What should I wear? Is there a dress code?
The players are the ones with a dress code, but that doesn't mean spectators are entirely off the hook. Don't show up looking like a scrub. While it isn't expressly forbidden to show up in a torn Metallica shirt, it certainly isn't the best idea if you're looking to fit in. Think along the lines of a halfway fancy garden party: short-sleeve shirts and nice pants for the guys and casual wear for the women. Would you wear it to your mother's house? If not, don't wear it to the US Open.
Is it acceptable to heckle during the match?
No. This isn't the movies, and the players can hear you. It isn't the same sports atmosphere as a baseball or football game, either; keep your enthusiasm to a few claps and oohs and ahs. It should go without saying that since this a much more chill sports game that you should also keep your alcohol intake to an "office picnic" level. (Drinks will be available at the games.) Being a drunken mess at a New York Jets game: acceptable. You'll probably blend in. Being a drunken mess at the US Open? You'll stand out like a sore thumb, and thanks to the magic of smartphones and social media, you could very well end up an Internet meme for the rest of your life.
What's the etiquette when the ball lands in the stands?
Throw it back. If you want a ball, you can buy one at a sporting-goods store, amigo.
Should I take my chances and queue for day tickets?
It's not necessary, but you'll at least have a good story to tell, eh? Best to get your tickets in advance online (like we mentioned above), although a (very) few tickets will be released the day of the games.
---
Here are the ten New York experiences you simply can't miss.
Don't fret, penny-pincher—each of these fun cheap date ideas will cost you $30 or less.
Tired of swamped tourist traps, huh? Check out these alternative things to do in New York.
Find more popular Things to Do features